Awin partners with Tyviso and Propello to support clients with the creation of customer reward programmes
Written by

Lee Metters on

.
Awin integrates with specialist reward solution providers to help advertisers create customer reward portals and expand brand loyalty offerings.
Share this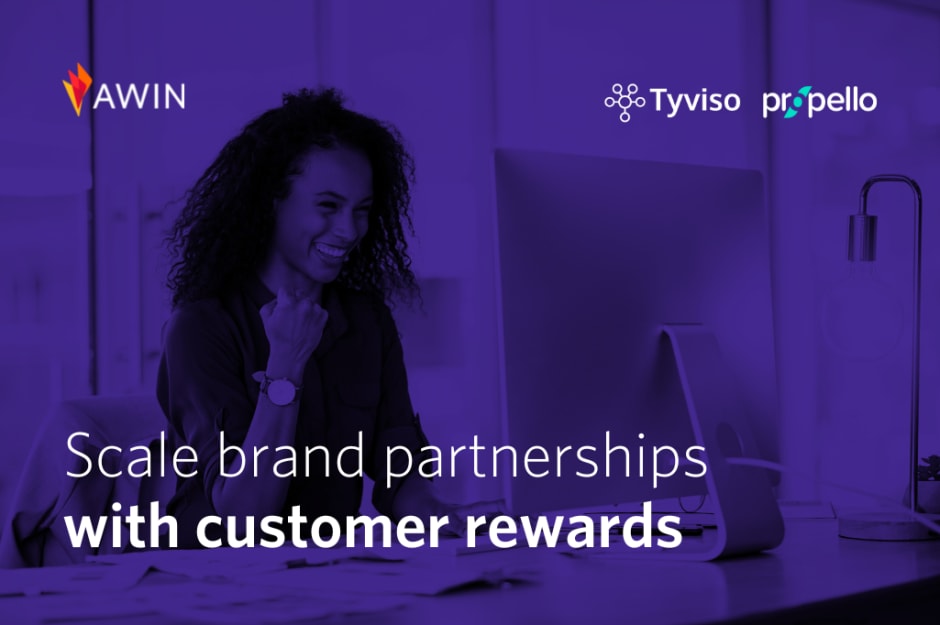 Awin has integrated with Tyviso and Propello to enable brands to seamlessly build bespoke customer reward programmes and increase customer retention.
With access to templated layouts and a public library of offers, brands can create a customisable customer reward portal within minutes. Rewards can be managed in real-time and integrated into your customer shopping app, providing a truly scalable customer reward proposition.
Awin's brand partnerships offering has already helped hundreds of clients incentivise returning customers with value-added rewards.
tastecard partnered with more than 35 advertisers throughout the pandemic, including LOOKFANTASTIC, BT and Sky, using customer rewards to navigate the forced closure of the hospitality industry, resulting in +167% sales and +399% revenue over the succeeding five months following campaign launch. You can read the full case study here.
With 60% of Gen-Z consumers stating their brand loyalty has changed since the pandemic; repeat purchase behaviour is an increasingly essential part of brand strategy, with value-added rewards helping to accelerate the loyalty life cycle.
This concept of reward incentives isn't new; airlines have long offered frequent flyer benefits via air miles, while smaller businesses, like coffee shops, offer stamp cards, unlocking a gift after so many purchases. However, existing processes for online customer reward programme have proven to be expensive, time consuming and resource-laden for retailers.
Tyviso and Propello reduce barriers to entry for partnership activity. Awin brands of all sizes, across any industry, will be able to reward their existing customers with non-competing retailer rewards.
Lee Metters, Client Partner for Brand Partnerships at Awin said:
"We continue to see resounding appetite from clients for reciprocated brand partnerships. Whilst the appetite is there, we have, on occasion, been met with blockers such as campaign facilitation and lengthy development queues. Awin's integration with Tyviso and Propello will actively help our existing and newly engaged client partners to scale brand partnership activity and make strategic decisions to boost customer loyalty and retention."
To learn more about Tyviso or Propello, get in touch with our Brand Partnerships team here.
Share this