Our 2022 predictions for the affiliate industry – part two
Written by

Robert Davinson on

.
Our second predictions piece for 2022 features forecasts for the travel sector, podcasting and what role the channel might play in the adoption of super apps. 
Share this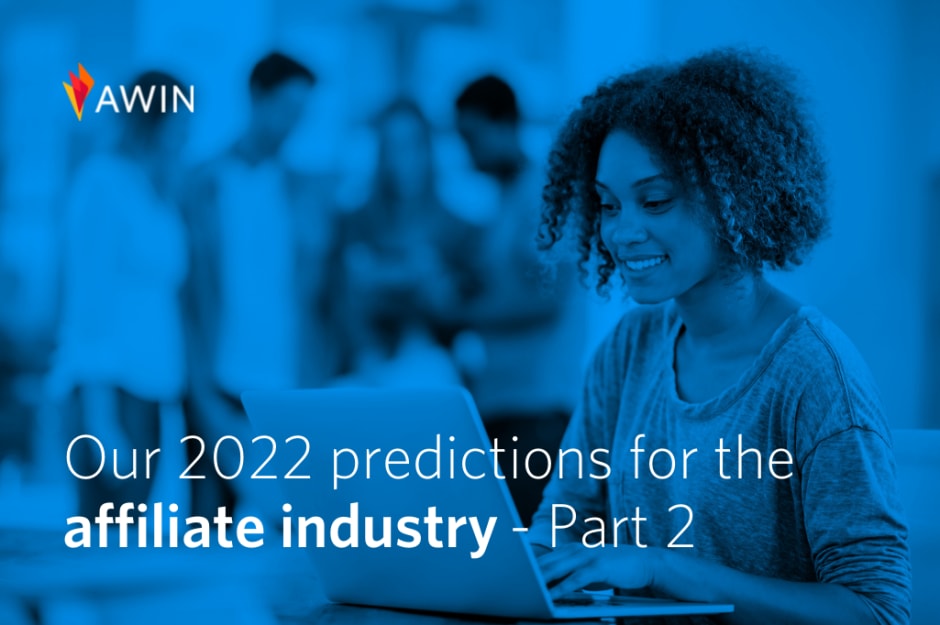 If you missed our first five predictions for the affiliate marketing industry in 2022, you can read them here.
6. Pent up demand will lead to a travel ad investment boom
With so many people unable to enjoy holidays abroad for the best part of two years now, if Covid does begin to settle down in the new year we're likely to see high demand from both consumers and the brands competing for their spend. That competition will likely lead to intense activity in the affiliate channel and some much-needed investment for travel affiliates.

The travel landscape they operate in in 2022 may look a little different though. Domestic travel will take on a renewed importance for brands as international travel is still beset by local restrictions, high prices, and anxieties over its climate impact. And business travel may never return to anything like its previous state – the normalisation of video conferencing via Zoom, Teams and other platforms replacing the need for many in-person meetings abroad.
Nonetheless, airline discounts, increased vaccine distribution, and general consumer restlessness are already contributing to a travel rebound. The Adobe Digital Economy Index revealed that 2021 U.S. Christmas flight bookings were up 17% compared to last year, as non-essential travel resumed once more.
Looking ahead, we may even begin to see tourism boards finally enter the channel in a meaningful way, as destinations desperate to ignite inbound tourism compete for consumer awareness online. With the affiliate channel's expanding scope beyond last-click sales attribution, the non-sales-based activity that Destination Marketing Organisations specialise in can still be coordinated via affiliate partnerships.

Booking flexibility will be the new watchword for travellers in this new climate, keen to ensure their planned escape is not thwarted by a rapid change in Covid circumstances as we've seen over the holiday period so far.
In this new travel environment, affiliate partners can offer a wide range of reliable marketing options for advertisers right across the online purchase funnel; from YouTube vloggers and Insta influencers promoting individual destinations, to price comparison and discount partners who can help travellers find the perfect package for their holiday booking budget.
If nations around the world manage to keep a lid on the impact of the Omicron variant in 2022 and the travel industry begins to recoup its pandemic-related losses, affiliate partners stand to gain from the inevitable increase in investment from brands in the travel sector looking for strong returns.
7. Brand-to-brand partnerships will power a new loyalty landscape
Developing at the same time as the explosion in retail media networks, the rising adoption of complementary brand partnerships in the channel is driving a new frenzy in loyalty offerings to consumers. Exclusive deals with complementary brands provide a way of inciting consumer loyalty and new customer acquisition for a host of advertisers.
Among these companies is tastecard, an advertiser that found itself floundering once Covid hit and its discounted hotel, cinema, and dining offerings were suspended indefinitely. With the help of Awin, tastecard pivoted to a publishing role more suited to the new normal — its new mantra read as 'In In is the new Out Out', reflecting the profound transformation the business had undertaken with this new strategy.
They were by no means alone though. Wolverhampton Wanderers FC, a Premier League football team, saw the opportunity to use Awin's platform to enhance its own loyalty offering for its fans and teamed up with a series of Awin brands to offer them discounted deals from relevant retailers such as Beerwulf, BT Sports and Travelodge.
In 2021, Awin helped facilitate more than 140 of these brand-to-brand partnerships, generating over 750,000 sales via them. It's a burgeoning niche within the channel as more and brands recognise the advantages of working with complementary brands to make their proposition even more compelling for their customers by offering exclusive discounts from relevant businesses to them.
In 2022, this growth will continue apace as brand-to-band partnerships become an essential component for many affiliate programmes.
8. Affiliate's integrated ad model will distinguish it from other channels
People hate advertising. That much has become clear over the last few years as more and more of them have adopted ad blockers or taken up subscription models to enjoy ad-free entertainment. Ad models that disrupt the flow of the experience are generally seen as a hurdle to overcome, not one to simply tolerate.

In the U.S. alone, the percentage of Americans who watch television via cable or satellite has plunged drastically, from 76% in 2015 to 56% in 2021. This cable cord-cutting phenomenon is happening at the same time as the number of paid Netflix subscribers in the U.S. and Canada surpasses 74 million at the end of 2021. Consumers are simply logging off of traditional advertising channels left and right.
So, how can brands still continue to reach consumers online? Luckily, the affiliate's model involves a delicately balanced circle of trust between publisher, brand, and consumer that benefits all three. The user gains free access to the content they value. The brand reaches an audience interested in their product and pays only for those that convert. And the publisher is rewarded in a direct fashion from their owned traffic. This circular model is a pure distillation of online trust from all three parties and it makes clear the value exchange between them.
Operating in the context of an ad tech industry firestorm involving violations of personal privacy, ad fraud, surveillance capitalism, misinformation, and monopolisation, the sanctuary of the affiliate channel will increasingly be seen as just that by advertisers in 2022.
9. Podcast partnerships will become a thing
This year, U.S. advertisers alone spent over $1.3 billion on podcast ads, which represents a 38.7% year-over-year increase. 2021 also saw a popularity surge for music streaming service Spotify, which overtook tech giant Apple in October to become the top podcasting platform in the U.S. Spotify's sudden uptick in ad revenue growth was largely built off the back of the success of its podcasts. As the podcast landscape continues to evolve, a general rise in podcast popularity will lead to increased exploration of it via affiliate partnerships.
There's no dispute that investment in the podcast advertising sector is currently growing rapidly, but many of these investment opportunities are centred around programmatic ad serving by some of the biggest players, including the likes of Spotify and Acast. However, some brands are keener to coordinate direct campaigns with individual podcasters to promote products in a way that is characteristic of an affiliate's model: relevant, contextual, and useful.
That's exactly what Awin managed through a podcast campaign with Lookfantastic. The beauty retailer's partnership in the Nordics region with local comedy podcast Ärligt Talat resulted in an estimated $8,500 in sales revenue from more than 1,900 clicks as listeners swooped to take advantage of the unique coupon code being offered as part of the campaign.
Whilst measurement and attribution are potential hurdles to this type of activity, Awin's coupon attribution technology allows partners to share vanity codes with listeners easily, thereby tying sales back to an individual podcast campaign when a purchase is made via it.
Although affiliate marketing is still working through its early days in the podcasting game, the model represents another valuable form of diversity for any programme. The industry is still relatively young, and opportunities abound to work directly with influential podcasters and shows. But demand is high, and the promise of reaching younger, more affluent audiences is enticing. Keep an eye on this new, contextually-relevant, intimate format of podcast affiliate advertising — we could just see an explosion in investment in this area in the new year.
10. Dawn of the super apps
The idea of users having one app to rule them all, akin to how WeChat has dominated China's app landscape over the last decade, has never really taken off in the West. Despite many companies' attempts to emulate the model, super apps have run up against Western market oligopolies, smartphones that can support dozens of apps, and different consumer behavioural patterns.
However, with the recent explosion in fintech and intense competition occurring in this space, there are signs that we could be on the verge of seeing our first super apps that tie a host of different online activities together in one app-based environment. Fintech has already begun to bridge the gap between a number of financial services, including banking, investment, and insurance. Advertisers who work with fintech affiliates are also seeing increased access to more detailed consumer insights, strengthening their ability to cater to consumer needs across industries.
The competition between PayPal and Klarna is just one example of this. The latter's current rapid acquisition strategy is quickly turning what was once a relatively one-dimensional BNPL provider into a multi-dimensional shopping app that incorporates everything from price comparison and payments to loyalty schemes and even in-store activity. Affiliate has been a major growth lever for Klarna in recent months with the channel often used as an entry point for some of its brand partnerships, and affiliate may come to be seen by some of these competing super apps as a way of distinguishing their offering to entice users – providing them with exclusive deals they can't access in competitors' apps.
With fintech enjoying a 'moment' in the affiliate world right now, it's possible we may see other super app competitors entering the space to continue to scale up their own ecommerce offerings. Only time will tell, but affiliate may have a crucial role to play in influencing which app earns its 'super'-status.
If you're an advertiser and want to explore how Awin can help accelerate your ecommerce activity in the new year, please get in touch.
Or if you're a publisher or influencer who wants to leverage Awin's platform to create more money-making partnerships, get started today.
Share this