Awin Thoughts: Six months in, how has affiliate marketing fared in 2020?
Written by

Kevin Edwards on

.
As advertisers and publishers return to 'normality,' we reflect on the last few months and the growth our network has tracked across many verticals and regions.
Share this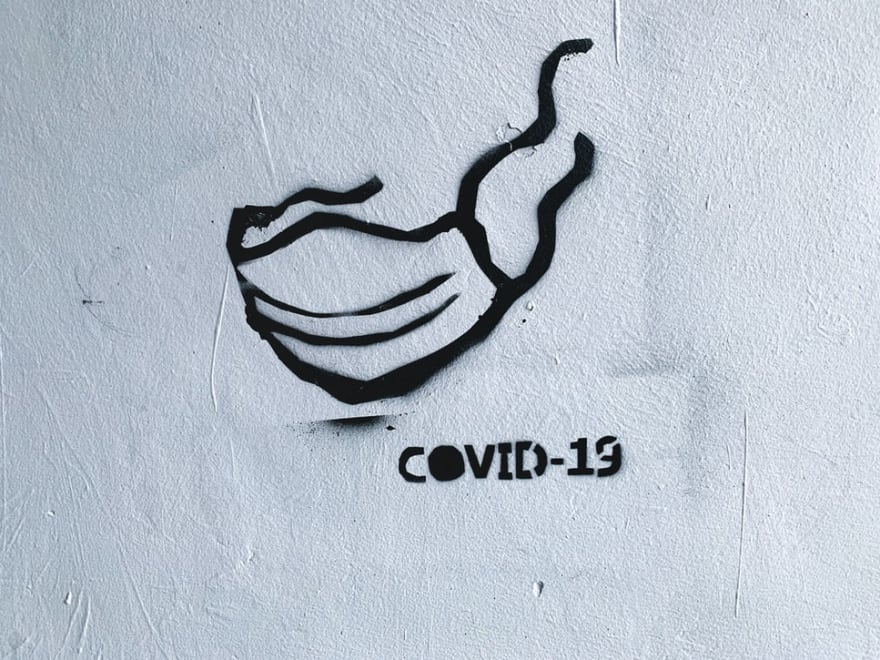 With overall advertising budgets cut and digital spending growth forecasts slashed, the channel has offered a safe place to invest during the pandemic.
Awin's global network has witnessed some spectacular growth across many of the verticals it operates in, with general retail seeing a 41% sales increase in Q2 compared to the first three months of the year. Performance varied dramatically between regions, but every market saw at least double-digit increases, Spain far outstripping its continental and further afield neighbours: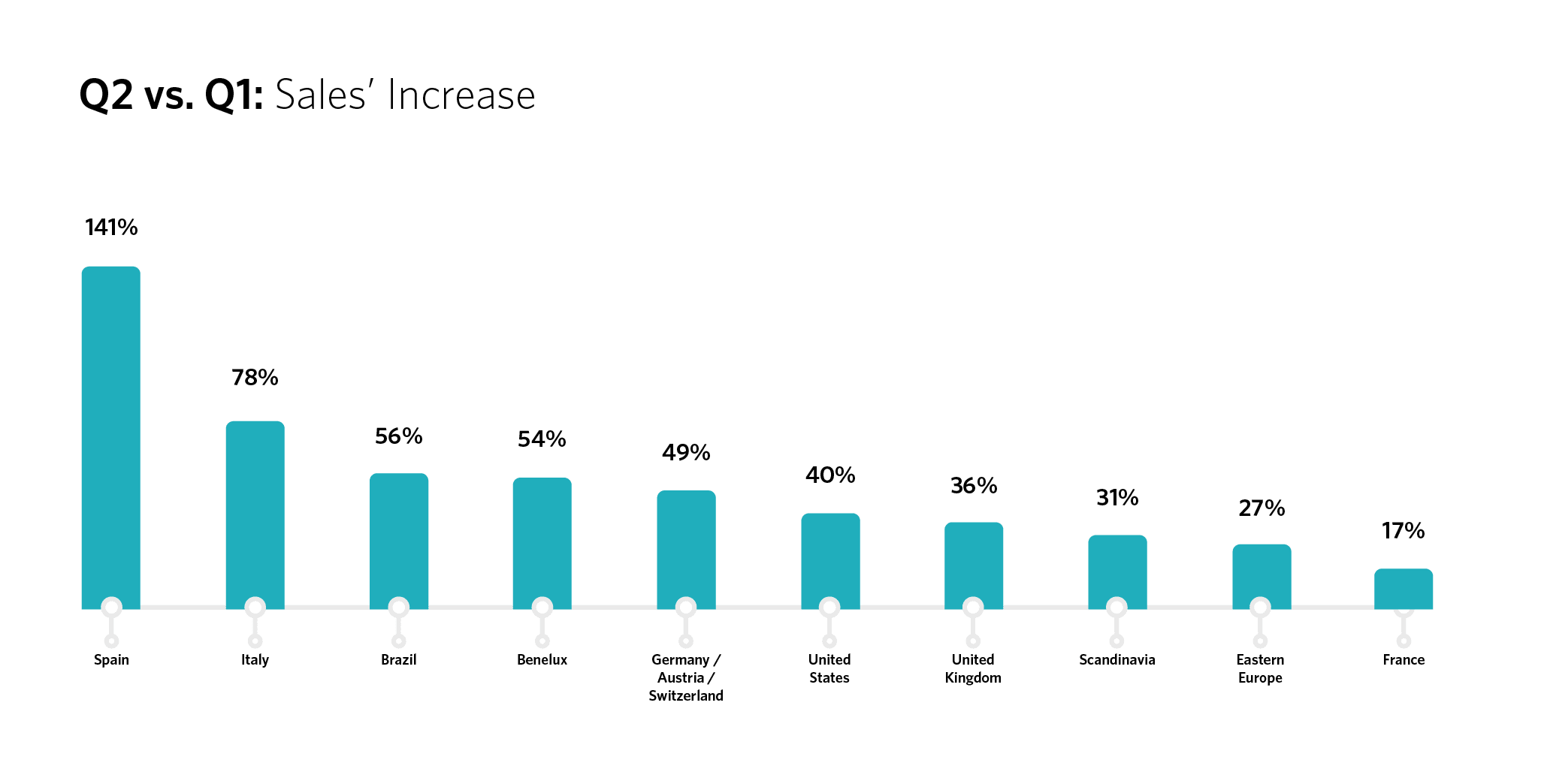 This is evidently a positive story. It provides an impressive counterpoint to data recently released by eMarketer showing updated ad spend growth forecasts from a swathe of markets.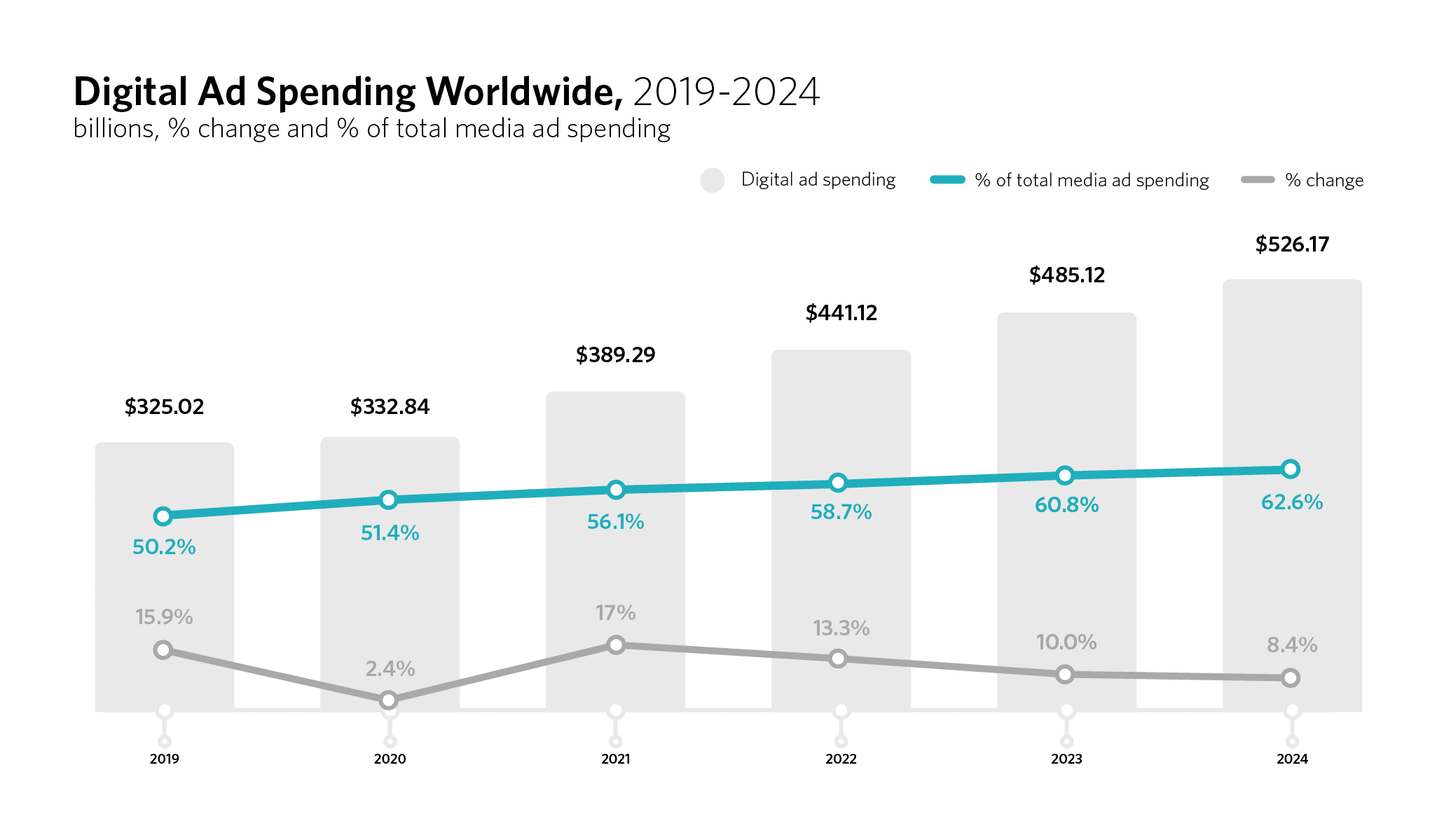 Looking at their overall global picture, the research company estimates overall ad spend is set to decline by almost 5% in 2020. While digital will still grow – modestly - by 2.4%, this is significantly downgraded from their pre-pandemic predictions.
This represents a temporary setback, with next year set to see accelerated digital growth, eMarketer predicts that 2023 will see digital break the 60% of total ad spend barrier.
Elsewhere eMarketer has found that even previously Teflon-coated companies aren't immune to combined challenges posed by COVID-19 and the ensuing recession. The Facebook and Google duopoly will see revenue growth slashed with Google, previously impervious to any negative industry conditions, seeing its ad revenues dip by 3.3% this year. Facebook will continue to grab market share and experience an upward tick, albeit at much more modest levels.
Despite this, a consensus is emerging that lockdown conditions have supercharged e-commerce, setting brands on an irreversible path to significantly greater volumes of online sales that will require them to expedite their investments in all aspects of digital. Perhaps affiliate marketing has performed a safe holding option in 2020 as brands, fearful of striking tone-deaf notes, pulled grand marketing plans and brand campaigns. For many publishers the message was typically business as usual, sales out the door, money in the bank.
But that picture is far more complex than a straightforward growth story. If 2020 teaches us anything, it's that self-enforced economic damage has been felt far more deeply in certain sectors. And while there may be a positive story for publishers overall, performance has been mixed.
Let's consider home and garden retailers in the UK. The first six months of 2020 effectively sends a message to businesses operating in the space to put their feet up for the rest of the year; Awin's sales to the start of July exceeding that of the whole of 2019 as seen in this monthly sales breakdown comparison for the sector:

Contrast that to the travel sector in Italy. As a country that went into severe lockdown early, Spring saw activity almost entirely dry up for two months. While June witnessed an encouraging bounce back, the ground to make up will presumably be insurmountable for some. Here the data is again presented on a monthly sales basis, 2019 compared to the year to date:

That performance is, of course, mirrored in the performance of specialised affiliates and publishers. It stands to reason that any active publisher in the verticals mentioned above will have either shared in the spoils or seen their revenues plummet.
While the vast majority of brands may have been content to run their affiliate campaigns uninterrupted, commission hikes, promotional commission rates and tenancies were paused or cut.
The effect was dramatic. A major publisher, used to selling marketing packages including commission increases, saw a significant plunge in tenancy earnings in Q2 compared to the previous three quarters: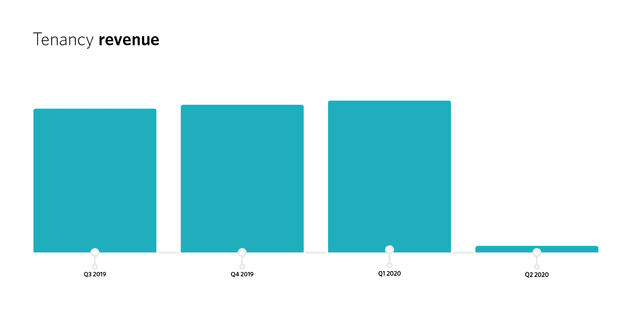 So while they continued to trade 'as normal', tracking revenue and commissions, with the respective hikes in those sectors seeing uplift in revenue tracked, simple sales metrics ignored the bigger picture.
And performance did not just cut across advertiser verticals. There was a dramatic variance between core publisher categories when we consider Q2 sale uplift against Q1 across all verticals and territories: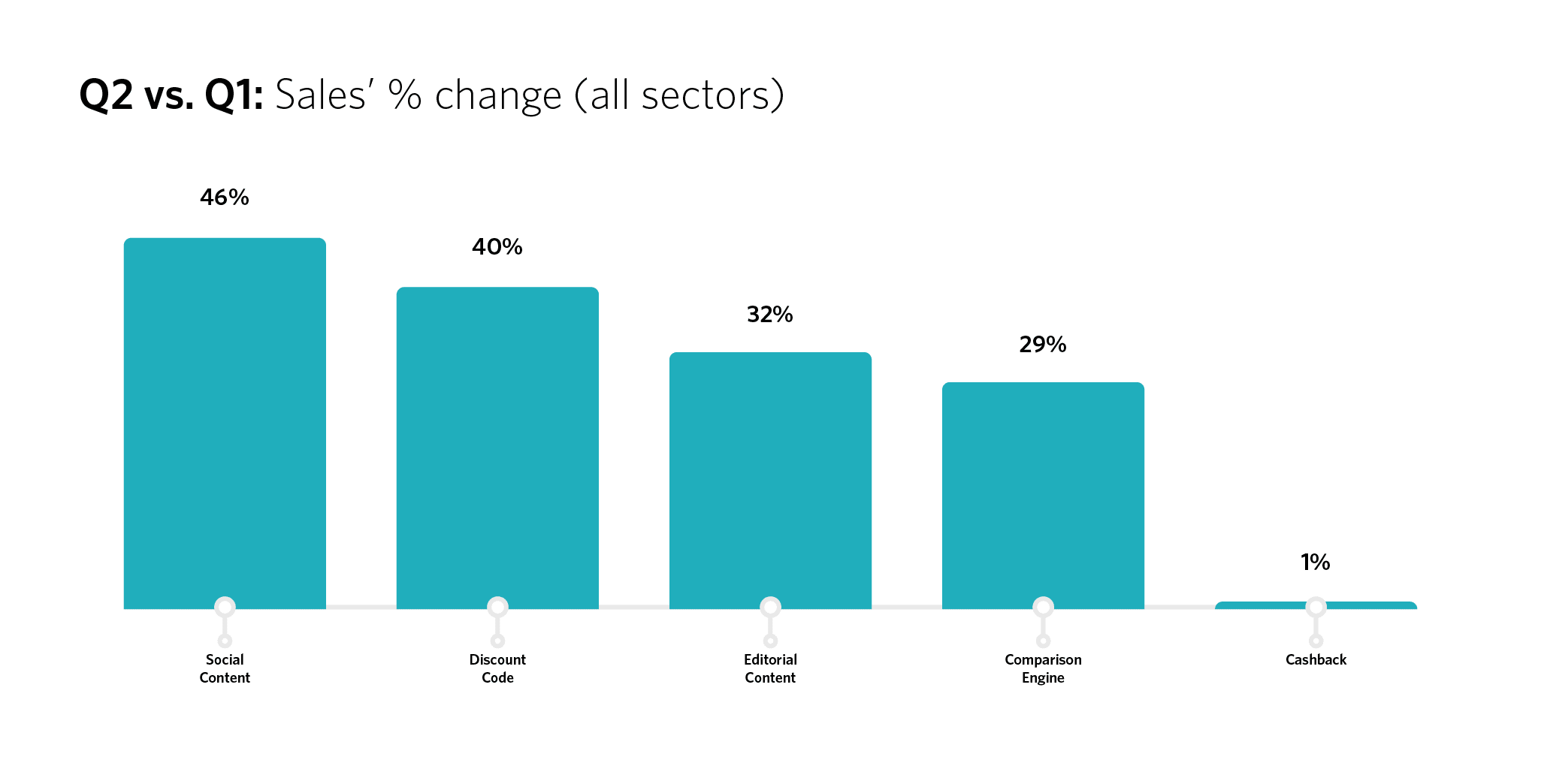 The retail sector produced even more dramatic spikes: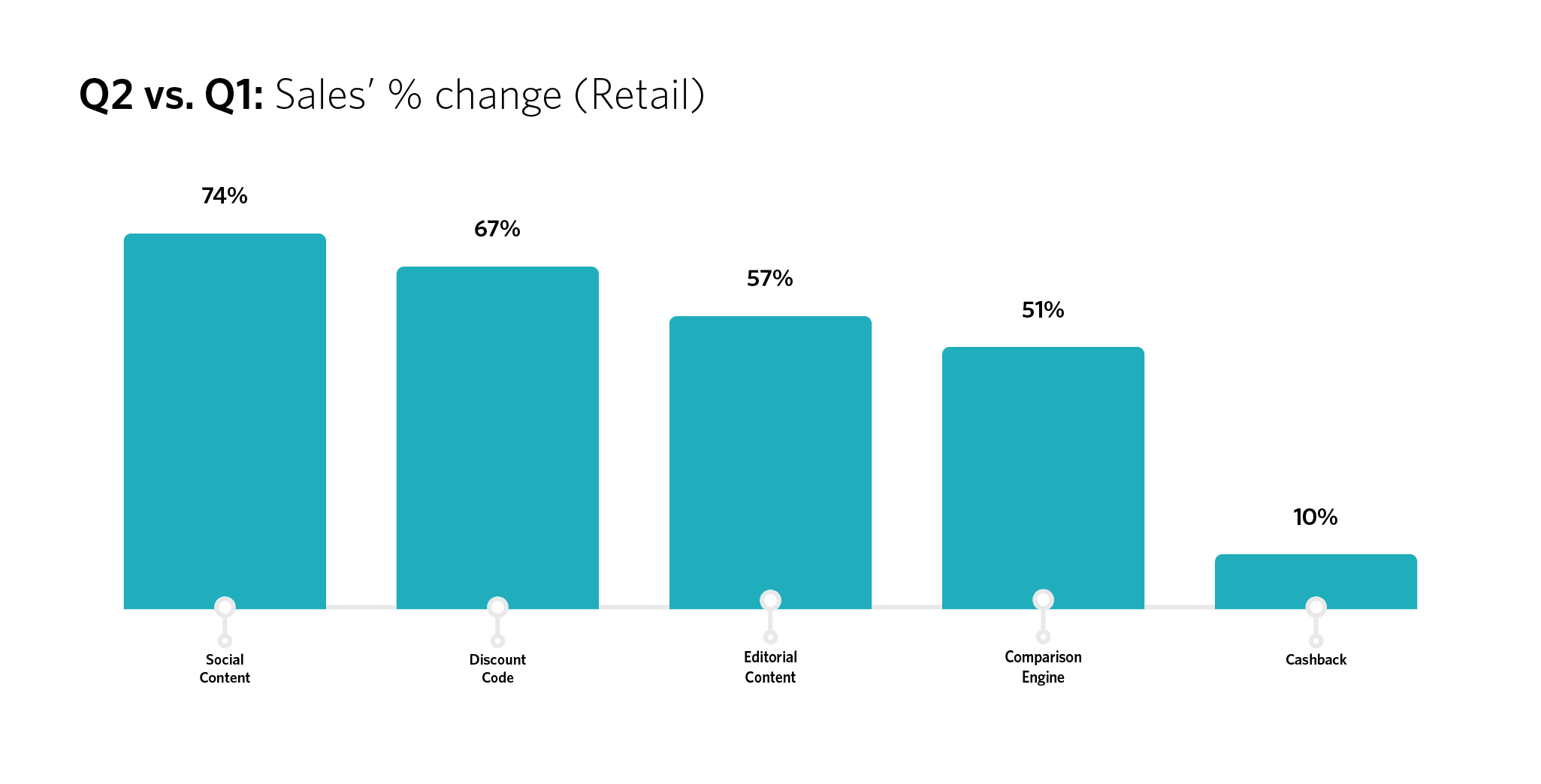 We often talk about the 'incentivised' element of our industry; a cash, points or coupon reward in order for transacting. Discount or coupon sites alongside cashback portals have been strong drivers of affiliate growth over the past 15 years, but it is also interesting to see such a divergence between the two business models.
Perhaps cashback as a controllable mechanic and huge generator of sales was the easy target for brands if they wanted to dial down their programmes without pausing them altogether. A telling indicator is the 16% slump in average cashback earned per sale, despite ongoing growth, indicative of cashback sites as an easy cost-cutting exercise.
There is an irony here in that study after study has shown them to be excellent sources of new and valuable customers. Fortunately we are starting to see programmes reopen but it will be important to keep a keen eye on all activity to ensure that revenue flows back into the channel through restored pre-pandemic cashback rates.
It is encouraging to see such positive quarterly growth elsewhere. Discount sites remained robust (often they are run at lower commission rates anyway) and comparison engines saw some of the biggest increases not just in retail sales, but also revenue (+107%), average order value (+24%) and ROI (+18%). Editorial and social continued their ongoing rise, proving invaluable as the pandemic drove first-time online shoppers into ecommerce sites.
Often in affiliate marketing there is so much data available, cutting across so many types of activity that it can be difficult to uncover the more local stories or hidden insights that tell of much bigger trends.
In the US, Amazon's dramatic commission- cutting exercise proved an impressive driver of new affiliates to Awin and ShareASale. Typically, longtail publishers focused on niches helped contribute to a 550% increase in editorial sales across our US programmes.
As we continue to delve into our data so more patterns will emerge, highlighting positive growth stories and cautions against possible bad practice. Ensure you're kept up to date with the network's news by signing up to our monthly Market Insights newsletter here:
Share this