Affiliate Champions - Gocertify
Written by

Kevin Edwards on

.
Jonny Matthews of Gocertify.me explains how his software enables brands to verify key workers for exclusive discounts on their own custom-branded widgets.
Share this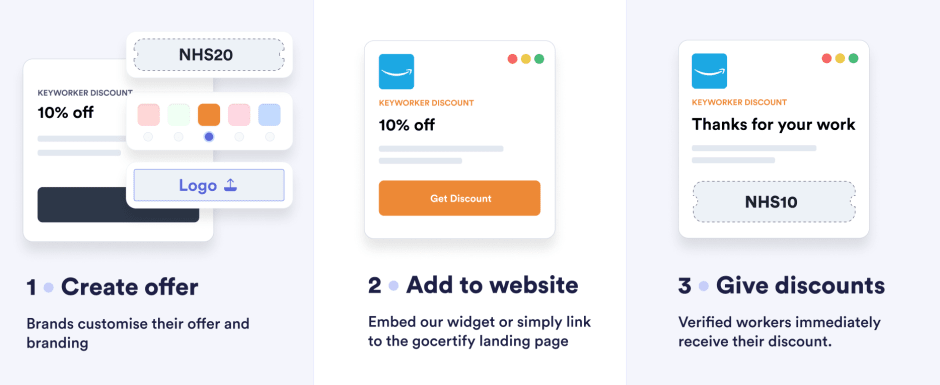 Could you tell us a little bit about the initiative?
Gocertify.me is a brand new tool to enable brands to verify key workers for exclusive discounts on their own custom-branded widgets. Key workers are doing an incredible job keeping the country running and we wanted to let brands reward key workers in an easy, frictionless and conversion-focused way.
We can currently verify NHS workers, teachers, police and the firefighters however we are looking to add more key workers over the next few weeks.
What prompted you to do this?
We saw brands giving NHS-only discounts and noticed that there wasn't an easy way to run and launch these campaigns. Companies were having to either manually verify workers over email increasing workload and causing wait-time and friction on purchase journeys.
Alternatively, brands had to send customers off to third-party websites which ask for an abundance of user data, have very overly lenient verification rules and bombard your users with emails. We decided to build a solution to solve all of these problems.
How does it work?
We create custom-branded widgets which brands can promote across their website, social media, email newsletters etc. Customers come to these widgets and verify their occupation by either uploading an ID or confirming their work email address. IDs are verified using AI Image Recognition and currently supports those working for the NHS, police and fire forces. We use email verification for school teachers.
Once a user is verified they are sent their coupon code (single-use codes are supported), encouraged to share the exclusive offer with colleagues and given a link to direct them back to checkout.
Our widgets can either be embedded on the retailer's website so that the user never has to leave a retailer's website to get the discount. Or more simply retailers can link to their own gocertify landing page which includes a widget.
Widgets are completely customisable and can be styled to completely match the retailers branding.
How do you see brands using the tech?
Brands are using our tech to immediately launch a key worker campaign. In minutes brands can create their own landing page to promote, verify and reward key workers. Excited to see how brands use our tool long-term, we anticipate brands offering key worker discounts for the foreseeable future as thanks for their work keeping the country running.
What are your future plans?
We have a very ambitious roadmap. Having originally launched focusing on NHS discounts alone we have already branched out to different occupations. We plan to cater to all types of key workers and will be adding more types over the coming weeks.
We've also started to embed social sharing into the customer journey. At the moment users are prompted to share offers with colleagues after verification but we are looking to build on this further. Perhaps tying into our other business which incentivises the sharing of Instagram posts with discount codes and other types of rewards.
Our longer-term goal is to become a completely retailer-focused verification tool. We plan to continually add new features to maximise conversion-rate, revenue and provide consumers with a frictionless way to verify themselves for discounts.
How can people get in touch if they're interested in using the tech?
You can contact me via email and connect on LinkedIn or visit our website. I'm very keen to chat to more people in the industry so please get in touch if you have any questions or would like to hear more.
Share this