How Coronavirus is changing the way we shop - Part 1
Written by

Client Partnerships Team on

.
In the first of a two part series, Awin reveals how our shopping habits have changed amidst the current crisis with five key online consumer trends. 
Share this
It seems like the world that we know has been turned upside down. Panic buying, the travel industry in freefall and global lockdowns are the new normal. Such changes filter through into every facet of life including consumer buying habits.
How has the disruption caused by the Coronavirus manifested itself in the affiliate programmes we manage? We took a look at the data from March and found the following five trends which we also covered in the above webinar.
1. Travel Insurance hits a peak before falling to single digits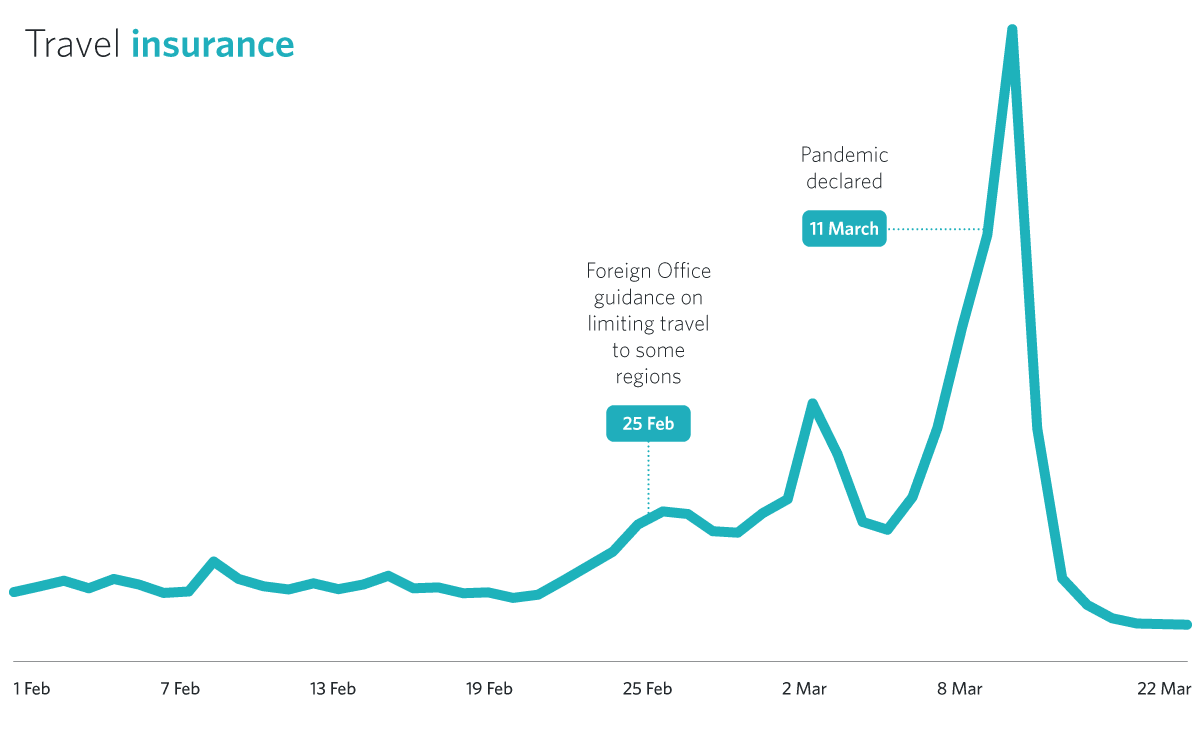 The first case of COVID-19 was reported to the World Health Organisation on New Year's Eve 2019. However, once the virus spread to more countries governments started issuing more forceful advice against travel from the end of February. As a result the travel insurance sector saw a steady rise as consumers protected their upcoming bookings.
As more countries began to close borders and airlines cancelled flights we saw the rapid acceleration. The WHO declared a pandemic on the 111th March and Europe as its epicentre two days later . Once the pandemic was official future policies no longer covered cancellations linked to pandemics. Combined with the fall in travel, many insurers have now stopped advertising their products and the sector now sees sales in the single digits.
2. Travel bookings decline whilst book to stay dates increase
It will be no surprise for anyone to learn the whole travel sector has seen declines. Airlines and local holidays have taken the biggest hit down 98% on last year as consumers were asked to 'refrain from all unnecessary travel'. Travel agencies and taxi application downloads have seen less of a decline, -67% and -5% retrospectively compared to the previous year.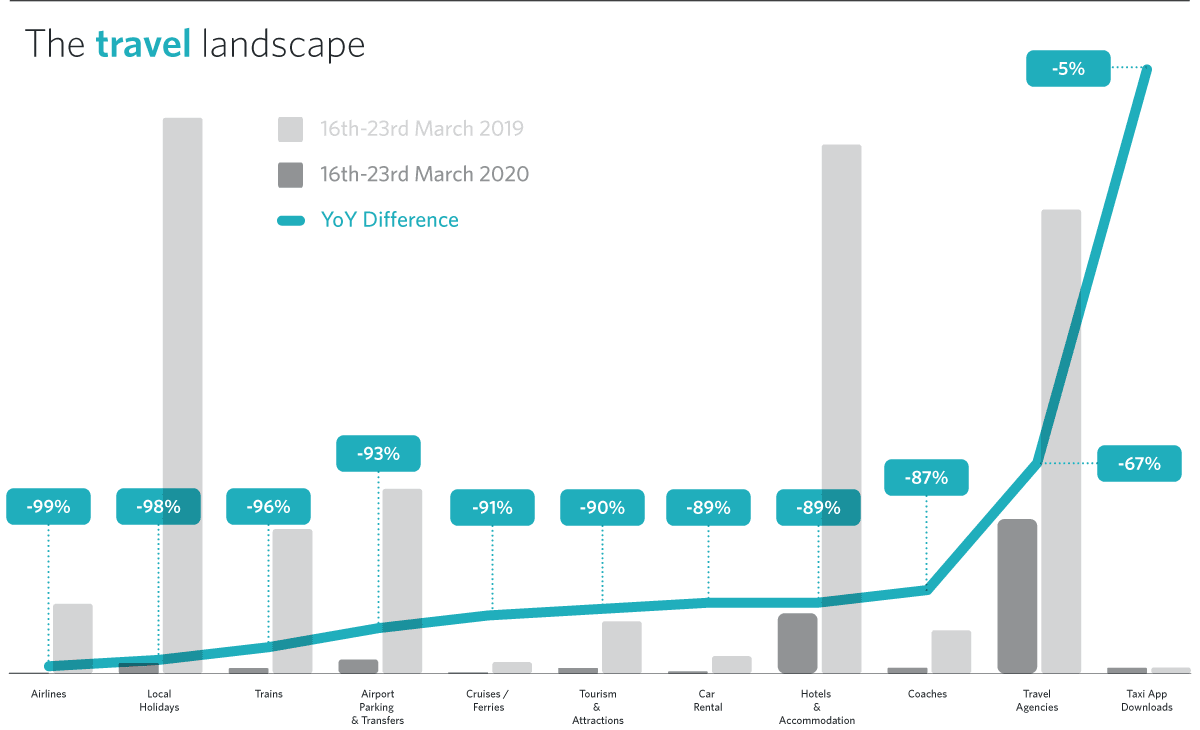 Data from one travel agent shows that whilst the total number of bookings are down by 70%, those customers still making bookings are looking for holidays further in the future. The time between booking and stay date increased by 33% in terms of number of days compared to the same period last year.
3. People need home entertainment
Online entertainment services are booming. Awin data shows digital TV orders and Video On Demand are up 174% versus the same few days the previous year, and online gaming is up a huge 237% year on year.
On a smaller scale but still a significant increase in terms of consumer demand last week we have also seen books and subscription sales online up one-third PC and video games up a quarter and electronics, gadgets and electronic accessories also up 11% versus the same few days in March 2019.
4. Happy Virtual Mother's Day
Mother's Day falls in late March in the UK and was unique compared to previous years, as we were all advised not to visit the one person the day was designed for However, consumers love for their mothers was not dampened by these demands and Awin UK saw Gifting and Flowers sales up +15% YoY, taking third spot in terms of volume of sales across all retail sub-sectors.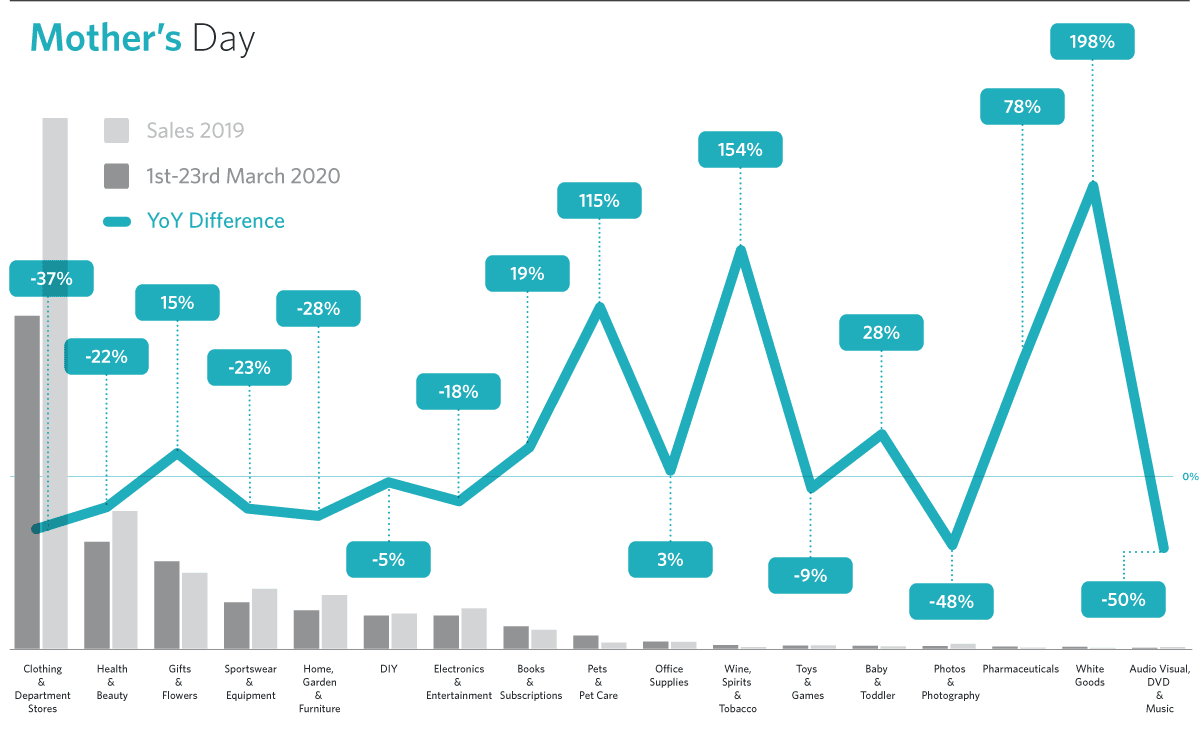 As well as gifting, many Awin families took to having virtual calls and even Sunday dinners together through many social media and group calling apps allowing us to stay connected to our families.
5. Home work-outs become important to all
As countries began to take advice to work from and stay at home seriously, Awin saw UK sports equipment sales up 11% overall versus the same week the previous month.
Over the weekend of 20th to 22nd fitness product sales were up 53% versus the previous month, with the average basket value also spiking by 42%
Those brands seeing the biggest increases in terms of number of orders specialise in products including cross trainers, treadmills, exercise bikes, rowers and general strength equipment. Many of these brands are offering free home delivery across, paired with alternative payment options like Klarna, allowing shoppers to spread their costs across several payments. Many sites are now also experiencing some downtime as they process the influx in orders.
We have seen a surge in online content focused on supporting those staying at home who want to continue to work out as UK gyms are now shut, including The Body Coach, Joe Wicks who is running a live fitness class every morning at 9am on Instagram live in a bid to be the "nation's P.E. teacher" as well as workouts tailored for seniors. Looking at Google search statistics in the UK we have seen a decline in 'gym workout' alongside a huge surge in searches for 'home workout'. Queries for 'home workout equipment' specifically is up 90% versus the previous 30 days.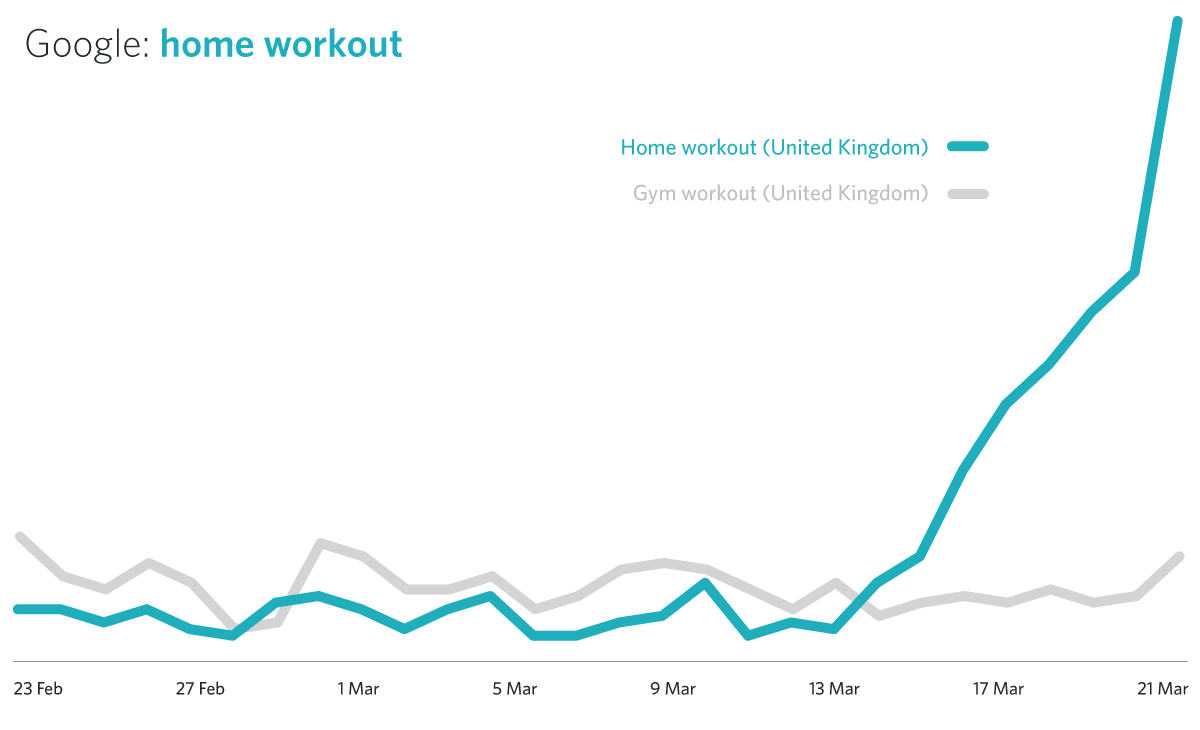 The second part of this series, revealing the following five key shopping trends, can be seen here.
Share this