Topman Get Festive As They Party With Publishers…Twice
Written by

Sophie Johnson on

.
On Wednesday 2nd November and Thursday November 17th, men's high-street fashion brand Topman, hosted two unique publisher evenings.
Share this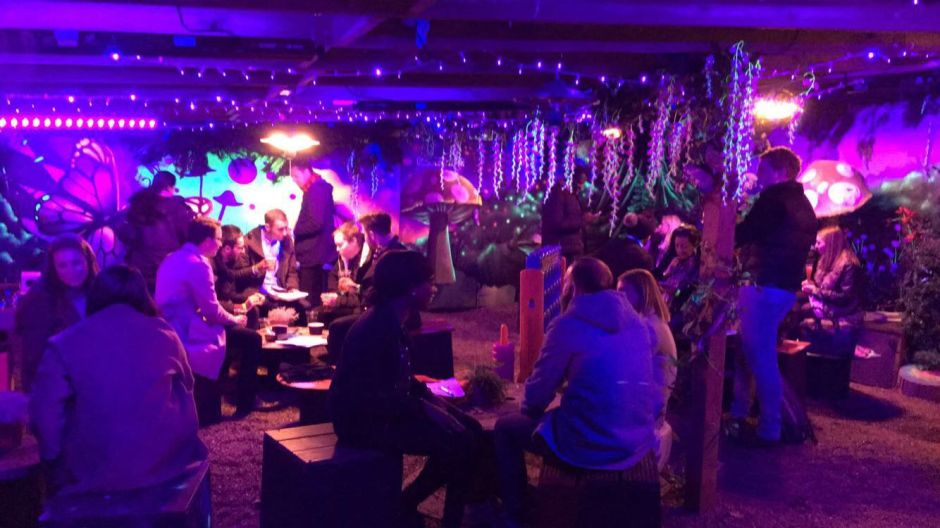 One event was set in a cosy Soho pub and the other in the middle of a roundabout in Old Street.
The first of the two events saw 7 of the programme's bloggers come together for a night of Christmas crafts, pub grub and personalised Santa sacks filled with clothing and gifts, whilst night two at Old Street's Magic Roundabout, opened it doors to 35 people from 14 of the programme's more traditional publishers for a night of games, tenancy giveaways, cocktails and street food.
Both events were fantastic opportunities for a broad spectrum of publishers to obtain quality face-time and discuss tenancy collaborations in front of the brand, and for Topman to gain insight into sites and projects with some of their key content and incentive partners.
We spoke to Laura Blake, Digital Marketing Manager at Topman to see how these two events engaged and boosted publisher partnerships, what the brand itself learned from running them and why it's important to host separate events for different publisher types.
What was the objective behind hosting the events?
At Topman we really value our publishers and strive to have a great relationship with them all, from the top performers to the mid-tier and our content sites. During peak it can be tougher to make the time for calls and catch-ups so we wanted to host events to get as much face to face time with our partners, get some work, ideas and planning in but also just enjoy a chat and getting to know each other better over a few festive drinks.
What made you decide to host separate events for your bloggers and your traditional publishers?
We recognise that bloggers and content sites work in a different way and provide a different kind of value to the program so we wanted to hold a separate event that was a bit more personalised to them. It allowed us to give each of our bloggers a bit more one on one time to chat about what they need from us and how we can better work together. The bloggers are also quite a tight knit group and they all know each other and like to network together so it was great to facilitate that for them. They knew that they would see a room full of familiar faces and have loads in common with all the other publishers there rather than having to pick out their peers from a packed room of all publisher types in order to network. The same applies for the more traditional partners who all know each other quite well. The activities we ran at the two events differed and the quiz at the publisher event definitely stoked up a bit of friendly competition and banter!

Left: Arts, crafts and bloggers – Topman's bloggers get creative in Soho. Right: Personalised Santa sacks for each blogger
How important was it to create events in line with the Topman brand?
At Topman we really pride ourselves on our clear brand identity as a forward thinking menswear brand that's always ahead of the curve and we wanted the events to reflect this. For the blogger event we chose a cool 'old man pub' rather than a corporate event space which was quite refreshing for a lot of the bloggers. For the traditional publisher event we chose a really unique East London venue which was so fitting for the brand (it was actually where Topshop held their Christmas party the week later!). We branded up the photo booth (no fashion party is complete without one!) and hosted a Christmas quiz injected with Topman's irreverent tone of voice and cheeky humour.
How did the events engage with the publishers who attended?
We wanted a good mix of face time with our publishers and activities to keep guests engaged. We gave away over £2,000 of prizes (Topman vouchers, tenancy bookings and spot prizes for great quiz entries) as well as personalised goodie bags for all our bloggers where we'd picked them all out coats, shirts, jeans and accessories that suited their style.
We had people from across the Topman Digital team there so our publishers could get to know us all a little better. We played plenty of beer pong with the publishers and the Topman team spread out to join and help some of the publisher teams in the quiz too if they were a little light on players, not that we were much help!
Has the event led to any exciting opportunities with your publishers?
The publisher that won the quiz and secured the £1K tenancy package was Intu, who we have not previously booked on that scale with in the past so it offers a great opportunity to try something really new and exciting with them.

Left: Magic Roundabout dressed up and ready to party. Right: Beer pong is underway
What were the key learnings from the events?
We found that bloggers can have frustrations when brands are not up front from the beginning about budgets and what they can offer. Many bloggers run their sites full time and have costs to take on in order to produce their content so if you don't have a budget you need to be really up front from the start. Bloggers also like to have regular contact with a brand representative who is responsive and can make things happen. One of their pet hates is when a conversation just dries up from the brand side with no explanation of why the project may not be continuing.
What was the highlight of the blogger night for you?
The highlight was just getting to sit down, share a drink, catch up properly and have some really good chats with some of our top content sites. It was great to hear what they're working on, how their sites and projects are going, see some pictures of their cute pets and just generally have a really good chinwag.
…And the publisher party?
The quiz was a great idea, it was quite loud in the venue but I think it worked out OK. The food was delicious and it was great that everyone got to pick what they wanted, when they wanted rather than having canapés brought round. Watching Money Saving Expert beat Ian from Awin's Publisher Services team at giant connect four was brilliant, and playing beer pong against TopCashback in the closest match of the century was great too!
To find out more contact the Topman Team or join the programme here.