Seven predictions for the Telecoms sector
Written by

Alex Parmar-Yee on

.
Following a year of disruption, accelerated product launches and political intervention, we look ahead to what the next 12 months have in store for telco.
Share this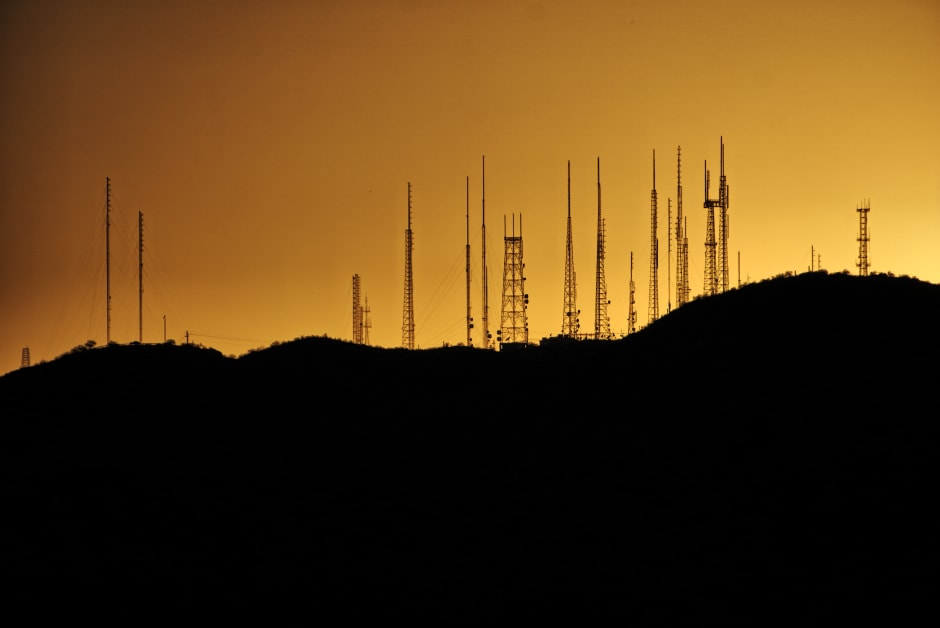 Like many others, the telecoms sector has seen huge levels of disruption in 2020. From surges in demand for some products, political policy delaying roll outs to new product launches, the year has been far from quiet. The shockwave of all of this is likely to continue to be felt long into 2021 and beyond. Here are seven predictions for what may be in store for the sector for the next 12 months.
The usual peaks may no longer apply
Within the telecoms sector in 2020, lockdowns meant that many consumers got to test the limits of their home broadband connections with increased remote working, e-learning and zoom calling. The result was that in the UK we saw a massive surge in the number of broadband switches in March. With a majority of these sales it's fair to assume that many of these households already had internet so this was people who were likely out of contract switching to new providers.
With so much unexpected volume in the lockdown period, this will likely impact the rest of 2020. With less out-of-contract households in the market, key sales periods like Black Friday could see a flat or negative YoY increase. This has been seen before in previous years with growth on Black Friday leading to reduced growth in January, which a few years ago used to be the main period for switching. 2020's broadband trends will likely have knock-on effects for years to come with the 12, 18 and 24 month contract terms leading to different peaks in 2021 and beyond.
Premium expectations from consumers
Another 2020 driven trend within home broadband has been further shifts to faster home products. Fibre has held majority market for a few years now but a focus on furthering the quality of home connections seems to have driven many consumers to really move across to faster products. Many established providers have launched or rolled out more ultrafast products and we've seen the expansion of coverage by more localised fibre to the home (FTTH) networks.
A study utilising our benchmarking data found that the average speed purchased through Awin has risen to nearly 120 Mbps. In 2020 Fibre plus products (80Mbps+) have grown nearly 250% YoY and the new premium ultrafast speed products such as G.fast and FTTH account for 12% of all sales so far. What this means is that consumers are no longer looking for low-cost, which has implications for providers as well as price-focused comparison sites.
However, providers need to be aware that consumer expectations will also likely shift. A YouGov survey suggested a third of respondents felt that internet speeds had become worse throughout lockdown despite network data showing minimal impacts. With consumers now paying a premium, service outages or lapses in quality will lead to more consumers with itchy feet. Retentions may get even harder still with further Ofcom consumer protections to allow easier switching.
5G's fortunes will turn around
Many commentators including myself at the start of the year believed that perhaps this year was to be the year that 5G technology finally broke through the noise and hit the mainstream. Instead 5G has hit the headlines for all the wrong reasons with conspiracy theories, and as a key factor in the collapse of Anglo-Sino relationships with a ruling limiting Huawei 5G infrastructure within the UK.
Despite 5G being further pushed by Samsung with the S20, Three with their 5G home broadband and others, I don't feel that within the UK 5G has really made its impact. The delays in rollout are partially to blame here. However, in the US where Huawei restrictions have been in place for longer you can see glimpses of what next year may look like for 5G across the Atlantic. 5G is a real key focus in terms of pushes and you can see handset manufacturers having to ensure they have 5G as part of their new launches to get the lucrative promotion by US networks. This momentum continues to grow with Apple including 5G to all models of the iPhone 12, signalling that 5G has moved from enthusiast to mainstream tech.
Within home computing we also saw the latest Windows software now running on 5G friendly ARM processors and Apple stating they intend to migrate their Mac computers to ARM from the less mobile-friendly Intel chips. Next year, networks in the UK will likely focus on 5G as a core USP once again emboldened by a swathe of devices that will improve consumer desire for 5G.
B2B sales may impact the B2C market
For many businesses telecoms purchases are often focused on fast internet and landlines for their premises, with mobile telecommunications sometimes thrown in. With many workforces now going remote and many companies looking to downscale or remove office spaces, companies will have to consider how they ensure their workforce remain connected and able to share documents, video conference and access company networks.
Some businesses may look to support employees with subsidies to ensure employees purchase the most reliable connections which may drive further shifts to Ultrafast products. I wonder if businesses would seek to leverage bulk purchasing to either get bespoke packages or discounts for employees.
The affiliate channel has a number of employee discount partners generating volume in telecoms and it would be interesting to see if more bespoke offers in this space could grow them further. Some companies may shun fixed line for this, instead maybe looking at wider roll outs of company mobile technology; either laptops with mobile broadband or phones to tether from. The flexibility of mobile from a logistical and location perspective may drive growth in this area.
Streaming services will continue to fragment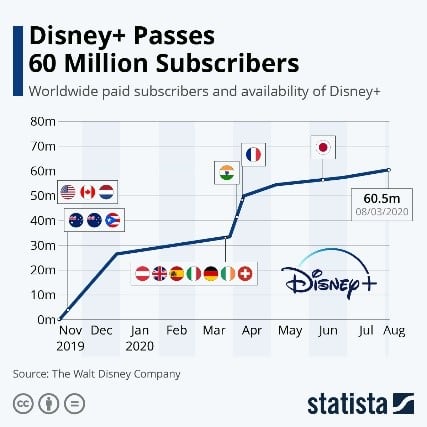 The options available to the media-hungry consumer have continued to grow this year. Once upon a time a Netflix subscription felt like all you needed. Nowadays there are many different video streaming services covering all niches and more recently we're even seeing live sport and cloud gaming fighting for the coveted HDMI 1 slot on our TVs. Lockdown definitely has helped accelerate this with Ofcom research showing that in April 2020 people were spending twice as much time watching streaming services and 55% of respondents intending to continue this level of consumption even after lockdown ended.
On top of this there is also a real fight over content exclusivity with many studios that used to use Amazon Prime and Netflix for distribution opting to launch their own services. Disney+ is the key example of this with its North America launch in November last year and its global launch earlier this year seeing it exceed 60 million subscribers by June, the target it set itself for five years. The restructuring of Disney announced last week shows that this is causing them to pivot to being even more direct-to-consumer.
Other content houses are taking the same steps, in the US NBC Comcast have Peacock which hit 10 million subscribers in three months and AT&T launched HBO Max. Live sports streaming is also growing with pub and stadium audiences on hold due to the pandemic. I expect that many more studios will look to leverage content exclusivity; a trend that already has caused Amazon and Netflix to double down on original content.
What this means is that the old value for money delivered by streaming services is likely under threat and that for some bundled satellite and cable TV may seem like an easier option. However, I also feel that we may see more à la carte consumption with subscriptions being put on rotations depending on what series you are binging that month. There could be a real opportunity for services that help with content discovery and subscription management.
Handset diversity will continue to drive more upgrades
Despite new technology such as 5G and folding screens trying to pry users away from their existing devices. Kantar research found that handsets were being held onto for around 28 months on average in the UK. However, over the past few years we've seen the premiumisation of smartphones with many new handsets exceeding the £1000 mark and consumers wanting to save either going with budget brands or buying older models.
In 2020, it looks like many of the traditional handset manufacturers have realised that rather than sell old models, they would rather people buy newer, mid- or low-tier models. Apple's iPhone announcement earlier this month adding the iPhone 12 Mini to the line-up means that across the five flagship models in their line up there is only £100 between each leap. Samsung have done the same with no less than six flagships.
We've also seen some manufacturers focus more on the lower price points with OnePlus return to their budget phone roots with the OnePlus Nord and Google with the Pixel 4A and the lowering of the price of the Pixel 5 by £100. Handset manufacturers are trying to get people to buy new phones more frequently again, and with networks keen in 2021 to get people to upgrade to 5G and the economic uncertainty ahead this plan may work.
Recession will drive new customer behaviours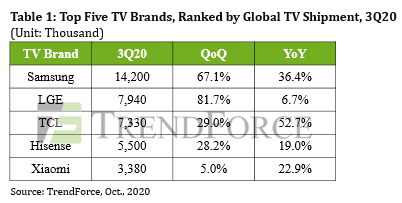 Economists and historians will often point to how recessions whilst painful can also be catalysts for change. With the impact of the coronavirus pandemic likely to be a period of economic recession, it would be worth thinking how this will change consumers' relationships with their telecoms products.
In the great depression people went to the cinema to distract from the events, in the credit crunch recession flat screen TV sales saw a huge boom. As well as distractions from daily woes, home entertainment is also a lot cheaper than leisure activities outside of the home. As we see the return of big nights in, despite economic pressure spend on ultra HD TVs, games consoles and streamed movies may actually increase. Trendforce reported that Q3 saw worldwide TV shipments hit a historical high with a 12.9% YoY increase which supports this prediction.
Another interesting trend, linked to the focus on fast internet and 5G mentioned above, is that whether we will see more mobile-only households where fixed line broadband and even mobile home broadband are shunned for a network of 5G enabled devices such as laptops, tablets and even smart TVs. Perhaps pushes here could see fixed line begin to be seen in the same way as landlines. With the O2-Virgin pending merger adding to the number of players that target home and mobile internet access, perhaps it's a sign that we'll see the lines blur between these products further.
Interested in hearing more insights from Awin's Client Partnerships Team? Sign-up to our newsletter here.
For any questions on the team's research please feel free to reach out directly.
Share this