Create a unique web experience for every customer with Particular Audience
Written by

Yana Bogina on

.
Particular Audience helps retailers build custom online shopping journeys. We're sharing why advertisers and agencies should consider this #AwinningPartnership.
Share this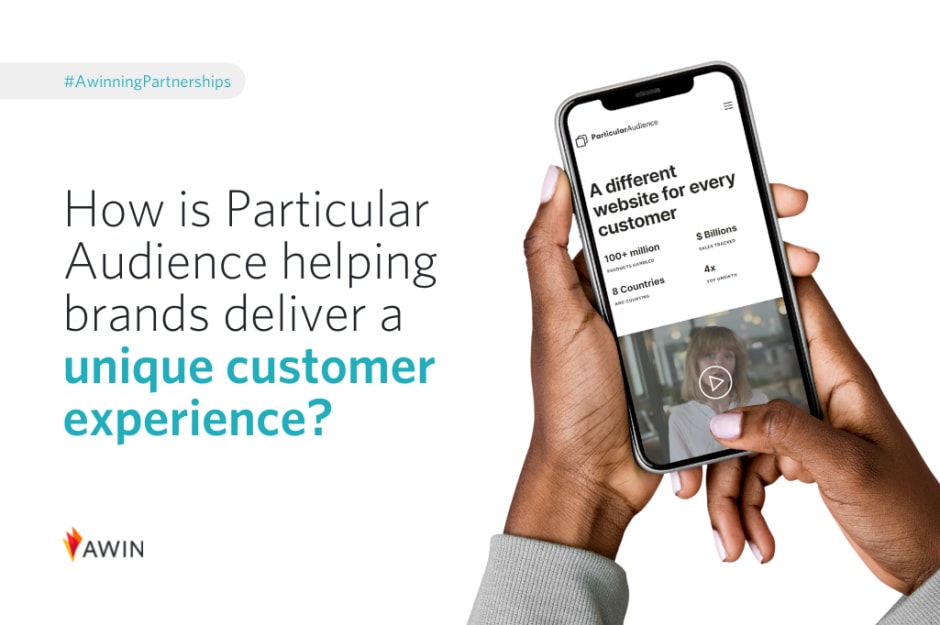 Particular Audience is a market leader for onsite product discovery, offering a range of technology solutions - including search, recommendations and merchandising – relevant to every individual consumer. Providing a no-code, AI-powered personalisation layer that sits on top of transactional ecommerce platforms, Particular Audience is now integrated into Awin's Advertiser MasterTag, facilitating a seamless experience for retailers with this #AwinningPartnership and removing the need for any dedicated resource.
Partner with Particular Audience
Awin's Yana Bogina chatted with Tom Dredge, Sales Manager (EMEA) at Particular Audience, to find out more how the company operates and why it is attractive to advertisers already working with this technology partner.
Who is Particular Audience?
Imagine walking into a store and the product you want is right at the front, meaning you don't have to waste time searching the endless aisles. Now imagine if the retailer could achieve the same experience for every single person walking into that store. This is what Particular Audience does for our clients' online stores.
We are a technology partner focused on providing a personalised website experience for every visiting customer through enhanced product discovery, using a combination of unique technologies like Collaborative Filtering, Natural Language Processing and Computer Vision to surface relevant items. This happens across the customer's journey on a brand's website regardless of what page they're on (homepage, product page, basket, search, category page, etc) and even off site.
Customer personalisation is key to creating an engaging consumer experiences. If we are talking about benefits for advertisers, what does Particular Audience offer advertisers compared to other technology partners?
Particular Audience offers a suite of personalisation products including on-site search, merchandising, recommendations, custom analytics and Retail Media. Our managed service option allows clients to save huge amounts of time, our account management team is led by retail experts who also work with our in-house data science team to generate custom reports for brand-level analytics, basket analysis, long-tail analysis and out-of-stock prediction.
One of the key benefits to digital marketing activity is everything is measurable, and with anything implemented to drive performance it is vital to measure incrementality. Particular Audience provides comprehensive A/B testing to not only demonstrate the impact of our technology but to continuously improve the performance of our own implementations.
What 'problem' does Particular Audience help retailers solve with personalisation, and how does your technology come into play?
Product discovery/filtering.
This is a significant issue across ecommerce; without the usual shelf space restrictions of a brick-and-mortar store, websites can offer customers an expansive product range. However, as product ranges grow, finding relevant items becomes a challenge for consumers. We see this across our client data, with many having a high proportion of revenue come through 20% or less of their product range.
There is a massive opportunity in guiding customers to a brand's wider catalogue and one Particular Audience achieves with personalisation. Personalisation creates bigger retail media opportunities for our brands as sponsored products only appear within relevant long-tail journeys, meaning you can have more sponsored products and they have a higher chance of receiving a click when they do display.
Typically, behavioural data is the only data set retailers use to personalise their site experience. But this relies on items being clicked, viewed or bought, so what about those items that aren't or are new to a website? With our Computer Vision and Natural Language Processing technologies, Particular Audience can surface items descriptively or visually similar to those being searched for or viewed. Not only does this create incredible user experience but it helps with long-tail or cold start issues advertisers may face.
What service or product are you most excited about? Can you give us some insights into how it works?
Physical stores have always been successful in monetising their relationship with suppliers (think promotional stalls at the front of a store), and typically this is done on rebate models. Our new retail media platform allows advertisers to replicate this online. Suppliers can log into the platform to put budget behind and boost the visibility of their items across the customer journey on retail websites; with this, brands achieve a very high-margin revenue when a customer clicks on a "boosted item."
What industries do you work in?
We can work in any vertical where an abundance of products and services creates a discovery / filtering issue. Particular Audience started in fashion, homeware, electronics, gaming and accessories, but have recently expanded to photo, video and streaming services. Our services are not just limited to websites and can also operate within apps through SDK integrations.
What are the biggest advantages you've seen in working with Awin compared to other affiliate networks?
We are a global company with offices in countries across (Sydney, Vancouver, London, Amsterdam and more to come); we also have clients in nearly every country across Europe. Awin's impressive global reach and how, even with its large footprint, it's still able to maintain close relationship with clients is a core reason why we enjoy working across the platform.
Additionally, Awin's Advertiser MasterTag has provided an easy, turnkey solution for us to integrate with clients.
Ready to join advertisers already capitalising on this exciting #AwinningPartnership? Please get in touch here.
Share this