Six takeaways from Awin's Travel sector insights webinar
Written by

Joelle Hillman on

.
It's been a turbulent year for the travel industry and with 2021 on the horizon we look at the hopes and predictions for the new year.
Share this
Last week I had the pleasure of being joined by our panel of experts to reflect on the fate of the travel industry and to learn how our partners are optimistic for 2021. A huge thank you again to:
Here are our six takeaways from the discussion.
1. The pandemic turned our travel industry upside down
Before diving into the future of travel we wanted to reflect on performance this year. Below are the top KPIs, looking at the whole travel landscape across January to November 2020.

Whilst bookings for the year are down substantially, traffic is down much less so; consumers are still browsing for travel content, inspiration, and advice.
AOV for the sector is up a huge 60% increase on last year; those that are still able to travel this year are spending more on average per booking. Claire suggested this could be due to consumers banking the budget for those missed trips and big events in 2020. ROI is also up in 2020 whilst many travel brands have understandably had to pull back at certain times throughout the year, but those brands who are investing are seeing a stronger return.
In terms of holiday trends, staycations took a smaller hit on sales compared to travel as a whole. With many missing out on going abroad we saw the UK take to staycations and local fun with the family. Tourist attractions and local holidays saw a smaller decline comparative to the whole of travel down -30% and -26% YoY.
James mentioned with a decline in bookings came a rise in cancelations and Holiday Extras saw a years' worth of cancellations in just six weeks. Hattie shared that TopCashback have seen a rise in certain territories more recently including parts of Europe, Dubai, especially since the news from Matt Hancock that holidays will be able to go ahead in summer 2021.
2. Customers still want a holiday and are willing to wait
Part of Awin's tracking offering is to offer deeper conversion analytics, this is achieved using our custom parameter tracking capabilities which allow advertisers to pass back additional information at checkout outside of those standard metrics.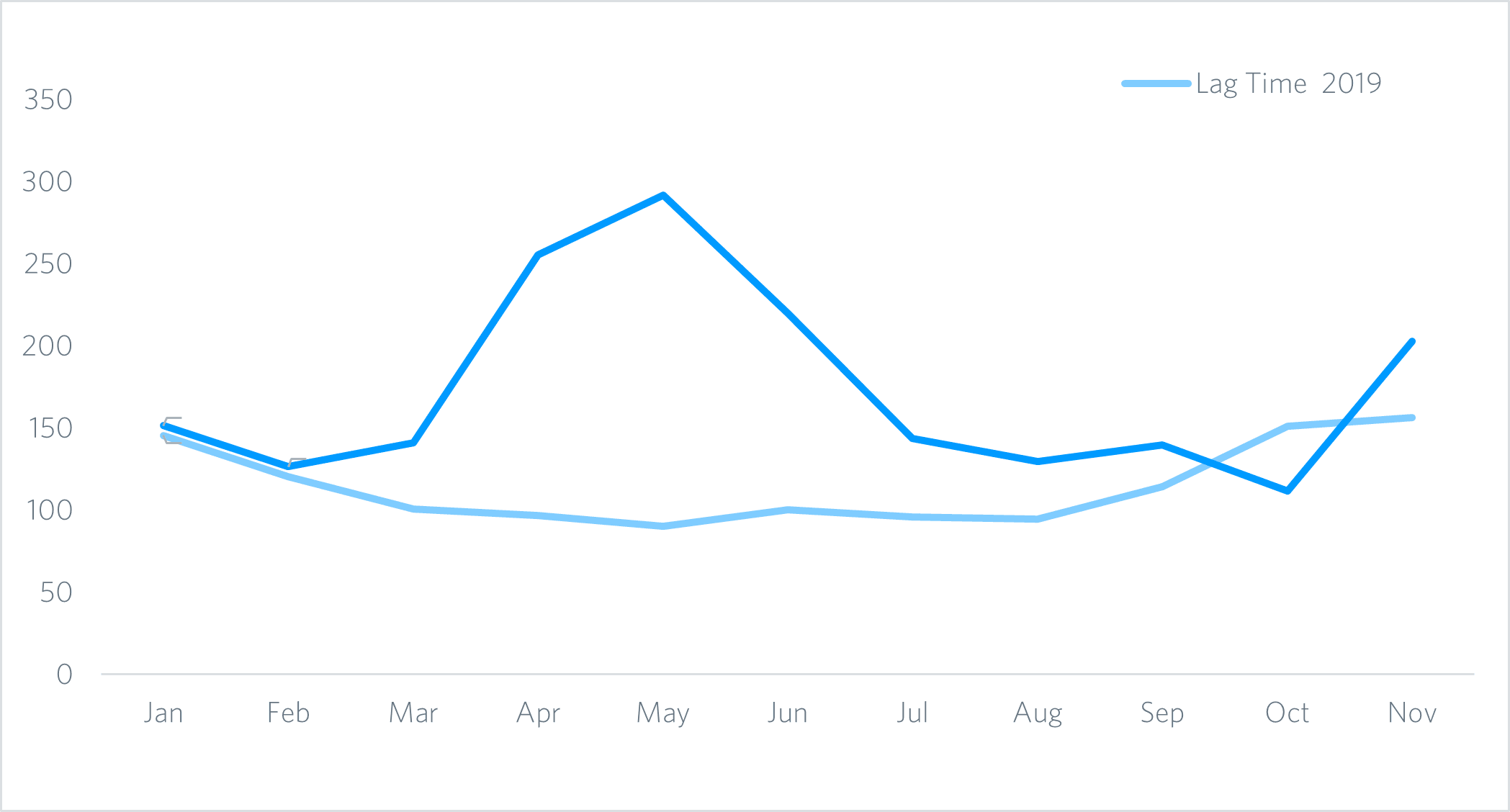 Looking at one OTA, who passes stay date information, we compared the time between booking and stay date. In 2019 the lag time was 115 days, however this rose to an average of 174 in 2020, we have seen a direct correlation between UK lockdown regulations and longer lag times. In May this year, those customers that were still booking holidays were booking around 292 days in advance, that's 202 days longer than last May. Confidence of a summer 2020 trip was low, and as a result travelers were willing to wait over nine months for their next venture! James at Holiday Extras mentioned they are already seeing bookings for 2022 - that's a very organised trip.
3. Our industry has been able to adapt during times of crisis
As Claire eloquently stated "we've all been in the same storm but we have all been in very different boats" and despite the struggles for travel businesses, we have seen positivity and agility as brands adapted through the crisis. Holidays Extras launched a gift voucher solution as an alternative to cash refunds, and plan to capitalise on the staycation rise offering customers attraction tickets through a breaks programme.
Uniqodo recognised the cash flow and refund complexities their brands were experiencing, as a result they used their code platform to support brands in offering credit-based refunds, both automating the refund process and supporting call centres.
Awin launched their COVID tracker allowing Sean to keep up to date on the impact and trends across each sub-sector within travel.
We have also seen new and emerging partner types. Closed user groups, especially those supporting NHS and other causes have seen success in 2020.
Awin also focused on Affinity Partnerships; helping brands connect with other brands and use traditional affiliate tactics, measurement and marketing techniques to build co-branded campaigns, and allowing travel brands to align themselves and collaborate with other businesses not directly within the travel industry but where there is affinity across the product offering.
4. There are multiple factors that play into our performance predictions for 2021
Whilst we do not anticipate a year like this ever again there is still a huge amount of uncertainty that will follow us into 2021. Though the vaccine bought hope and positivity, it's still unconfirmed as to how quickly this will be rolled out to the whole population, and what this means when travelling. Our audience asked the panellists about their thoughts for a potential Brexit no-deal. James shared Holiday Extras stance, who are taking the rumours seriously and preparing themselves for the eventuality that planes could be grounded in January, though they anticipate this to be short-lived. Hattie commented on a few changes in consumer behaviour that TopCashback have already began to see unfold, from the decline in UK business travel to major cities, to the shift in consumer mindset within the younger generation who are more environmentally minded and as a result travelling less when it comes to air travel.
Claire shared her thoughts around weighing up the level of pent-up demand in 2021 with some customers, comparative to the continued level of uncertainty that will stay with some consumers well into next year.
5. We learnt new marketing techniques in 2020 that will stay with us
Sticking to the theme of positivity as we consider what we have learnt and those new techniques here to stay. Creativity was a hot topic throughout the webinar, Claire and Hattie both mentioned that during times of crisis it really is creative thinking and positivity, and tackling challenges head on, that helps continue to drive success, and reduce the overall impact. To be creative, and to adapt within a pandemic businesses also have to be agile, which is definitely easier said than done for larger businesses. With the acceleration of digital this year, and fundamental changes in the way we work and interact with customers, businesses that might have had a longer roadmap to go online or launch new product have had to be agile, adapt changes, and move quickly.
Sean called out the strength of our industry in that our campaigns are fundamentally built on human relationships. This has allowed us to embrace communication, and continue to share challenges with each other to allow businesses to support other businesses.
6. Our panel offered their own advice to the industry
Finally we closed the webinar asking our panellists for their practical advice for the new year.
Sean "Ensure your lines of communication are open – and listen to understand pain points, understand how your clients are adapting to be able to support as best as you can."


Hattie – "With a challenge, comes digging deep, collaborating, and overcoming challenges together resulting in more creativity."


Claire – "Listen deeply to customers, they will tell us what they want and when they want it, and dial sensitivity up."


James – "Be prepared as we go into 2021, holidays are coming, prepare yourself to soak up as much revenue as you can when it happens."
If you have any further questions please do reach out to me direct here.
Share this