Publisher Spotlight: Student Beans
Written by

Monica Rossi on

.
Working with 71% of the top 100 youth brands offering a student discount, Student Beans are trusted more than any other student loyalty platform.
Share this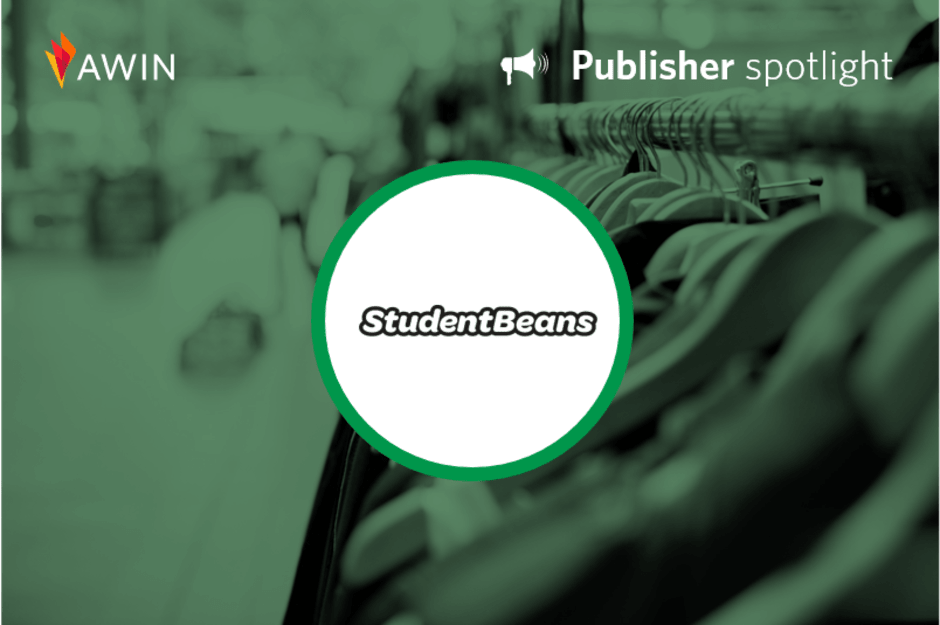 Student Beans work with retailers to power student offers; helping 1000+ brands and publishers to form a partnership that drives new opportunities and extends their reach within the youth demographic.
Connecting brands with the new generation of consumers, their student loyalty network enables their brand partners to better attract, convert and retain student customers. Managing the distribution of their student offers for them, this student-focused loyalty platform acts as an exclusive gateway that allows customers to access student discounts from the brands they partner with.
Partners: Student Beans & Awin
The Student Beans publisher account was set up in 2006, approaching 15 years of working with Awin. They credit Awin's "very slick platform, easy to use, very user friendly and nice interface that's regularly updated" for their longstanding relationship.
A large number of the publisher's key clients use Awin for their affiliate tracking, so Student Beans joined in order to ensure they could track and monitor performance of their 1000+ advertiser programmes. Student Beans' international expansion has also benefitted from their partnership with our network as they have launched in 100 countries, attributing the success of the global rollout to the wealth of insight and data accessible via Awin's reporting suite.
Who do they work with?
Over the years Student Beans have worked with over 1000 global retailers across various territories within the Fashion, Health & Beauty, Tech & Mobile, Food & Drink and Travel sectors. PrettyLittleThing, Boohoo.com, Gymshark, Currys PC World, Topshop, Topman, Nintendo, Ted Baker and LookFantastic, to name a few, comprise Student Beans' impressive portfolio of affiliate partnerships.
Success Stories: PrettyLittleThing
Examining a recent campaign executed with PrettyLittleThing, the appeal of Student Beans' model in supporting a brand's performance within the student demographic is evident.
Campaign objective:
Win new student customers during a key period in the student calendar
Grow revenue stream specifically for the Student market
Retain and grow student audience base
Campaign approach:
The campaign ran in parallel with Freshers Weeks in the UK which is from the 16th to 29th September 2019
A boosted discount campaign was executed with PLT increasing their student discount from 20% to 25% during this key period
Promotion of the PLT boost across multiple online Student Beans media channels, including:
Email placements (solus) & newsletter inclusion
Push notifications in-app
Banner ads on homepage carousel
A number of featured days across app and online
Student Beans Instagram with over 60k+ student followers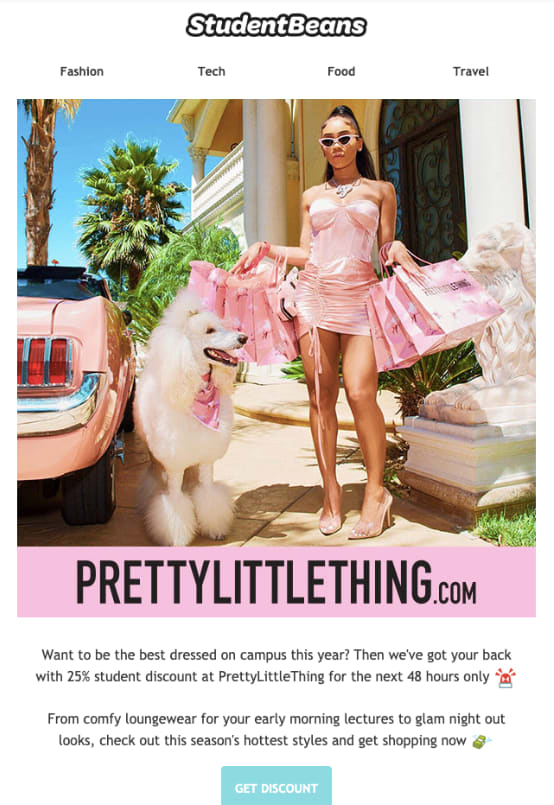 Campaign included:
The campaign also involved co-branded offline activity:
PLT was part of the Student Beans campus tour, where SB visited 20 strategic events, including freshers fairs, shopping nights, welcome events and more.
PLT featured on 'Wheel of Fortune' game, where students could win exclusive discounts or prizes from 24 brands. Students landing on PLT's segment won 25% off plus a chance to win a £20 voucher.
SB worked together with PLT on a co-branded out-of-home advertising campaign in the form of poster ads, that were put up around strategic universities and freshers fairs in the UK.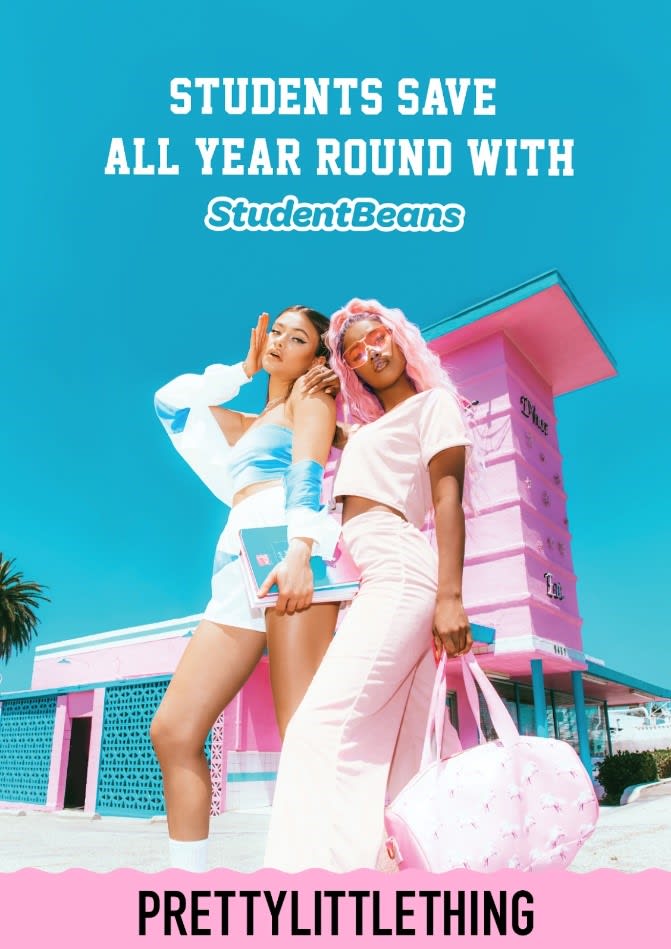 Campaign results:
Massive increase in revenue during boosted campaign
Revenue uplift from same time period in month previous: +52%
Sales during boosted campaign saw a tremendous growth spirit
Sales uplift from same period in month previous: +49%
New vs existing customers: 12% vs 88%
Huge increase in the first time verifications (16th – 29th September)
Promotion of partnership offline at physical events was valuable to broadly increase awareness of PLT's student offering: campus tour events exceeded a reach of thousands
Commenting on the success of the campaign, the Marketing Acquisition Manager at PrettyLittleThing said:
"We are continually impressed by Student Beans for several reasons; their personal approach to our student discount program, their organised on-boarding process and their knowledge and expertise of the student landscape. The team is super friendly and they took time in understanding our business to help us maximise our student growth potential with fresh ideas. Student Beans continue to be a pivotal part of our business and we look forward to furthering our student program with them."
Want to know more?
To find out more about Student Beans and how you can work with them, please Book in a Demo get in touch with the Awin Publisher Services team.