Awin, Voxi & The Hook: Influencing endless possibilities
Written by

Brendan Johnson on

.
Awin, VOXI and The Hook won Best Influencer Marketing Campaign at the Performance Marketing Awards 2019.
Share this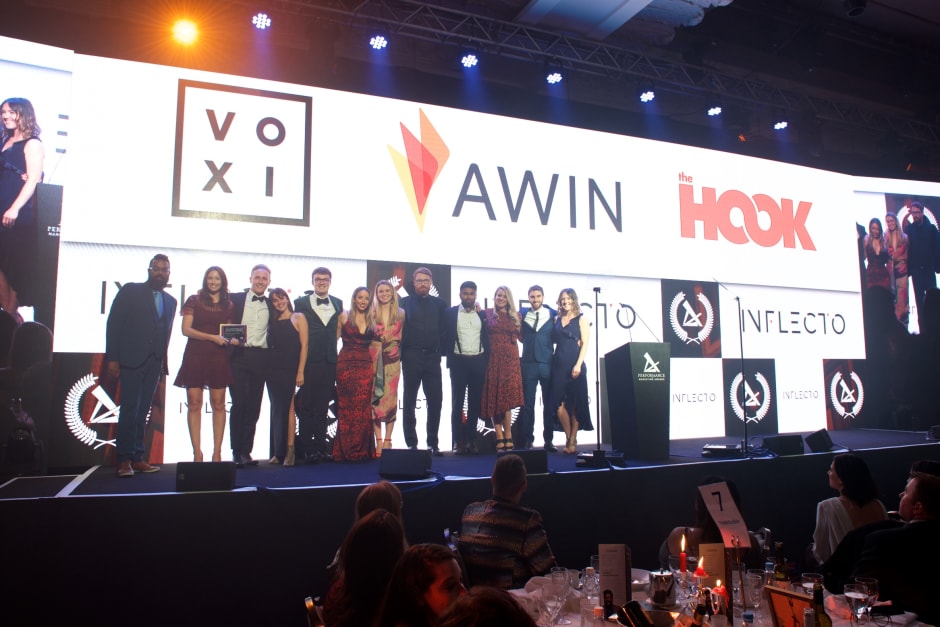 With the launch in 2017 of VOXI, the UK's first dedicated youth mobile offering, Vodafone aimed to become the provider of choice for young people. The key concept was of 'Endless Possibilities', as the offering included unlimited social data, calls, texts and roaming across Europe. Awin was tasked with setting up long-standing influencer partnerships that supported both brand awareness and customer acquisition within VOXI's target market of under 25s, and social influencer network The Hook was recruited to fulfil the ambitious goals.
Objectives
As well as raising brand awareness and driving quality customer acquisition, the Hook was also provided with the following campaign objectives:
Engagement: Influencers to be chosen based on their personal connection to the brand, with a target set for total engagement across all social channels
Cost Per Acquisition: As a new brand with limited marketing spend, strict spend targets had to be set
Finger Fall: Attracting customers to the newly built, creative and clear VOXI site, with a CTR target from Facebook set
Breaking The Mould: VOXI needed to ensure their marketing strategy matched their brand values, with a goal of recruiting new influencer partners
Further to the above, as VOXI was the first UK Telco provider to take a content-based approach to affiliate marketing, they worked closely with Awin and The Hook to set creative and fair targets, utilising a test and learn approach. A target of conversions per campaign was set to encourage engagement and drive conversions.
Execution
Key to the execution of the campaign was The Hook taking on the role of a flexible strategic partner to Awin and VOXI, necessitated by the process of tailoring specific campaigns to each social influencer. To this end, weekly calls and face-to-face meetings aided clear and constant communication between key stakeholders across all three companies.
Execution of the campaign was divided in to two main phases:
Building custom audiences: Phase one of the campaign saw The Hook product two stand-out newsreel styled videos, promoted via their Facebook page to highlight VOXI's key 'Endless Possibilities' messaging. They made use of Facebook's age-gating functionality to directly serve the 18 – 25 target market, with strong calls-to-action and additional links which encouraged The Hook's highly-engaged audience to sign up for a free sim-card. When the upper age limited for VOXI increased to 30, The Hook demonstrated their flexibility as a strategic partners by creating a third video capture the remaining audience segment. As a result of engagement with this videos, they were able to create custom audience to re-target.
Targeting influencers: Phase two involved recruitment of influencers to film a 'selfie' style advert to drive VOXI sign-ups, targeting from both The Hook's Facebook page and the influencers' individual social media accounts. The influencers recruited included Geordie Shore cast members, Gaz Beadle and Aaron Chalmers, as well as Facebook sensation Stuggy.
Results
With the affiliate channel having been chosen to support VOXI with their brand awareness and customer acquisition targets simultaneously, these were the key measures of success for the VOXI, Awin & The Hook teams. The campaign reached an impressively wide audience of under 30s across the UK, surpassing targets set for impressions by 50% and sales by 27%, whilst achieving a 16% saving on acquisition costs.
VOXI achieved all target KPIs across the campaign. This highlighted that sufficient revenue could be driven from outside the more traditional Telco comparison site space. The success of the initial campaign has led to the booking of multiple, subsequent future campaigns as well as solidifying an ambitious and forward-thinking relationship between Awin, VOXI & The Hook. ​
Hear what our partners had to say:
"Together, we overdelivered on every single one of our objectives while creating the right blend of informative and entertaining content, building positive sentiment throughout and driving direct sign ups to VOXI's price plans.​"
"The campaign perfectly illustrates that having a performance mentality when putting together a brand campaign will ensure you hit a number of business KPI's."
To find out more about the VOXI affiliate programme, click here. To learn about starting an affiliate programme with Awin, click here.