Awin, Dorothy Perkins and The Groupon Reach Network: Perking up your winter wardrobe
Written by

Milo Bernard on

.
Recognising the challenges of the changing retail landscape, Dorothy Perkins launched an affiliate campaign resulting in a 193% YoY increase in revenue.
Share this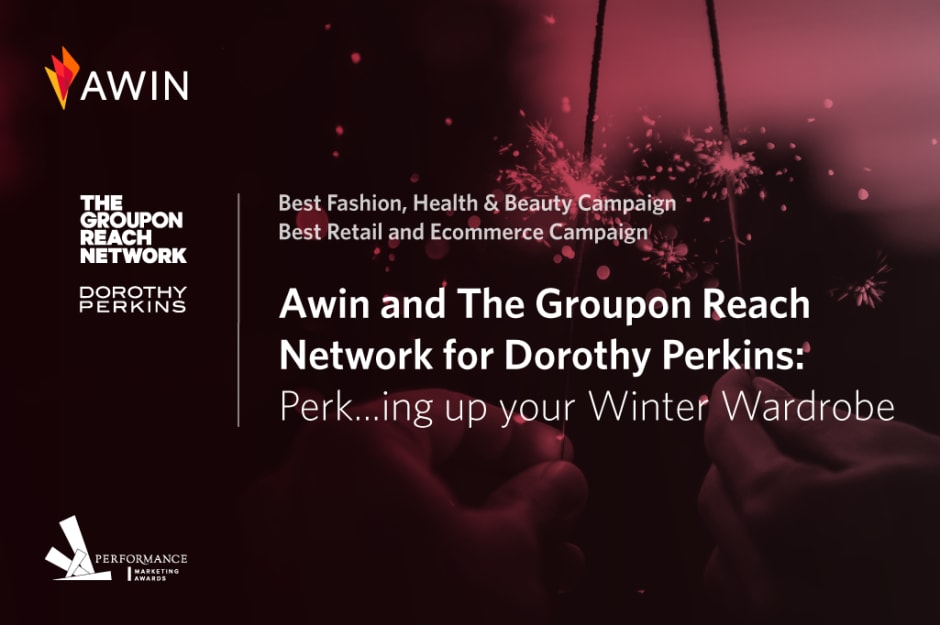 As a household name for over 100 years, Dorothy Perkins' have long been established on Britain's highstreets. With many highstreet brands, including Dorothy Perkins, seeing store closures in 2019, Awin and Dorothy Perkins saw this as a strong opportunity to show the value of the affiliate channel to push users online.
In a changing retail climate where there is increasing talk about 'the death of the high street', we believed it was more important than ever to show how Dorothy Perkins can maintain growth & retain loyalty customers even as the structure of their business changes.
This campaign took home two vertical awards at this year's Performance Marketing Awards for Best Fashion, Health and Beauty campaign and Best Retail and Ecommerce campaign.
Objectives
Working together with The Groupon Reach Network; Dorothy Perkins and Awin developed a plan to fulfil the objectives:
Increase overall sales volume and revenue over the course of December
Target existing Dorothy Perkins customers in areas where stores had previously closed, pushing them online to retain their loyalty.
Produce an interactive campaign to engage their customers, and further understand their shopping behaviour.
Increasing volume and engagement
Using The Groupon Reach Network's geo-targeting capabilities throughout December, Dorothy Perkins were able to connect with users in areas where there had previously been a store closure. This allowed them to collect data from key locations from customers who had Vouchercloud's app installed, and later target users with an exclusive multichannel code.
A Dorothy Perkins and Vouchercloud branded microsite was also created to engage customers, offering a chance to win £250 to spend, in return for completing a Find Your Winter Wardrobe with Our Personal Stylist quiz. This was paired with strong exposure across The Groupon Reach Network's voucher portals, social media channels, and their whitelabel sites including The Guardian & The Mirror to publicise their exclusive offering and competition.
Results
Through the use of geo-targeting capabilities and strong exposure throughout December, Dorothy Perkins saw extremely strong YoY performance from the Groupon Reach Network. Revenue increased 193% YoY, sales increased 209% YoY; while maintaining a 33.6% conversion rate.
Amongst Dorothy Perkins' key competitors on The Groupon Reach Network's sites, their market share also grew substantially, increasing to 54% share compared to just 26% in December the previous year.
Overall a successful campaign for all parties, proving the ability of the affiliate channel to drive customers online in a fast-changing retail environment.
Want to know more?
To learn more about the Dorothy Perkins affiliate programme, please see here.
To learn more about working with The Groupon Reach Network, please get in touch with our Publisher Management team here.
To learn about starting an affiliate programme with Awin, please see here.