2022 Awin Gold Standard state of play from the Publisher Board
Written by

Nicola Wellington on

.
We interview the Publisher Board on how the Awin Gold Standard advertiser accreditation can continue to ensure industry best practice. 
Share this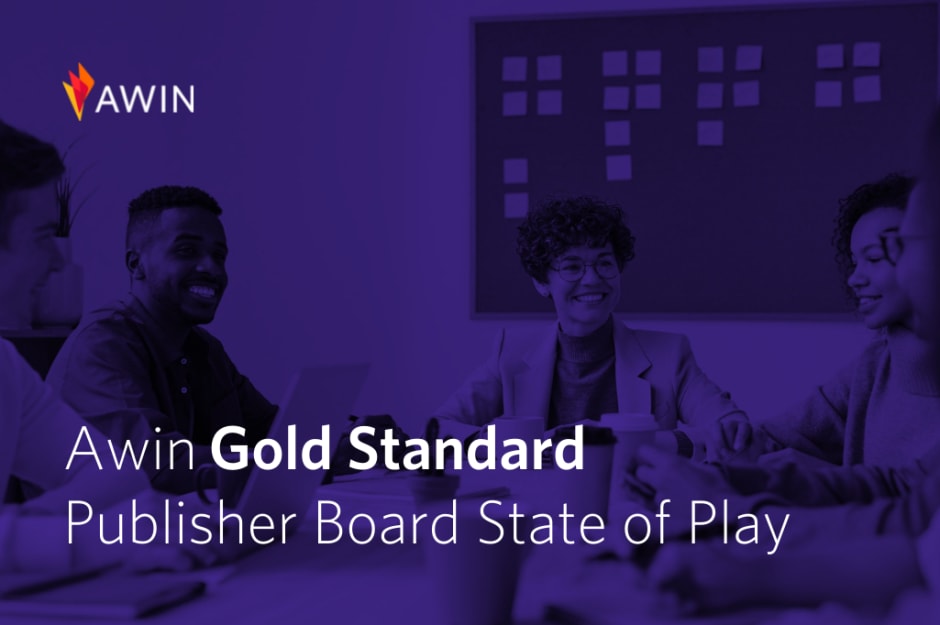 It has been a year since the launch of the Awin Gold Standard, an advertiser accreditation programme developed in collaboration with the Publisher Board, recognising retailers that offer best-in-industry affiliate programmes.
In conversation with Publisher Board member, Laura Meunier, Director Commercial (Global) at the Global Savings Group, we delve into the current affiliate climate and how the Awin Gold Standard advertiser accreditation can continue to ensure industry best practice.
Can you tell us a bit about what the Publisher Board has been working on since we last spoke?
The Publisher Board has continued to organise individual sessions with networks over the past few months to discuss topics of high relevance to the Publisher Board, such as the recent changes in tracking protection and the in-app tracking adoption from advertisers.
Networks have presented their road-mapped projects and we discussed how we can come together to support advertisers and publishers and bring them onto the road to recovery as we hopefully exit the Covid era, particularly within the travel sector.
We are aiming to regroup early this year to organise some face to face workshops with publishers (with necessary Covid measures in place) as virtual sessions can be challenging to retain audience engagement. 
The Awin Gold Standard was launched in the UK in January 2021 with a set of five criteria including Accelerated Payments, Transaction Validations, Optimal Tracking, Fair Commission Structure and Transparent De-duplication. As the wider ecommerce and retail industries evolve, do you think we will need to revise the criteria to ensure consistent transparency and best practice as new changes arise?
The five criteria Awin has set up are crucial to promote best practices within the affiliate industry. Fair Commission Structure and Optimal Tracking are more important than ever because competition in the e-commerce sector has grown rapidly, as have the needs and wants of the consumer over the last year. Therefore, we need to make sure that our prices are sustainable and that we are all paid a fair rate for the services we provide to both consumers and brands.
We need to educate brands and retailers about the importance of each criterion, and for them and the publishers to understand their compliance level for these five major pillars.
In October, the Awin Gold Standard launched globally across all regions which we hope is another step towards greater industry standards. Do you think that it's possible to introduce an international framework for best practice or should local culture, performance and popularity of the affiliate marketing channel be taken into account when setting the criteria?
Local adoption of affiliate industry best practices is already difficult, and global coordination will be more complex. It doesn't mean that we don't have the same discussions across the globe, rather we must recognise ongoing differences, and concentrate on the areas we agree on. For example, similar Publisher Board initiatives are in place for France and Germany. We have to work closely with global networks and publishers and continue to share best practices.
What are the barriers to getting brands to join the accreditation – is it a question of further education?
Some criteria are easier than others to reach. Optimal Tracking is a crucial one but may require technology support from brands. Awin and a few other networks have launched a new initiative 'Tracking in a post third-party cookie world' to educate brands about the importance of having a robust tracking set-up in place. 
From a publisher perspective, what has been the reaction or feedback to the Gold Standard throughout the year? 
With approximately 45 advertisers having already received Gold Standard accreditation, such as Bunty, TomTom and Evermore London, we are keen to continue momentum and onboard additional big brands and retailers, to ensure we can measure and evaluate successes.
In addition, it's important for Awin to carry out regular audits on the Gold Standard initiative and to set up key milestones so that we are continually driving advertisers to uphold best practice.
We are also discussing how we, as publishers, can individually start supporting the Awin Gold Standard by sharing statistics, case studies, and bespoke exposure opportunities.
Looking beyond industry standards, what are some of the other challenges facing publishers as we move into 2022?
The generation of a solid travel recovery plan is a challenge, this sector has been through a rollercoaster of a ride these last months. We saw real growth as the market opened up, but also a great sense of worry that everything can be reversed due to the present rise in Covid across Europe.
The industry has been through a lot and it is our job to make sure that where it's safe for consumers to travel, we are doing our bit to encourage just that.
Join the accredited Awin advertisers representing industry best practice. Click

here

to find out more about how your brand can apply for Gold Standard accreditation.
To find out more about the work of the Publisher Board, click

here

.
Share this