Awin places 4th in Glassdoor's UK Top 25 Companies for Senior Leadership listing
Written by

Nicola Wellington on

.
Awin is honoured to be recognised among the Top 25 Companies for Senior Leadership in the UK.
Share this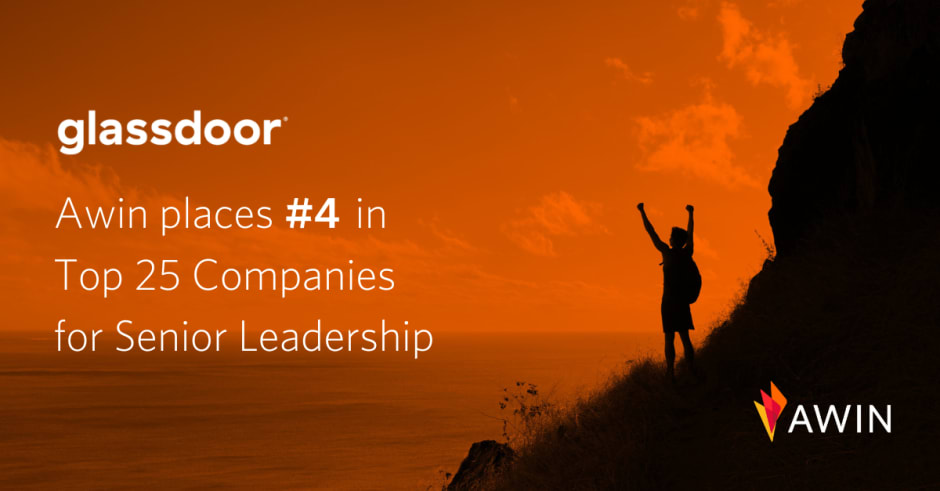 Glassdoor, the worldwide leader in insights about jobs and companies, has published its Top 25 Companies for Senior Leadership and Awin is delighted to achieve 4th place in the listing.
The list is compiled from UK-based employees' anonymous and voluntary reviews about their leaders throughout the past year.
Joining the likes of VetPartners LTD, GTB, ServiceNow and Taboola, this ranking recognises the role Awin's senior management team played in:
embracing unprecedented change throughout the pandemic

supporting employee wellbeing and diversity

creating an open and engaging community

ensuring employee experience is valued
This announcement follows Awin's listing as one of the Top 20 Best Places to Work in the UK earlier this year, and highlights the ongoing support from current and past employees towards Awin's leadership and workplace initiatives, including the continued rollout of the 4-day-work-week pilot.
The Top 25 UK Companies for Senior Leadership list was compiled from more than 213,000 senior leadership ratings on Glassdoor from UK-based full and part-time employees between 20 April 2021 and 19 April 2022. The rankings included only companies with at least 1,000 global employees and 30 senior leadership ratings in the time period considered.
Across the approximately 2.2 million employers reviewed on Glassdoor, the average rating for Senior Leadership is 3.4. Awin was ranked as the second highest technology company, with a rating of 4.5.
Regional Managing Director, Ian Charlesworth shared his reaction to the 4th place ranking:
"The most important role of leadership to me is to provide employees with a environment where they feel safe, motivated, and heard. So to be awarded such an incredible ranking from unfiltered reviews of our current and former employees feels very significant indeed. Navigating the pandemic whilst ensuring an open, diverse and supportive workplace environment has been a core focus of the UK senior management team, and so this level of recognition is hugely appreciated and valued. Awin continues to innovate and seek new ways to support our staff, boost motivation and engagement, and strengthen our inclusive community across regions and borders."
Glassdoor Economist Lauren Thomas commented on the list:
"Inspirational senior leadership is a sign of a united company with an engaged, motivated and satisfied workforce. The companies on our list share a transparent approach to management and offer strong culture and values."
Thank you to all staff, past and present, that took time to share their views on what it is like working at Awin.
Are you interested in joining Awin's community? View our full list of career opportunities here.
If you are a current or former Awin employee, you can leave a review on Glassdoor here.
Share this