Our 2022 predictions for the affiliate industry
Written by

Robert Davinson on

.
After an extraordinary 2021, Awin looks ahead to 2022 in the affiliate and partner marketing industry and identifies the key focus areas for the months to come.
Share this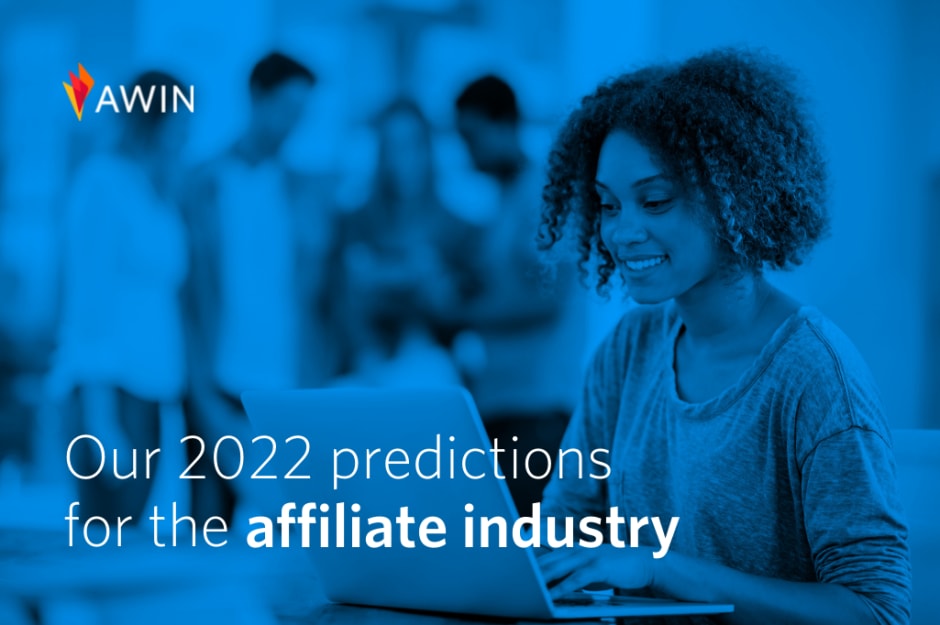 The world witnessed some extraordinary events in 2021. It started with a riot at the US Capitol and the inauguration of a new President, we saw a global vaccine rollout gradually help many people return to some semblance of normal living, before the spectre of the Omicron variant spooked many countries into enforcing lockdown restrictions once again as Christmas came into view.
In between, we've continued to interact, stream and shop online to ever greater degrees, and that's been a boon to the digital advertising industries with affiliate and partner marketing seeing particular growth in 2021.
So what can we look forward to in 2022? In this two-part predictions piece, we speculate what the future may bring for the partner marketing channel.
1. Sustainability partnerships will take on renewed importance
This year, COP26 gathered global politicians together in Glasgow to hammer out new targets and goals for defeating climate change, and the pandemic has only served to amplify consumer clamour for sustainable and ethical shopping practices. That has increasingly led to demand from brands wanting to invest in marketing placements that reflect this zeitgeist.
Outside of the affiliate channel, publishers ranging from the BBC and The Economist, to the FT or Bloomberg have all noted an uptick in demand for advertising opportunities that converge with their climate coverage.
So in 2022, we'll see a new appetite from advertisers for affiliate partners that help consumers make more ethical shopping choices. Consumer desire for green, sustainable shopping options has been building for some years, and as a response, more affiliates have been joining the network to offer such services.
Innovative new solutions like Ample take complex sustainability data and simplify it for consumers, while a raft of influencers, bloggers, and magazines provide personal recommendations of the best ethical brands to buy from online.
Recent studies have confirmed the impact of these consumer attitudes on the retail industry — management consultancy firm Accenture found that 61% of consumers are making more environmentally friendly, sustainable, or ethical purchases. What's more, 89% of these individuals expect to maintain their sustainable shopping habits, even after the worst of the pandemic has passed. That's an entire market of ethically-minded shoppers just waiting to be tapped into.
One of the principal issues facing eco-conscious consumers is choice. It can be difficult to find truly ethically-sourced products, and even more challenging to do so without breaking the bank. In the past, ethically-conscious consumers have flocked to farmer's markets, local shops, and other community-based alternatives, but those aren't always practical large-scale solutions. With the advent of the digital age, however, consumers can locate affiliate partners that suit their ethical tastes and connect them with the kinds of products they crave.
With numerous businesses incorporating ethical considerations into their own company goals for the new year, there's no doubt we'll see increased innovation, investment, and activity in this space.
2. Affiliate's legacy infrastructure will level up
In the wake of the pandemic, many nation states have sought to rebuild their economies from the ground up, investing massively in their infrastructure. Whether it's President Biden's Build Back Better programme, or Boris Johnson's rhetoric around 'levelling up', Covid has spurred conversations around the need for a reset.
The affiliate industry's own rebuilding programme is arguably well overdue, and next year we may see this take shape amid mass adoption of new standards.
Tracking would be a good place to start. Whether it be on a mobile app, first-party, Server-to-Server, or innovations like Bounceless Tracking, the need to implement more sophisticated tracking models has been compelled by consumer, gatekeeper, and regulator demands in recent years.
Legacy tracking setups will fall by the wayside as advertisers recognise the need for more adaptive ones that can continue to function in an increasingly fragmented and diverse online environment where consumers glide seamlessly across different platforms and devices.

The same is true of measurement, with the channel's last click legacy faltering in the world of the 'messy middle'. Multi-channel, multi-touch attribution points the way forward with even Google adapting its own modelling to reflect this earlier in the year.
MTA solutions like SingleView are now easily accessible within the industry and those brands that have been early adopters have reaped immediate dividends; better visibility on their marketing investments, and an ability to more accurately reward partners that are generating value far beyond the final click.
And with many affiliate platforms now offering an array of dynamic commissioning capabilities, hybrid payment methods, and a suite of other sophisticated payment tools, the ability to create advanced reward mechanisms that can be tailored according to specific campaign goals means the channel can bid farewell to one-dimensional set-and-forget programmes that provide little value for anyone involved.
3. Tech partners will continue to outsource innovation for brands
The traditional affiliate marketing model is a pretty simple one. The affiliate drives traffic to your website, you convert the customer. That relationship is largely focused on demand generation for brands. But the arrival of a slew of tech partners in the last few years has changed that dynamic. Instead, they have begun to demonstrate how affiliate partners can drive value in optimising the traffic landing on the advertiser's site.
These sophisticated software solutions, offering automated product-bundling recommendations, personalised promotions, or much more, were once the exclusive arsenal of big tech platforms like Amazon. But now, their emergence in the affiliate channel means any ecommerce business can access them on a performance model, thereby allowing them to outsource a variety of ecommerce innovations.
Today, 60% of online queries fail to yield conversions, but Awin partners like Envolve, Presize, UpSellit, and Intent.ly are providing solutions to change that. They're improving the way advertisers' websites function for customers, whether that's through Envolve's customer assistance AI or UpSellit's product bundling algorithms. As a result, they're noticing increased conversion rates, greater average order values (AOVs), and overall improved customer satisfaction.
In partnership with Samsung UK, UpSellit's technology has resulted in a return on investment (ROI) far greater than anticipated — nine months after launch, its in-cart recommendations campaign alone achieved a 37% increase in revenue and a 5% increase in AOV.
But the customer experience is fast changing, especially in the digital world. As we look toward 2022, innovative tech tools promise to expand website functionality and optimise site traffic more than ever before. We may even see new categories of products come to ecommerce (e.g. auto) thanks to the ability of these tech partners to provide enhanced customer experiences that provide much-needed virtual reassurance.
Many of the partners Awin works with are already ahead of the curve, incorporating new developments in AI and tech to benefit consumers and brands alike. Next year, an influx of new partners in this space will continue to improve how brands extract value from the inbound traffic they see and enhance even what it means to 'partner with an affiliate'.
4. Shop anywhere, shop everywhere
One of the lasting consequences of Covid has been the adoption of ecommerce capabilities everywhere. Whether it's small high street retailers adapting to the new digital default, media houses offering commerce solutions within their online properties, or social platforms incorporating full shopping functionality into their walled gardens – the web is becoming a fully shoppable experience.
The latter's moves into commerce bring new dilemmas for advertisers though. Should brands simply embrace Facebook, Instagram, TikTok and other's shopping facilities, to meet their customers where they already are? Or, should they eschew these offerings, for fear that doing so will only mean losing control of their brand and the customers who buy from them in these environments, instead of on their own sites?
The correct answer is likely to be a bit of both; focus on improving your own ecommerce offering to enhance the customer experience, while selecting a few relevant platforms or partners that you can trust to convert your customers off-site.
Luckily, the affiliate channel can support brands with both these goals. While many tech partners are focused on enriching the UX of brands' own websites (see prediction #3), many others joining the channel are providing embedded commerce solutions for affiliate partners. MikMak, Tipser, Monotote and Constant.co are just some of those that Awin now offers, providing completely new ways for customers to buy through partner websites.
In doing so, these solutions are helping shoppers purchase at the point of inspiration, making ecommerce experiences ever more frictionless, and driving growth for their brand partners. We'll see many more like these next year as customers grow accustomed to being able to shop wherever they please.
5. Micro-influencer campaigns will surge
The merging of influencer and affiliate marketing was already progressing steadily in recent years, but thanks to changes like Instagram opening up its link stickers to all users, we'll see surging demand for these partnerships in the channel next year. Though big brand campaigns with celebrities will still be coordinated in the traditional world of PR, smaller profile campaigns will become a mainstay of affiliate partnerships in 2022.
Ever since Kevin Kelly, the founding executive editor of Wired magazine, wrote his seminal 2008 essay '1,000 True Fans', it's been clear that a decent living can be made from building a tiny, niche community of ardent followers. And thanks to the proliferation of social platforms since then, it's arguably never been simpler to build these communities.
In Kelly's original formulation, any craftsperson, photographer, musician, designer, author, animator, app maker, entrepreneur, or inventor needs only 1,000 true fans who contribute $100 a year, through purchases, affiliate revenue, sponsorships, or other forms of monetisation, to rake in an annual pre-tax income of $100,000.
An influx of creator funds from the biggest platforms will provide a new source of potential income for some of the more popular influencers, but many will still be reliant upon affiliate partnerships to supplement their efforts and ensure they can continue to monetise their creative output.
Even the biggest stars have cottoned onto the affiliate gig now, with the likes of Swede Felix Kjellberg, more commonly known by his channel name PewDiePie, and with over 110 million YouTube subscribers, incorporating affiliate links in the descriptions of his videos as standard.
PewDiePie might be one of the more high profile examples but there are thousands of smaller micro-influencers who rely on affiliate incomes and who can offer brands unparalleled access to more passionate, hyper-targeted, niche audiences. What these audiences lack in size, they make up for in character and purchasing power — just as Kevin Kelly described.
That means financial returns for both micro-influencers and advertisers alike, as the two participate in a mutually beneficial business model. Consumers too also reap the benefit of these partnerships, receiving trusted recommendations from influencers they know, rather than anonymous, depersonalised advertisements.
With more brands recognising the value of these smaller partnerships in 2022, micro-influencer partnerships will take off in a big way.
Part two of our predictions can be read here to discover what else we think is in store for the affiliate industry in 2022.
If you're an advertiser and want to explore how Awin can help accelerate your ecommerce activity in the new year, please get in touch.
Or if you're a publisher or influencer who wants to leverage Awin's platform to create more money-making partnerships, get started today.
Share this