It's a New Year for Retail: Seven Digital Predictions for 2021
Written by

Joelle Hillman on

.
As the world as we know it continues to change, what influence will this have on consumer habits, ecommerce capabilities and affiliate marketing?
Share this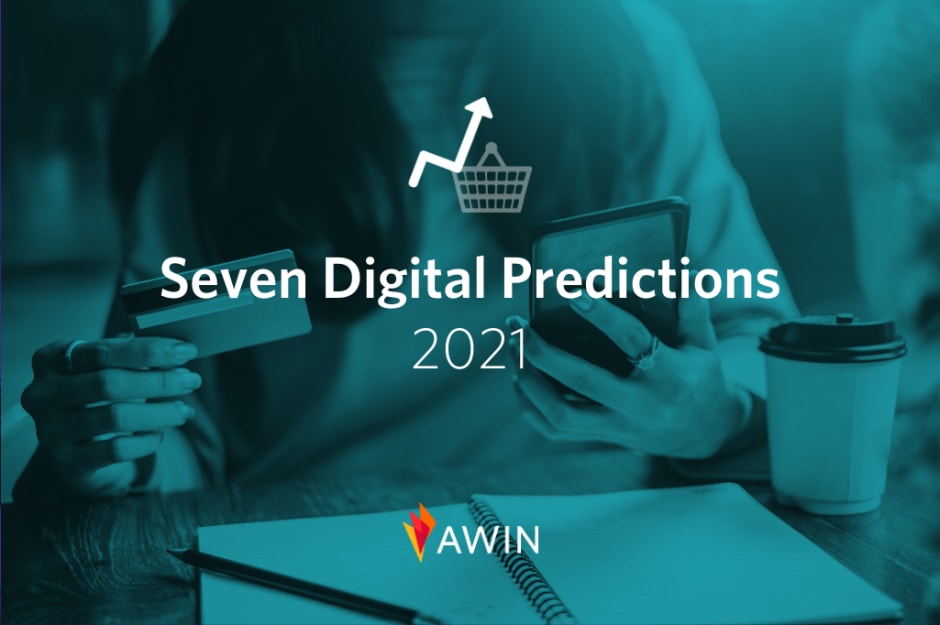 Happy 2021, and what a year we have left behind. Our personal, and professional lives had to adapt dramatically in 2020 and left ever-lasting changes on our day-to-day lives. The same impact has been felt across the retail sector, and we would like to share some of our predictions for this year.
1. We will shop more online, but spend less
Despite a huge increase in sales across the whole retail sector in terms of performance year on year (YoY) up +104% at Awin UK, average order value (AOV) is getting smaller, at -8% across the whole retail sector year to date (YTD). Whilst the outbreak of coronavirus caused huge digital acceleration for both customers and brands, the virus took its toll on consumer income. In fact Barclaycard recognised a similar 7.1% drop in consumer spend in 2020.

I would argue the drop in average order value across retail is set to continue for the whole of 2021; with unemployment at its highest, the furlough scheme set to continue until at least March, and hospitality rumoured to remain shut until May. At Awin we have seen an increased number of buy-now-pay-later transactions, and Klarna reported similar trends, valuing at £10.6bn as a business in September 2020 because of this growth. At Awin the whole finance sector is down, and we are seeing less savings and credit card applications in 2021 versus January 2020 already. The only finance product currently trending upwards for 2021 is loans.
The November 2020 ONS reported digital being a huge 36% of retail sales versus 21.6% in November 2019. Customers have built everlasting habits when it comes to shopping online, but price point is more of a priority than ever and searching for the best deal is arguably easier online than it is on the high street. Brands will need to keep a closer eye on their competition to remain both competitive and unique.
2. Partnerships will continue to strengthen and diversify
Throughout the whole pandemic it has been important to focus on the positives, and for the affiliate channel, the strength of relationships has shone through. We saw huge YoY growth in 2020 across a variety of different partnership types. Social rewards saw an impressive a +117% increase in performance as consumers stayed home and spent more time on social. CSS partners grew +101% in terms of sales, with an +85% growth across our email partners, +36% for discount partners, +34% for comparison sites, and +32% for shopping content.
We are seeing the continued expansion of global tech giants, accelerating ecommerce integrations with Awin to enable new audience engagement capabilities at scale. 2020 saw big movements by leading technology companies such as Verizon Media and Microsoft towards embedding ecommerce experiences within their ecosystems. Awin has partnered directly with Verizon to deliver new automated ad experiences within Yahoo mail (with further solutions and capabilities forthcoming). Microsoft also has an exciting roadmap ahead.
Awin also saw the acceleration of a new partnership venture in 2020 which we expect to become a substantial part of the partnership make-up as it continues to gain traction; brand to brand partnerships. Advertisers are now able to use the affiliate model offering reliable tracking and comprehensive payment models to fully understand performance and the ROI of brand affinity collaborations.
These trends will continue to flourish in 2021 not just because of the rise in online shopping overall but the strength and variation of partnerships on offer. This growth has been a huge digital success however it will pose forecasting difficulties this year as previous seasonal trends have been lost and the main channel goal for most of this year will be maintaining that 2020 performance and market share. This year, we will go on to prove that the strength of partnerships within the affiliate channel far outweighs the logistics of physically being together.
3. Technology will accelerate across the retail landscape
In the same way in which we all as marketeers had to acclimate to remote working, including the joys of virtual calls ("you're on mute!"), we saw digital shopping journey advancements as the pandemic also brought huge digital acceleration and disruption. With disruption brings change, and new and exciting opportunities to enhance the customer shopping experience online.

Awin already partners with 50+ technology partners offering brands the opportunity to enhance the consumer shopping experience from personalised discounting to product bundling. In 2020 we saw huge partner success including:
We will continue to see an increase in new AdTech and MarTech solutions joining the Awin Solutions Marketplace in 2021 and look forward to sharing these new opportunities with our brands and publishers.
4. Tracking capabilities and regulations become more complex
Tracking is vital for our industry, it cements the foundations of our channel characteristics and our respected performance model relies on it. Robust tracking is at the heart of Awin's business strategy, offering its bounceless tracking solution, server-to-server tracking, as well as its strategic attribution partner Singleview. This year the Awin Gold Standard framework puts quality standards at the top of the agenda for 2021.
Another huge component when it comes to tracking capabilities, and capturing all data is app tracking. Awin offers app tracking at no extra cost to brands and can work with any of the known mobile measurement platforms, as well as already having strategic relationships in place with the likes of Branch, Button and Adjust to name a few. Awin saw +136% growth in app tracking from 2019 to 2020 and we are already seeing +80% more app performance by day in 2021 than we saw on average by day in 2020.
Further disruption of tracking is inevitable due to updates to the ePrivacy directive no longer allowing legitimate interest as grounds for consent. This means that there is a lot of work to be done by the industry to protect data accuracy and publisher commissions; reviewing cookieless tracking methods and educating consumers about how cookies are used within the affiliate journey which is noticeably light touch and much less intrusive than other digital channels. This topic will be huge for 2021 and something we need to tackle collectively as an industry.
5. The highstreets will make their comeback
In-store is already a prominent part of many brand channel strategies and this will only continue as the importance of understanding the multi-channel behaviour of a customer becomes more important than ever. With the continued lockdown into this year and the closure of non-essential stores, it is crucial that brands are still able to interact with those traditional store customers and support their migration to shopping online, whilst staying loyal to their high street favourites.
In reverse, we also want to ensure we are equipped as a channel to support the high streets as and when they return. Through partnership and integration with Fidel, a global leader in card-linked measurement, Awin offers bricks and mortar clients the ability to influence in-store purchase behaviour (e.g. through basket growth reward unlocks). Trials with a leading UK Grocer and Loyalty platform have unequivocally demonstrated the effectiveness and value-add that these smart campaigns deliver. Huge publishers including Avios and Topcashback are using Fidel to link consumer shopping behaviour, offer points and cashback in-store, and truly understand the full customer journey.
6. Customer loyalty diminishes whilst direct to consumer tactics are on the rise
Forced growth in digital consumption and ecommerce adoption worldwide will continue to lead to increased levels of 'consumer disloyalty' – shoppers are more prone to switching brands and the retailers they buy their goods from. In response, many brands will seek to establish recurring revenue models either by adopting subscription-based services where feasible, or by creating attractive loyalty programmes that reward customers for continuing to buy from a brand, including many direct to consumer (DTC) companies.
As a result, brands will face growing dilemmas around how to embrace walled garden ecommerce/advertising offerings (FaceBook/Instagram Shopping, Amazon Advertising, etc.) which will restrict branding experiences on their own sites and limit visibility and ownership of customer data. Walled gardens already capture a disproportionate share of ad spend to user time spent vs the open web. This may encourage more interest in partner-based marketing collaborations that enable brands to work directly with partners (publishers or even complementary brands) and drive traffic to their own properties.
Last year we saw a rise in DTC advertisers overall joining the Awin network with an almost +20% increase in sales for the DTC beauty sector amid the pandemic. Shoppers have been converting at a +2.4% increase in conversions for the sector, likely due to online demand driving consumers to go direct to brands to shop with major retailers selling out on multiple occasions. Huge brands are braving the DTC space, including Coca Cola and this desire for brands to want to get even closer to customers is set to continue this year.
7. The pandemic gives us a new perspective on what's important
Brandwatch demonstrated the shift in New Year's resolutions for 2021, with a desire to see family, learn and read overtake top priorities seen in previous years such as health and job improvements. The pandemic affected us all as individuals, in how we want to live our lives and how we think and act as consumers; priorities will change forever.
When looking at consumer trends this year it is apparent there is a rise in the sustainable movement and eco/green products and retailers. Awin saw performance up for eco/green brands up +25% YoY. On Black Friday, the sector was up a huge +148% in terms of sales comparative to 2019, highlighting not only the YoY sales growth, but that even on the biggest discounting day of the year consumers are still mindful and wanting to shop with brands doing their bit.
Another conscious trend we have seen consumers move to is the desire to support small and local businesses. Awin supported 531 programmes after officially launching Awin Access in January 2020, generating £19m in sales revenue over the year. We are expecting continued accelerated growth this year. This consumer trend is supported by the pandemic giving entrepreneurs the opportunity to launch new businesses from home, and with the likes of having easy-to-use Apps like Shopify for quick integration.
The last 12 months have been turbulent to say the least, however this year we look forward with excitement and confidence at new ecommerce technologies, emerging shopping trends, and a growing landscape of diverse opportunities. With tracking complexities and reducing consumer spend and loyalty, 2021 certainly brings its challenges but our agile affiliate model, paired with our strong relationships, provides a compelling foundation for success.
For more information or to discuss any of these trends in detail, please reach out to Awin's Client Partnerships team or sign-up to our dedicated newsletter The Pulse.
Share this