2020 Vision: What can we expect for the travel sector looking ahead? Part 1
Written by

Joelle Hillman on

.
We speak to Colin Carter, Director of Weather2Travel.com to discuss the state of the global travel industry and to hear his future predictions for the sector.
Share this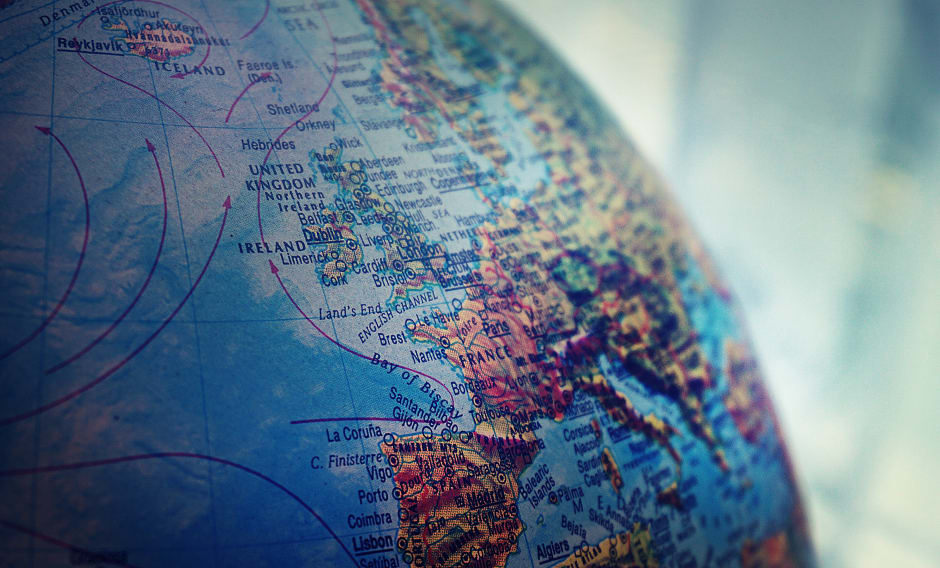 The disruptions to travel this year have had an impact from both a professional and personal perspective for many of us.
We may have been looking forward to booked trips and travels abroad but, with flights grounded and accommodation bookings cancelled, those hopes have largely been dashed in the short-term.
With my own wedding previously booked for Portugal in summer 2020, I have been more invested in the sector than ever, and with the ambiguity around travel advice, it's the performance statistics that I've turned to, to really understand the current health of the sector.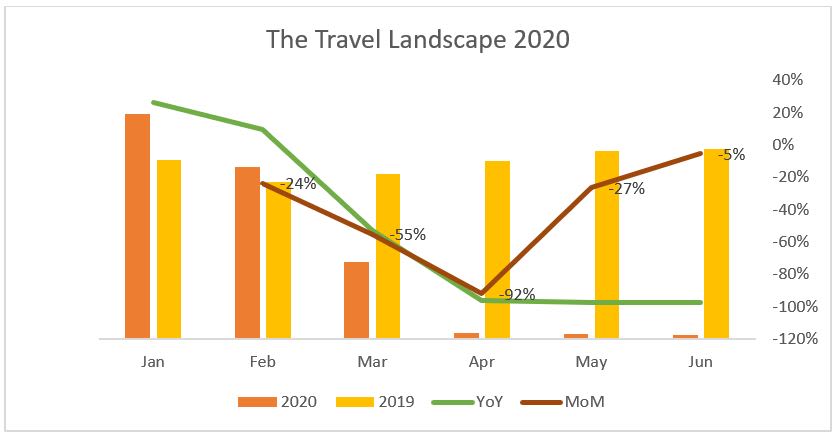 As you can see, the performance Awin has witnessed year-on-year is still significantly down across travel, but if we start to monitor changes month-on-month we are beginning to see a steady and positive improvement.
The data for June 2020 shows the number of sales tracked from the 1st – 15th of the month. However, even with half a month's view so far, we can see we are already catching up with May performance, and only 5% down month-on-month with two weeks still to go.
As we know, the UK zoos, theme parks and other nature parks opened their doors again on the 15th June and, within the wider travel sector, it's tourism and attractions in particular that are driving the positive trend in performance within the first two weeks of June.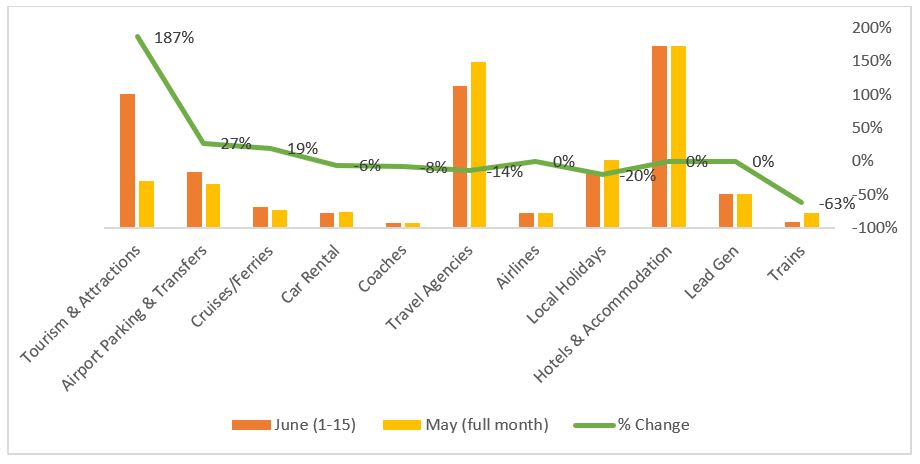 While we saw travel as a whole just -5% behind total May performance in the first two weeks of June, tourism and attraction sales have already surpassed May's performance, and by an astounding 187%.
To take a closer look at performance trends in the sector, Awin recently hosted a global travel webinar featuring a panel of experts to discuss their opinions on the current industry challenges as well as their predictions for the coming months.
Two weeks on, we caught up with Colin Carter, one of the panel members and the Director of Weather2Travel.com to hear more about his thoughts and expectations for what lies ahead in 2020.
In this first segment of a two-part interview, Colin reveals some of the trends he's been tracking based on user engagement on the Weather2Travel.com site, his expectations for the industry in the near term and what the implications for travel brands are likely to be.
Some countries around the world are now in the process of lifting travel restrictions for international tourists as well as domestic ones. Do you expect to see bookings flood back in following these lifts or do you think it will be a more gradual increase?
We'd be naive to think that we will return to the typical summer holiday lates market. It's incredibly difficult to predict how people will react to the easing of the lockdown.
Certainly, there is a school of thought that many people can't wait to escape. The idea of a foreign holiday in a destination which hasn't had high numbers of infections could be a safer option than staying in the UK.
The converse argument is that many people have been made redundant, furloughed, or have uncertain futures - so a foreign holiday is far from their thoughts. Others will have real health concerns and will not be willing to take the risk.
The good news is that we are starting to see an upturn in traffic and sales, however, it's too early to know how strong performance will be. There are, of course, a few requirements for the foreign holidays market to pick up.
Firstly, for international travel, it's vital for the FCO to update its advice to allow for non-essential foreign travel. The government will also need to remove the newly launched quarantine period or create new "air bridges" with other countries.
Most airlines are restarting their schedules in July, so it will be interesting to see how procedures at airports and on planes are implemented.
The first test will be when the EU lifts restrictions on internal borders on the 15 June 2020. This will give us an indication of what international travel will be like in the near future.
There are also a couple of other factors to consider. Currently, it's almost impossible to get travel insurance that covers COVID-19. Are you prepared to travel without cover? Will destinations be truly open to tourists (i.e. attractions, activities, cafés, pubs & restaurants)?
It will be down to individuals and families to decide whether they are prepared to take the risk and uncertainty of travelling again. We will be monitoring demand closely for sure.
From a UK perspective do you think that we'll see more interest in holidaying at home in the short-term?
I would expect there will be strong demand for UK holidays once the lockdown is eased further. As it stands, all hotels, rental properties and holiday parks are closed along with restaurants and pubs. There are also restrictions on shops and many other leisure activities.
We can expect that there will be high demand once the government eases restrictions. As we head towards the upcoming school summer holidays, families will be looking for activities and places to go.
There is a worry that those popular destinations such as Cornwall and Devon and beach resorts around the country will be overrun with domestic tourists - causing issues with social distancing and potential long queues.
People might feel more comfortable escaping to a foreign holiday destination with low infection rates and procedures in place. We'll have to wait and see how restrictions are lifted to find out.
Are there particular destinations around the world that you anticipate being more popular with tourists as they begin to book holidays abroad again?
Beyond domestic travel, we expect nearby countries such as Ireland, France, Belgium and the Netherlands to be popular (providing there are no restrictions in place for UK travellers in the EU).
Minimising contact with others while travelling is likely to become a consideration, so driving to your holiday destination, where possible, might well become popular this summer.
We can't be certain which countries will allow UK travellers, especially as we have had the highest number of cases in Europe, but there has been speculation that Portugal will be welcoming back Brits as soon as possible.
Ignoring the possibilities of the quarantine period in the UK being extended and potential air bridges, we'd expect the holiday destinations across the Mediterranean and the Canaries to be popular. Many Greek islands have had very few, if any, cases - so could be an ideal safe place to visit.
Further afield, we might see long haul destinations such as Mauritius, Maldives and the Caribbean doing well, providing their travel restrictions are eased, as they've mostly seen low numbers of cases and very few deaths.
What about from a product perspective – are there particular travel products which you think will benefit more than others in these early days of recovery?
Obviously we focus on leisure travel, so package holidays are likely to do well. Early reports indicate that all inclusive holidays are performing well at this stage. All inclusive self-contained resorts where everything is on hand could prove a winner. Just the hotel and beach and no need to venture too far.
We may, however, see holiday rentals, such as private villas and cottages, being a popular choice - as they offer groups reduced interactions with others - as does driving holidays.
If you can afford it, luxury accommodation could give you the extra peace of mind with additional space and exclusivity such as private pools and beach access.
We'll have to see whether holiday parks and camping holidays do well. The idea of an outdoor holiday is likely to appeal; however, people might have some reservations around shared spaces.
At the end of the day, product performance will be dictated by how comfortable travellers are with their travel plans. Do they trust their mode of transport, accommodation type and entertainment options (eating out, activities, attractions etc…)?
With many travel companies struggling to stay afloat at the moment do you think we'll see more consolidation in the sector going forward?
In the long term, I'd expect there to be some consolidations, however, I can't see this happening immediately. Almost every travel company is struggling through lockdown with such a drop in demand; we've even seen the big players furlough staff and make redundancies.
Short term, I'd expect more travel companies to go bust. We've already lost Shearings and 365 Tickets with others looking for bailouts and investments.
Airlines and hotel chains have massive costs, so if there isn't an immediate bounce back, I expect these guys to be next. Some specialist tour operators and online travel agents might also struggle especially if their target product or destinations are slow to recover.
The big OTAs are in prime position to benefit as they have the distribution channels to cope with demand. I'd expect to see consolidations come from them as they swallow up smaller specialist brands. This will help them to grow their business with new niche products.
To read more of Colin's views on the state of the travel industry right now, its likely consequences for affiliates, and some takeaway tips from Awin Client Travel Partner Joelle Hillman, view the final part of our interview here.
Share this