Our Highlights: #ASEURORemote
Written by

Maura Reidy on

.
From 30th June to 2nd July, affiliate marketers from across Europe tuned in to watch, listen and interact with the leading female voices of the channel.
Share this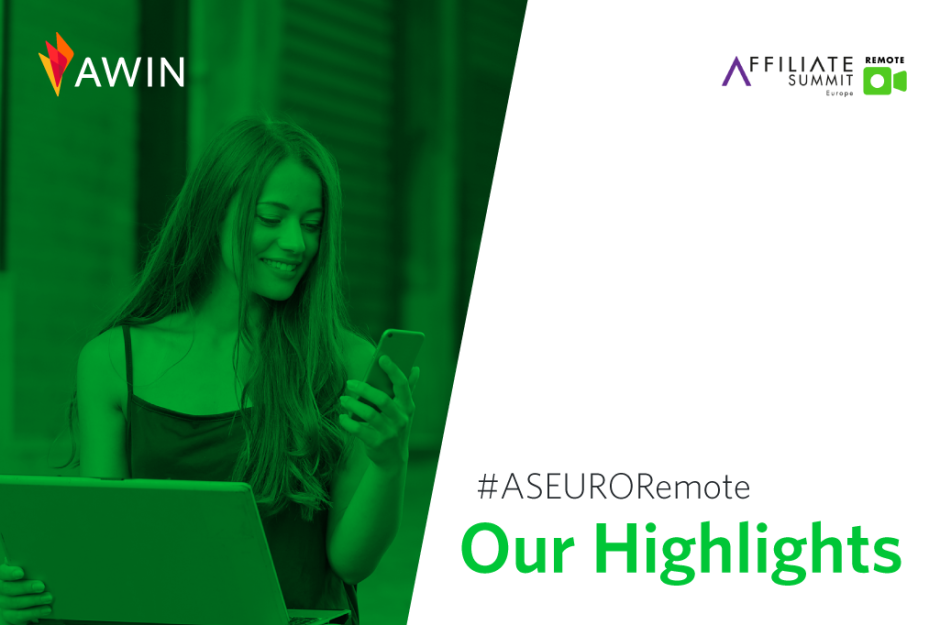 ASEURO:Remote culminated in a stimulating showcase of the creativity, agility and leadership of the European affiliate marketing industry with practical sessions, regional-specific roundtables and drop-in clinics. Conversations were shaped by the pandemic and how this will transform travel, retail, global consumer behaviour and working relationships, however attendees had the opportunity to explore topics such as sustainability and automation and learn from established brand success stories. The event was not confined to providing channel analysis and strategic recommendations as attendees were offered a diverse range of networking and social activities.
Awin was proud to return as Global Sponsor, and to have the chance for some first-time Global speakers to have their voices heard:
What do the next 12 months look like for the performance marketing industry?
Awin Italy's Client Services Director Daiana Iacono joined peers from Rakuten, Webgains, Groupon and Treatwell for a discussion focusing on the future of the performance channel. While acknowledging the imminent influence of the pandemic, the panellists provided their thoughts on other key factors that will play a role in the near future such as the increased demand to automate processes so that teams can become more strategically-focused as well as accommodating the desire for a greater work/life balance. Interestingly, Daiana explained how Italian ecommerce usage had risen by about two million users within the first two months of the pandemic, and how this could be a catalyst for future market investment.
Watch the panel discussion here.
Five strategies to stay close to your customers throughout COVID-19
Maintaining a strong sense of connection to your users has become challenging. Whether you or your team feel uncomfortable or overwhelmed at the prospect of online interaction, Client Partner Joelle Hillman and Head of Global Key Accounts Katherine Casey have identified five strategies that will help you adapt to the new normal of client communications. Joelle and Katherine delve into their tried-and-tested methods to put affiliate marketers (and their customers) at ease in this five-step guide:
Facetime is invaluable
Information is key
It's all about balance
Becoming one global team
Narrow your focus
Watch their session here.
Our roundtables
Benelux Team Manager Merve Tosun headed up the Benelux Roundtable with attendees from Zaful, BrandVerity and Silverbean. Looking at the impact, threats and opportunities of COVID-19, Merve also guided conversations on how small businesses can make use of affiliate marketing during the current times, coupled with how networks can make affiliate marketing more accessible.
Client Partner Joelle Hillman led discussions on the Retail Roundtable alongside Happy Socks, The Hut Group and publisher Bravo Savings Network. The group discussed how the pandemic would influence retail, the trends expected to develop as a result and quick opportunities for growth.
If you're interested in watching any of the event's sessions, you can do so by logging back into the event portal here. Stay updated with everything happening at Affiliate Summit by following their Twitter account.
Awin looks forward to catching up with you soon - our next webinar From The Apprentice to Affiliate Marketing: A Success Story will be hosted by Affiliate Summit on at 14:00 BST Wednesday 15th July, and you can register your place here.
Share this