Life at Awin: Pride
Written by

Zhane Hylton on

.
LGBTQIA+ employees and allies from across the group detail how diversity and inclusion are at the heart of #LifeatAwin.
Share this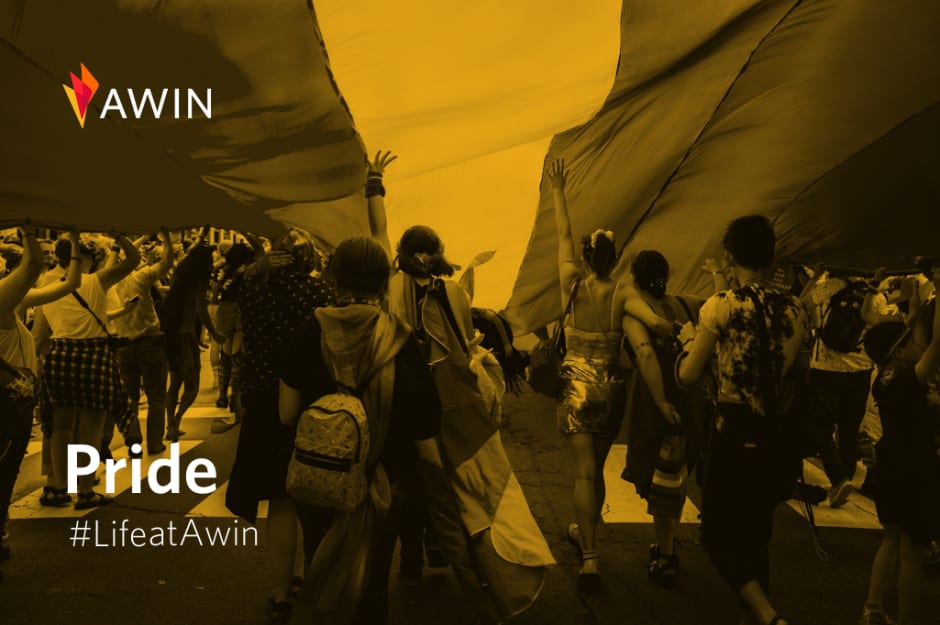 This #LifeatAwin series feature is a Pride month takeover, in which LGBTQIA+ employees and supportive allies from across the business who are at the core of forging initiatives share a glimpse into not only #LifeatAwin, but #PrideatAwin and the meaning it holds.
Questions
What does Pride mean to you?
Pride is the promotion of self-affirmation, dignity, equality, and increased visibility of the LGBTQIA+ community. For Arianne Rodriguez Hart, IT Support Technician, "Pride is recognising our predecessors' struggles and continued struggles of POC and LGBTQIA+ people… Celebrating queer counterculture and working towards radical change and liberation from cis-heteronormativity."
Brendan Johnson, Senior Account Manager, adds that "it is also an opportunity for the LGBTQIA+ community to come together and proudly demonstrate the values we share, as well as what makes us different, unique and special."
Awin's newly formed employee resource group, the LGBTQIA+ network (also known as the 'Priders') are at the nucleus of leading, collaborating on, and curating the Pride conversation across the group this year, set to be nothing short of an educational extravaganza. The network set regular meetups to analyse how to make Awin and its culture more diverse, friendly, and open. In addition, Awin proudly spotlights the people behind the brand, and LGBTQIA+ network, showing that you should not have to personally or professionally #HideYourPride. Examples of this include the transformation of our recent Awin Progress Pride flag into a Teams background for the business to use across the month to denote Pride and allyship to colleagues and clients alike, and a recent article on embracing the LGBTQIA+ online community as part of an advertising strategy.
How is Pride marked at Awin?
Pride at Awin is usually celebrated locally to ensure that all regional nuances are captured. Since the pandemic, Awin now has an aligned and global approach to knowledge-sharing on awareness days to convey the importance in our offices worldwide.
Martina Schwerdtfeger, Junior Partner Compliance Developer is particularly fond "that at Awin there are not only opportunities to participate in bigger Pride events, but also smaller tokens of acknowledgement throughout Pride month. This could be educational posts, articles, a redesigned Awin logo, or even cute stickers."
Based in the UK office, Brendan reminisces on the fun Pride-themed events in the UK office,such as "a couple of years ago when in the London office, we tie-dyed t-shirts with rainbow colours" but looks forward to "the most exciting Pride month to date in 2021 as we have a full schedule of fun events as well as educational and inspiring content globally."
This year at Awin, there is a strong focus on education and conveying that Pride is so much more than changing your social media profile photo to the Pride flag. We have shared the history and meaning of the varying Pride flags, hosted mini-Pride quizzes to test knowledge and pique interest as well as a longer Pride quiz, hosted by a drag queen. The LGBTQIA+ network were keen to blend knowledge-sharing, history, and of course, fun!
What are your thoughts on Awin's diversity and inclusion efforts?
Awin prides itself on its collaborative approach to diversity and inclusion, placing professionals, the knowledgeable and interested parties, at the forefront of its ever-evolving strategy and educational journey. Our newly founded ERGs (employee resource groups) give employees space to truly make a difference and decide how dimensions such as age, physical and mental abilities/qualities, gender, sexual orientation and identity, religious beliefs, ethnicity and race are presented to the group.
Alex Parmar-Yee, Client Partner, is proud to "see the momentum of D&I initiatives at Awin with so many people being passionate about many different dimensions of diversity and their intersectionality. As a member of the D&I task force involved in the setup of our LGBTQIA+ network, I am excited to see our company culture evolve to be more inclusive and fuller of brilliant, diverse colleagues."
Peter Jack, Global Operations Director, adds, "to date and throughout my career, I can definitively say that Awin has been the company that has gone the extra mile for diversity and inclusion. We have several councils and working groups to ensure we have representation across the group."
And how does this translate to feeling represented at Awin?
Arianne details how their "team (and Awin in general) have all been very open to diversity. I've seen Awin as incredibly welcoming of various gender identities and sexual orientations. As a result, I feel really comfortable being myself here."
Martina feels "acknowledged and valued", despite knowing that "there is always a struggle for lesser-known parts of the LGBTQIA+ community, but here at Awin, we are focused on and striving towards education."
Diversity and inclusion are more than just a buzzword at Awin. We are dedicated to embedding D&I efforts into the organisation – from the D&I task force to self-formed ERGs (employee resource groups) to internal educational hubs, posts, and forums. We try to ensure that difference is honoured, representation is championed, and positive change actioned.
Describe #LifeatAwin in three words
"Dynamic, brilliant, open."
Diversity in the workplace is the fuel that sparks creativity and innovation. We're continually striving to cultivate a rich mix of employees as we understand this is vital for Awin's development and culture. If you are interested in joining Awin and making an impact, take a look at our vacancies here.
Share this