Five ways affiliate links can empower influencers
Written by

Nicola Wellington on

.
Influencers can connect with thousands of brands on Awin; our real-time data enables influencers to create lasting brand partnerships and increase revenue. 
Share this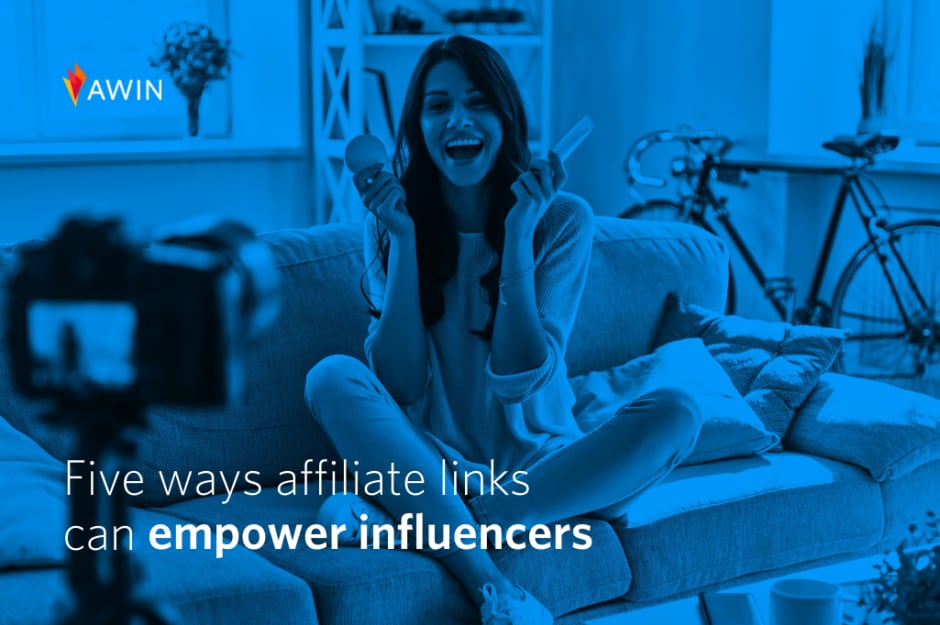 With over 50 million people now identifying themselves as online creators, trying to differentiate yourself from the crowd can be overwhelming. The pandemic saw a surge in online consumers due to increased screen time, largely due to the increased amount of time we found ourselves spending on social media.
Influencer marketing continues to be a trending topic for online retailers and brands, with over 75% of marketers investing budget for 2022, and influencer budget is expected to represent 17% of all ecommerce spend by 2025.
By signing up as an Awin publisher, you can connect with your favourite brands and have real-time performance data at your fingertips.
How do influencers earn money from affiliate links?
Affiliate marketing is the online version of a referral, or word-of-mouth recommendation. When an influencer recommends a product via a URL to a website or product page, this link can be personalised, just like a voucher code, as an affiliate link.
Awin's Link Builder converts URLs into bespoke affiliate links that you can incorporate into your content. When your follower clicks on your link, their purchase journey is tracked, enabling you to see when they have purchased your recommendation. For each sale, you're rewarded a commission.
As an Awin publisher/influencer, you will be able to see exactly which links were clicked on to make a sale for your partner brands via our reporting dashboard, and how much commission you've earned from your content.
Why should influencers use affiliate links?
Test and learn:

Affiliate links enable influencers to see exactly which brands and products resonate with followers on different platforms. For example, your followers might prefer to shop from local brands, or sustainable-only online retailers.
Get noticed by brands:

Incorporating affiliate links into your content enables you to get on a brand's radar. They will be able to approach you for campaigns and paid collaborations as a result of your performance on Awin.
Total transparency:

Awin's dashboard data provides you with total visibility on return on investment (ROI). You can see which brands/products are performing well, generating both clicks and sales, and which ones aren't. This data can help you to justify your payment rates for sponsored collaborations and to consolidate your media kit statistics.
Long-term partnerships:

Brands are looking to invest in lasting partnerships with influencers. Incorporating affiliate links into your content organically enables you to establish a receptive audience, and to prove you have an existing affinity with your favourite brand.
The creator economy is changing:

Follow the trend, many influencers are diversifying revenue streams and moving fans off social networks and on to their own blogs or websites. Affiliate links are transferrable and can be used across platforms, enabling you to continue to drive revenue for your favourite brands wherever and whenever.
Influencer marketing continues to prove its worth in 2022, brands are now looking beyond "vanity" metrics such as page likes or follower count when searching for influencers, placing focus on ROI. With affiliate links, you can view performance across products and retails sectors, and create lasting and meaningful brand partnerships.
Create your Awin account here to find out more about connecting with brands, or speak to our Influencer Partnerships team.
Share this