Performance Marketing Insights London 2016: The Round Up
Written by

Sophie Johnson on

.
On Tuesday 25th and Wednesday 26th October, the performance marketing world resided at Westminster Plaza.
Share this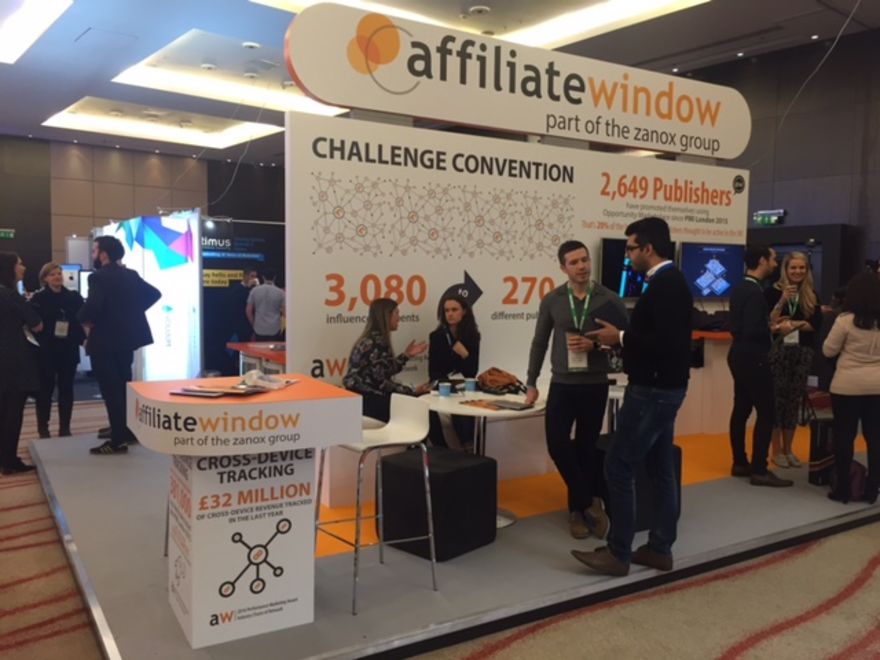 Two days of debates, networking, talks and well decorated stands were on the menu at Performance Marketing Insights London 2016.
During the event publishers, advertisers, networks and agencies were able to meander around the exhibition hall, stopping off at an array of stands hosted by top performance marketing brands. This year, the Awin's stand hosted copies of our new 'Where is Affiliate Marketing Heading?' whitepaper and 'The Collection' – a magazine featuring an array of longtail publisher's stories and affiliate marketing journeys, screens and interactive iPads and Laptops where users could test out our interface and take a look at the year's events. The stand also saw a playful side, showcasing new and improved selfie sticks and swapping out last year's 'Strike-a-light' game for a more virtual experience. AudioShield, a standing VR gaming experience saw numerous competitive spirits fight it out to win a selection of vouchers of their choice worth up to £1000.
Congratulations to our VR pro's who generated the highest 3 scores on the game and took home these prizes:
1st Place winning £500: Luke Stone, Media Sales Manager at Taboola.
2nd Place winning £300: Geordie White, Key Accounts Manager at Optimus Performance Marketing.
3rd Place winning £200: Andrés Gomez, Campaign Manager at Fruzzel.
The winning photo (left to right) Luke, Geordie and Andrés
Stands and games aside, the two day's hosted a packed agenda of talks, debates and insights from industry professionals across all disciplines and channels. Here's the summary:
Day One Round-Up
Awin's Team Leader Jessica Thomas and Vertical Specialist, Robert Davinson took to the Dome stage first thing, where they took part in head to head debate asking 'Can Content Publishers thrive in the current affiliate marketing environment?'. The 40 minute session saw both Jessica and Robert pitch conflicting views which you can view clips of here . The decider was down to the audience who were provided voting cards to air their thoughts.
The rest of the morning saw an array of talks from different publishers, agencies, advertisers, networks and tech providers, including Michael Long, Senior Partner Marketing Manager at Hotels.com and Emily Brown, Client Success Director at Performance Horizon who spoke about 'Partner Marketing for the Travel Industry'during their session, discussing how they are increasing their reach by expanding the affiliate model into non-traditional partnerships. Plus a discussion on 'Leveraging the Triple Threat of Content, Micro-Moments and Affiliate Marketing' in a talk hosted by Pepperjam's Chief Strategy Officer, Greg Shepard who points out how the future of affiliate marketing is no longer limited to loyalty and coupons and the rise of content marketing, shaping trends in the channel from now on.
After the midday networking break, Awin Client Services Director, Nick Caulfield and Business Innovation Director, Edwyn McFarlane took to the stand, focusing a topical talk around our whitepaper title 'Where is Affiliate Marketing Heading?'. Setting the scene with how important the affiliate marketing industry is, representing 1% of total GBP in the U.K they discussed the current landscape of the affiliate marketing channel as well as painting a picture of what 2017 could have in store. Read all the points from the talk here.
Business Innovation Director, Edwyn McFarlane (left) and Client Services Director, Nick Caufield (right) take a pre-speech selfie
Day Two Round-Up
With talks kicking off slightly later on day two, the day began with a Keynote performance from David J. Brown, CEO at Ve Interactive who delivered an empowering speech on 'The Route to Constructing a Billion-Pound Tech Business'. Explaining how in seven years, Ve Interacive has gone from concept to a £1.5 billion valuation and how important it is for companies to have the right attitude to keep their competitive edge.
Awin took to the stage once more at this year's event in a 45 minute long panel session on 'Consequences & Opportunities of the Affiliate Commercial Model', which saw UK Country Manager, Anthony Clements go alongside Michael Long, Senior Partner Marketing Manager at Hotels.com, James Little, Group Commercial Director at TopCashback and Ernest Doku Senior, Commercial Partnerships Manager at uSwitch to discuss a way forward for the commercial model. The debate moderated by Julia Stent, Online Commercial Strategy Consultant sparked some interesting talking points including James raising the topic that by showing brands the different types of content cashback sites can deliver, influencer engagement can be driven further. Whilst Anthony Clements points out how optimisation of the industry's commercial model isn't just about assisted payments and does in depth about how important de-duping is to broaden channel.
Day two finished with a second Keynote session, this time on 'Brand Leadership: Profiting from the Truth' from the captivating entrepreneur, thought leader and brand consultant, BJ Cunningham. With straight to the point thinking, BJ spoke from his own personal experience on how crucial it is to know who and what your brand is before saying anything and asking 'what's the point?' when looking to do so.
Awin's UK Country Manager, Anthony Clements joins the commercial model debate
Take a look at all of the guest speakers who took to the stage over the two days.
We're so pleased to have been a part of another successful PMI London, opening new opportunities for new and existing clients, inisghtful industry insights and a fabulous array of exhibitions. We look forward to seeing you next year already and if you'd like to see more snaps and videos from this year, head to our Instagram page.