Due to the wealth of beauty advertisers we have here at Awin, we thought now would be a good time to demonstrate some of the unique sector insights and benchmarking we are able to provide to our partners.
Awin boasts 1674 advertisers within the beauty sector globally, and 480 in the UK specifically.
2020 Beauty Sector Trends
The graph below demonstrates Health and Beauty sales performance in the UK year-to-date. As a result of the global pandemic this year forcing high streets to close throughout the summer, the Beauty sector has seen huge growth online, with Awin UK hitting peak year on year growth at +57% in May. Despite stores re-opening in June performance at Awin has remained strong as consumers continued their newly formed beauty shopping habits online. Q3 saw an average of +21% growth in sales volumes year on year.
Top KPIs across the beauty sector at Awin UK
Average order value | £61.16 | +1% YoY
Conversion rate | 8% | +18% YoY
ROI | £14.31
Beauty Publisher Make Up
Awin UK saw growth across 11 out of 12 publisher promotional types driving 2020 sales performance in the UK. Looking at January to September, this graph showcases year on year growth ordered from highest growth rates from left to right.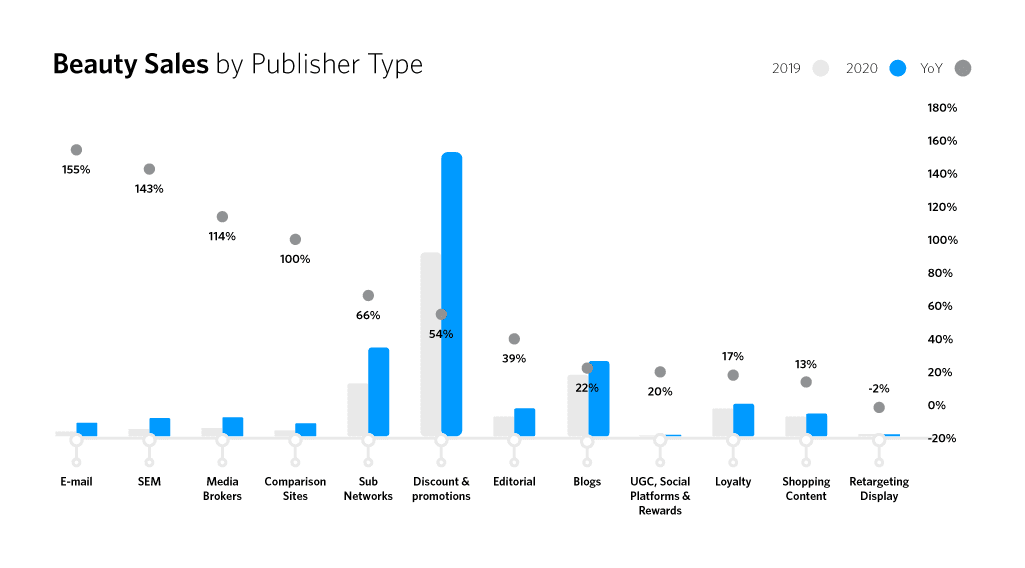 Whilst promotional publishers saw the largest number of sales, email and SEM (CSS) saw the largest year on year sales growth; up +155% and +143% respectively. Sub-networks, the second biggest sector, saw a +66% increase in sales year on year, followed by blogs taking the third slot in terms of volume, up +22% on 2019.
Luxury & Everyday Beauty
We've grouped the beauty brands across the network into the two main market segments – luxury vs everyday. We expected to see luxury makeup brands starting to grow volumes more than the everyday, however they followed a very similar trendline. When looking at the YoY picture, we can clearly see a huge swing towards luxury beauty products compared to usual seasonal volumes during the pandemic. In May, luxury beauty retailers were 190% up YoY, whilst everyday beauty retailers were just up 18%.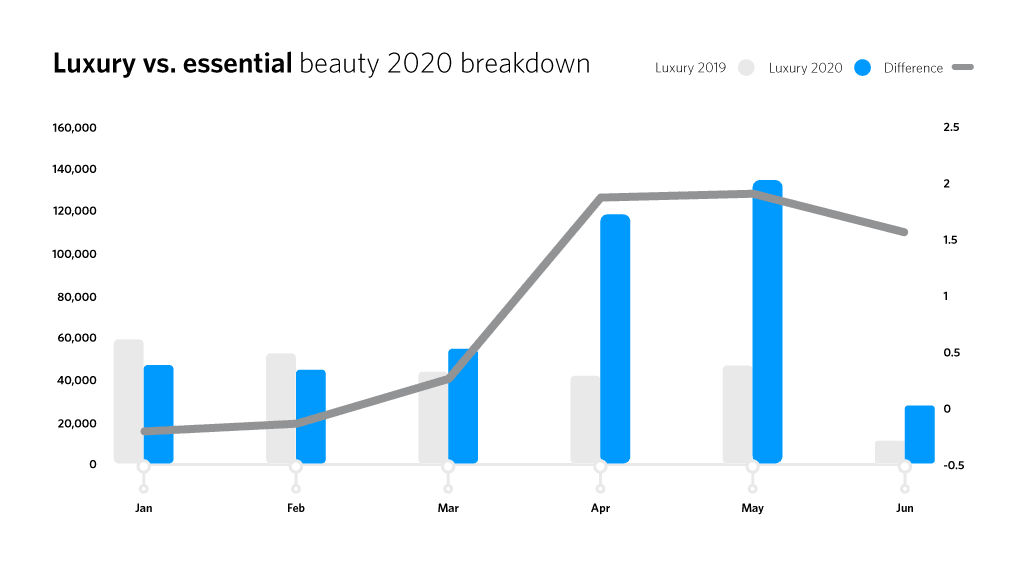 When looking at a selection of our key retailers who sell a mixture of everyday and luxury brands and products, the top 10 products sold so far in June focus on mid to high end brands and products such as face peels, night concentrates and facemasks (of the skincare variety) with some makeup sets, whereas last month the top sellers were more hand and foot creams, and looking back further they focused on even more 'functional' beauty such as cotton wool pads and hair products.
Our theory therefore does just about seem to play out in the numbers – the difference in the most recent data since the lockdown easing announcements wasn't as stark as we would have predicted, but luxury beauty products and brands have seen an increase in more recent weeks with the easing of lockdown, but have seen strong growth throughout COVID-19 when comparing YoY.
When looking at brand size, we are again seeing real success from across our smaller, direct to consumer beauty portfolio, which echoes an overarching trend we have seen at network level through COVID-19, and has also been seen elsewhere. Glossy reported a trend that many beauty Direct to Consumer brands moving back to their routes and away from partnerships with the likes of Amazon to sell their products.
Beauty in the Direct to Consumer Sector Growth
With the pandemic prompting brands such as Heniz with their 'Heniz Home' option to make a shift to a direct-to-consumer (DTC) approach, we saw many retailers sell out on essential items prompting customers to go direct. This was no different in the beauty sector with DTC beauty brand sales increasing 19%, despite a 13% decrease in traffic. Thanks to a 2.4% increase in conversion rate, driven by customers searching directly for the products they need and willing to go right to the source.

New vs. Existing Customers in the Beauty Sector
Looking at new customer data in across the Awin network, and how these new publisher relationships were effecting new customer share. ​Research from October 2019 showed that 71% of customers usually prefer to make a first-time purchase in-store, and more recent research by Internet Retailing found 25% of shoppers said they had tried new online retailers because of the lockdown. ​They also intend to continue to shop with the new retailers thanks to the good experience they've had during the crisis. ​​However, the older generation do seem harder to convince, with 43% of Baby Boomers saying they hadn't tried new online retailers during the pandemic.​
This research supports the theory that the forced closure of physical stores means Advertisers are acquiring new online customers like never before, and many of which could be making their first online purchase. ​Potential new customer behaviour could also be effected; suggesting that we may now be more willing to choose a new brand online, or move online to one we already know.
Looking at this across the Awin network, not all advertisers pass us back new customer data to be able to share a total market view. However, we have delved into the data across a number of advertisers from growing sectors that do track new vs existing customer information - to see how the share of each has changed during the pandemic.​
The beauty sector advertisers show an increase from 27% to 38% in new customers. ​Based on this, we predict that brands can retain these new customers as online customers if they treat them well during the COVID-19 lockdown.​ This means optimising a customer experience with publishers when finding the brand, ​having an easy purchase journey on the brands' site with no availability issues and multiple payment options, ​as well as the delivery not being too delayed, and receiving good after-care. ​
This also highlights an opportunity for publishers to grow member bases and build relationships with new customer demographics as we see an influx of potentially first time online shoppers.
This trends report marks the first in a new series of Health and Beauty focused content Awin is releasing over the next few weeks.
Stay tuned for more updates and insights from our Client Partnerships team by subscribing to The Pulse newsletter.