With Christmas now all but a memory, the New Year provides us with the opportunity to look back at Awin's publisher and advertiser performance over the festive period. By analysing our data before and after the extended Black Friday weekend, we can see what trends and themes are driving performance within the affiliate channel.
1. 'Black Fiveday' impacts the distribution of sales
Much was made of 'Black Fiveday', that is the stretching of the four day extended Black Friday weekend by an additional day, as more and more advertisers started Black Friday discounting early.
Such was the push by major advertisers like Currys and Tesco that there was a feeling that Black Friday trading could be impacted. However, despite these attempts at early land grab, Black Friday remained king. But what impact did this have on the rest of the peak trading period?
The following charts plot the share of revenue generated for our advertisers across November and December for both 2015 and 2016.
Given Black Friday and Cyber Monday are movable events and occur on different days from year to year, we have shifted 2015 data by two days to compare Black Friday and Cyber Monday on a like-for-like basis.
The data has been aggregated for the total period and each day's total given a percentage share. By doing so it's easy to see the key seasonal peaks driving revenue.
While the charts are pretty much identical, one thing that is evident is the impact of advertisers going early in 2016. Although not hugely significant, there was a 14% increase in the share of revenue generated for advertisers in the four days preceding Black Friday: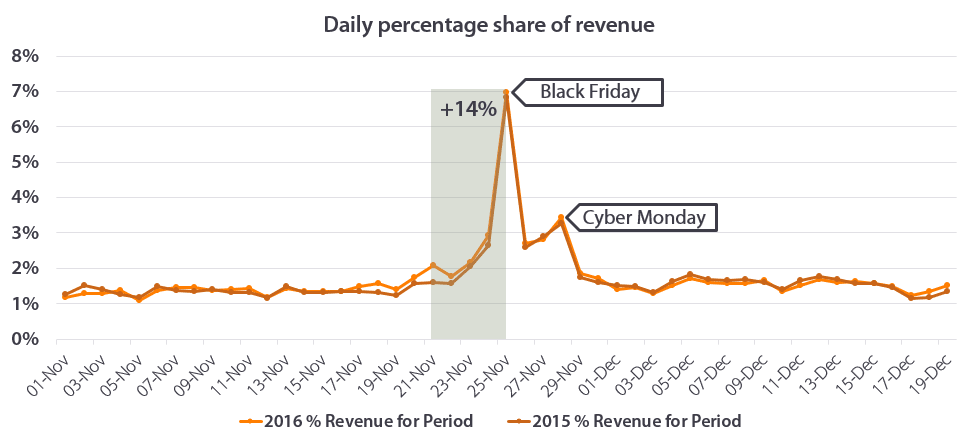 This also impacted upon activity over the Christmas period and the share of revenue during this time. The chart below shows like for like dates to see how this affected trading in the final weeks of December.
Again it appears that by launching their deals earlier, overall some advertisers had more subdued trading across the rest of November and December. A greater share of revenue was generated at the back end of December in 2015. Could this be an indication that 'Black Fiveday' has had a knock-on effect on peak seasonal consumer behaviour, dragging peak earlier and earlier?
And if so, what are the implications for how advertisers plan their 2017 campaigns? This year promises to see the already cutthroat British retail landscape take on an extra dimension with economic warnings of tough times ahead. With advertisers fighting for every consumer pound could we see key brands push their biggest and best deals ever earlier in November?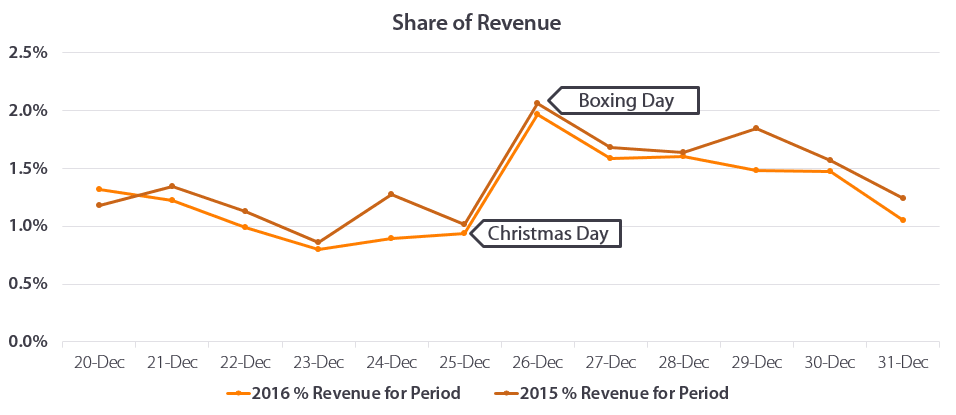 2. Early evening Christmas Eve peak
While Boxing Day has traditionally seen consumers take advantage of the sales, there is an increasing trend of purchasing earlier. With advertisers launching their 'Boxing Day' Sales ever earlier, there is a clear desire to latch onto consumers' desires to pick up a bargain as soon as possible.
The following chart plots sales throughout the day for Christmas Eve through to Boxing Day. While Boxing Day retains its pre-eminent position, Christmas Day outperformed Christmas Eve aside from the afternoon into the early evening. With a number of advertisers launching their sales on the afternoon of Christmas Eve (and indeed even earlier as final delivery dates passed), this peak is not particularly surprising.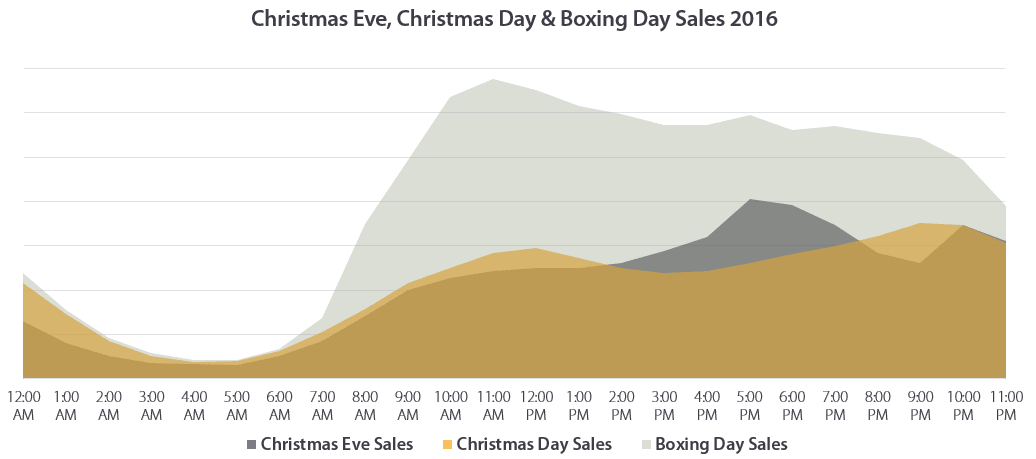 However, delving further into the data there is another trend that is driving this spike. An insatiable appetite for a takeaway on Christmas Eve. This is borne out by two of the top three advertisers on Christmas Eve being from the takeaway sector.
By tracking custom parameters (additional data points) within the Awin tag it has been possible to see some deep-dive insights. Consumers in the north - Warrington and Newcastle to be specific - were the keenest to avoid cooking ahead of the big day, with Chinese, Indian and Pizza the cuisines of choice.
3. Cross Device Activity Plays a Crucial Role
Increasingly consumers are using multiple devices (that is when a purchase has taken place via any combination of desktop, tablet and smartphones) in their path to conversion. This is particularly keenly seen over the Christmas period when consumers ditch the desktop for a more readily available device. The cross-device trends from 2016 indicated some interesting differences between Christmas Day and Boxing Day.
The following chart considers Christmas Day and plots the share of single device sales for each device type and for cross-device transactions the share of sales each device initiated and converted.
Here it is clear to see the role of smartphones as an influencing device (that is one that doesn't ultimately take credit for converting interest into paying customers). Where a transaction took place on a single device, smartphones had a 32% share across all sales. In other words around one in three sales on the network occurred because a consumer clicked an affiliate link on a smartphone and while they may not have bought then and there, they didn't crossover to another platform to do so. However, where multiple devices were involved in the customer journey, 38% of them started on a smartphone compared to just 12% converting on them.
Conversely, desktop is a strong driver of single device sales (44%) and an even stronger converter of cross device customer journeys (47%) but only 7% of cross device journeys began on a desktop.
Tablets were another important first point of interaction for cross device sales with 56% of all cross device sales taking place on Christmas Day beginning on a tablet.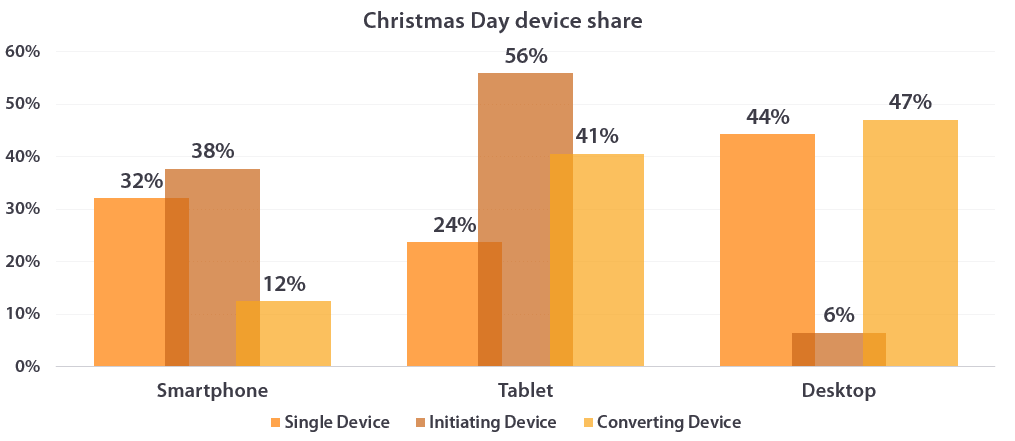 Switching attention to Boxing Day, while the share of single device transactions by device remains fairly similar, there is a shift in the devices of choice for cross device activity. The share of tablet initiations drops to 46% (from 56%), while both desktop and smartphone share of instigating a sale increased.
Desktop continues to be the dominant device in terms of converting cross device activity, while smartphones also increased their share (from 13% to 21%).
While tablet is the mobile device of choice on Christmas Day, smartphones do a much better job at holding their own on Boxing Day.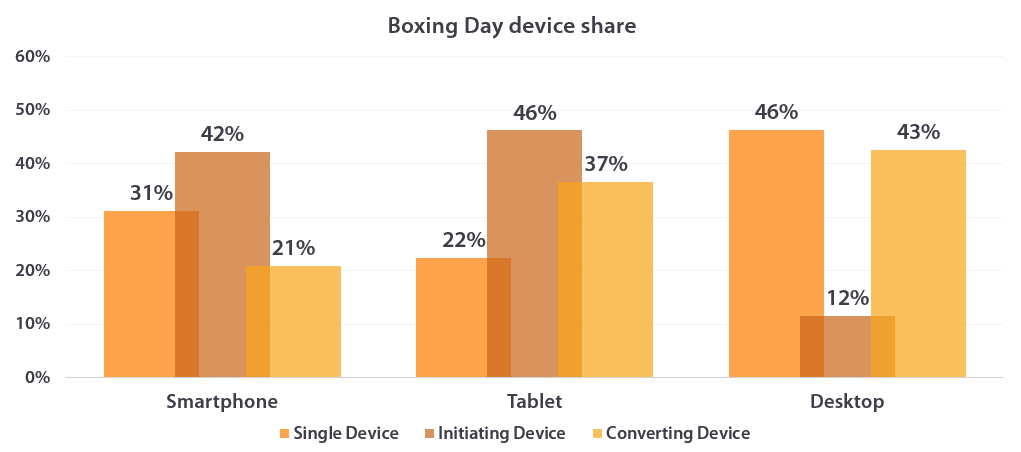 4. Impact of the depreciating pound
In our recent white paper investigating the trends across Cyber Weekend, the impact of the depreciating pound was highlighted. This was again witnessed over the Christmas period. From Christmas Eve through to Boxing Day, UK advertisers generated sales across 165 additional countries.
While for Awin UK, 92% of all purchases came from British based consumers, when we consider the additional 8% of transactions, the top five purchasing countries were the United States (13%), China (10%), Ireland (6%), France (4%) and Australia (4%).
There is certainly an appetite for UK products from abroad. Advertisers within the sportswear sector performed well with an American audience while Chinese consumers continue to hanker for health and beauty products. Understanding these cultural and country specific vagaries is especially important for niche retailers looking to expand interest in their products beyond these shores. It also pays to use Awin data to understand what the overseas affiliate opportunity is, even for advertisers with little or no presence outside of the UK.
At the heart of this trend is undoubtedly a perfect storm: heavy discounting, cheaper delivery costs and a depreciating pound meaning it is becoming increasingly favourable to buy British from overseas.
We expect this trend to continue in 2017 and if the UK economy struggles there will be more and more incentive for advertisers to expand their reach beyond these shores.
5. Top Performing Sectors
We've already touched upon the takeaway sector enjoying a particular bump on Christmas Eve but what about other sectors enjoying a sales' boon on Christmas Day and Boxing Day?
Health and Beauty was the big winner on 25th December while big ticket items were saved for the more traditional Boxing Day sales, with department stores and electronics' retailers dominating.
Summary
The emergence of Black Friday as a significant online event over the past few years appears to be having a slight levelling impact upon the wider Christmas trading period, although this year's trading would indicate more revenue is being driven prior to the big day as big brands make an early land grab effort.
Smartphones continue to perform an important function that our performance based industry still has to adequately recognise and reward. As consumers switch between devices so the desire to understand the all-important single customer view grows.
Looking beyond the confines of our channel at wider external factors, the depreciating pound has seen an increase in sales from overseas, a trend we can expect to see increase further in the coming year in light of widespread fears about the performance of the UK economy.
Christmas typically crystallises a series of micro and macro factors that advertisers need to grapple with in order to maximise their value from the affiliate channel. 2016 was no different with new initiatives adding to our understanding. In uncertain times and with potential belt tightening on the horizon, our cost effective and lean sales' channel is well placed to ensure it's at the forefront of digital acquisition.