Visit Awin's self-help Advertiser Success Center for answers on how to use the platform
Written by

Samantha Sherer on

.
Share this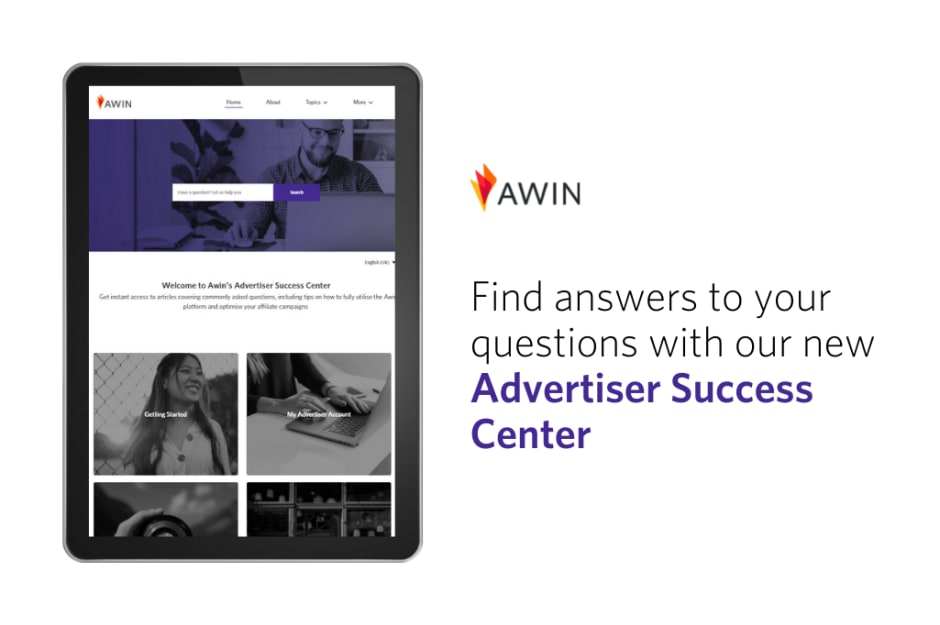 The Advertiser Success Center is Awin's all-in-one digital hub for advertisers, created to help you achieve long-term success managing affiliate programmes across the Awin platform.
Visit advertiser-success.awin.com to find over 115 , videos, and how-to guides on the following topics:
If you're unsure of where to find the information you're looking for, the hub utilises AI technology to suggest answers to your questions via the search bar at the top of each page and in the contact form, helping you to easily locate the information you need and resolve any issues you may have.
Currently available in the UK and DACH, North American and additional European editions of the Advertiser Success Center will be made available in the coming months. As you interact with the hub and we further develop the Awin platform, new support articles and training materials will be added so we can continue to offer the best possible support.
Michelle O'Sullivan, Global Customer Success Director at Awin, says, "The long-term success of our advertisers is at the forefront of everything we do and Awin's new Advertiser Success Center is a testament to this. With this interactive hub, questions advertisers have can be answered via a dedicated article, the intelligent search feature or by a member of the team. Currently available in the UK and DACH, we're excited to make the Advertiser Success Center available in North America and across Europe in the future to better assist and empower all Awin advertisers around the globe."
If you need additional support on how to manage your Awin affiliate activity or for questions and feedback about the new center, please get in touch with your Awin contact or reach out here.
Share this