Awin partners with Payoneer to pay international payments faster
Written by

Sarah Ruzgar on

.
Awin has partnered with global payment solution provider Payoneer to speed up international payments to publishers. 
Share this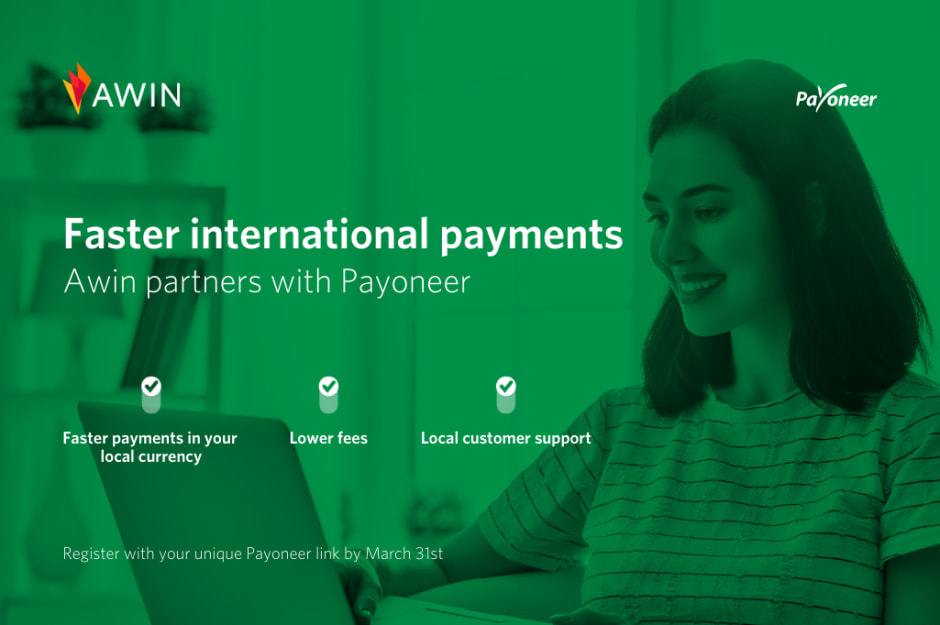 Payoneer facilitates seamless, cross-border payments across more than 200 countries and territories for businesses such as Airbnb, Getty Images and Google. With Awin's previous payment provider, publishers had to wait up to 10 days to receive their international payments (as an International Wire Transfer (IWT), often with excessive transfer fees.
Benefits of receiving payments with Payoneer
We know that faster, seamless payments are important to our publishers. That's why we selected Payoneer as our new payment provider to offer:
Faster payments. Payoneer pays as quickly as one business day for transfers in your local currency and 3 –5 business days for publishers who wish to be paid in USD/EUR to non-US/EU bank accounts. 
Local pay-outs. You can get paid in your local currency and avoid excessive transfer fees. 
Lower fees. You can avoid excessive transfer and conversion fees by saving up to 70% on fees charged by banks. 
Reduction in failed payments. Different countries' requirements for international payment, means any missing data or additional documents required by a certain local authority/bank could lead to payment being returned by your bank. Payoneer's platform offers a dynamic layout based on the country where you receive your payment, minimizing the risk of a failed payment.
Local customer support. Payoneer offers local support in more than 10 countries with 16+ languages which allow you to get support fast, in your preferred language.
How to register for Payoneer as an Awin publisher
If you're a publisher that receives international payments (as an International Wire Transfer (IWT), then you need to register with Payoneer by March 31, 2021 using a unique registration link provided by Awin.
Find the full list of instructions and FAQs on our Partner Success Center, where you can also find information on how to contact us if you need support registering with Payoneer.
Share this