Awin named Top Workplace 2021 by The Baltimore Sun
Written by

Samantha Sherer on

.
Awin is thrilled to be a Top Workplace on The Baltimore Sun's list for the third consecutive year  - securing the #36 'small employers' spot for 2021.
Share this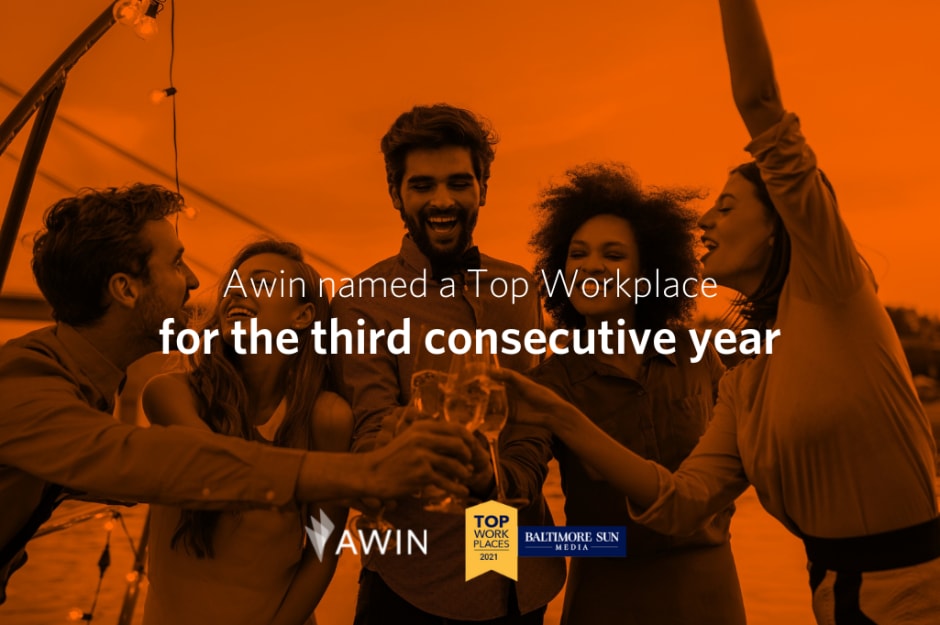 The Baltimore Sun's Top Workplaces ranking measures several aspects of workplace culture including alignment, execution, leadership, connection and more, and is based solely on employee feedback gathered by a third-party, Energage, LLC.
Awin is thrilled to be listed as a Top Workplace for the third year in a row, securing the #36 'small employers' spot on the 2021 list. This achievement is a testament to the great culture Awin has built across the company.
"It's a great honor to be named a Top Workplace again," said Alexandra Forsch, president of Awin US. "Keeping staff morale and productivity at optimal levels has always been a core focus of Awin's and this last year is no exception. Being recognized by our employees for our commitment to them is truly rewarding. I am grateful and proud of what Awin has done at a local and global scale to ensure we create an even greater workplace for tomorrow."
What makes Awin great?
When the pandemic hit in March 2020, all employees shifted to remote working. Without the office environment, Awin's sense of community and collaborative culture was put at risk - coupled with the anxiety, isolation and fear caused by COVID-19. To safeguard employee wellbeing throughout this challenging time, Awin began implementing several initiatives with the goal to include, engage and support all staff during that unprecedented time - starting with the introduction of an optional 4.5-day work week to allow staff to decompress and wellbeing virtual workshops and team challenges, including yoga, cooking challenges, talent shows, tips for parents and more. From there, the four-day work week was imagined and Awin continued its gradual shift to a more agile approach to working.
And in January 2021, Awin successfully launched an ongoing four-day work week pilot for all 1,000+ staff, executed with no reduction in salary or holiday allowance. What's more, employees weren't asked to now navigate four 10-hour days. The normal workday duration remained intact. The goal is to strike a balance - less working hours are compensated through more efficient ways of working, leading to more productive, happier and balanced employees who passionately drive the business forward.
Furthermore, in the US, Awin is privileged to be able to offer all full-time employees the chance to work for a rapidly accelerating company and in a fast-growing industry alongside a robust benefits package that includes a four-day work week pilot and work from anywhere flexibility, participation in and support of a diversity & inclusion taskforce, learning and development training resources, mental health and wellbeing support, paid-for medical, dental, life and vision insurance and more.
Awin has a variety of career opportunities available across a multitude of functions. View our vacancies and apply today. Don't miss your chance to work for a Top Workplace 2021.
Share this