Celebrating the industry's successes at the International Performance Marketing Awards 2019
Written by

Sarah Ruzgar on

.
In its third year, last night the IPMAs brought together the industry to celebrate its successes over the past 12 months.
Share this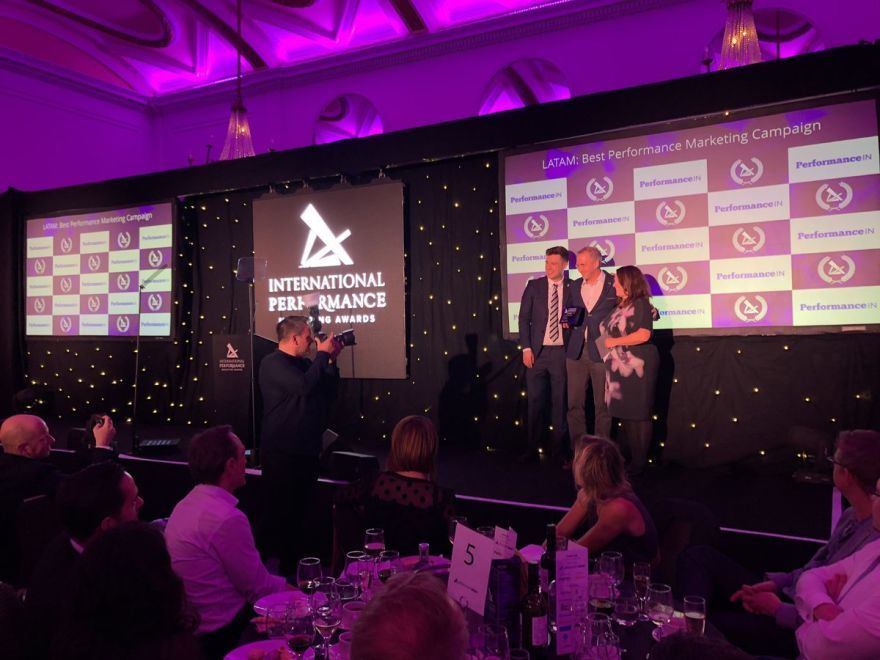 Taking place in London, the awards recognize achievements in performance marketing across key regions around the world, in the US, MENA, APAC, LATAM, Western Europe and Eastern Europe.
The evening commenced with a champagne reception to welcome guests, where we were treated to a surprise performance by a flashmob organized by main sponsors, FMTC. After a lively start, the official ceremony kicked off with an opening speech from PerformanceIN founder Matthew Wood, before handing the reins to comedian Ed Gamble. Ed provided some much needed comic relief to alleviate the tension among attendees in the room, anxious to know who would be taking home the prestigious awards on offer.
This year saw the introduction of eight new categories including 'Best Content Marketing Campaign', reflecting the continued advancement of the affiliate industry and it's complementary characteristics with other marketing channels.
At Awin, our mission is to offer the technology, service and expertise our partners need to facilitate trusted partnerships that drive growth. That's why we are honored to be recognized for our campaigns with partners Carrefour, HP, Smarter Click, Carphone Warehouse, vouchercloud and Currys PC World, winning the following four awards:
Best Content Marketing Campaign with HP - A new category of which we are proud to be the first company to be recognized for and a worthy acknowledgement of the hard work put in by the Awin US team.
"Very well-executed campaign. Clear goals and the success was evident."
LATAM Best Performance Marketing Campaign with Carrefour - Congratulations to the Awin Brazil team for securing this award for the first time.
"This was a non-traditional campaign that required more creativity than some of the others, a stand out entry!"
Best Technology & Telecoms Campaign with Smarterclick and Carphone Warehouse - An award we were also delighted to win at the 2019 UK Performance Marketing Awards in May.
"A lot of unique creation and design needed to be invented in order for this campaign to work, and being able to increase sales during the highest promo season of the year without being able to offer a promo, required very creative solutions in itself! Amazing results and objectives over-achieved for this campaign for all parties involved."
Western Europe Best Performance Marketing Campaign with vouchercloud and Currys PC World – An award we are thrilled to receive for the second time at the International Performance Marketing Awards with vouchercloud, and thank them for their efforts on submitting this award entry.
"The fact it is a multi-channel approach, driven by data/insights and the results driven over a year are stand out."
We also extend our congratulations to all of the winners at the International Performance Marketing Awards, including our partners RevLifter and HP who took home the USA Best Performance Marketing Campaign award, and Acceleration Partners for being awarded Best Agency. The full list of winners can be found here.
The breadth of work that was recognized at this year's awards is a true testament to the continued evolution of an industry that delivers tangible results for businesses across multiple industries.
Share this