Partner with Taboola to explore new traffic acquisition strategies
Written by

Maura Reidy on

.
Awin publishers can now discover new revenue sources via Taboola with an exclusive no-obligation, low-cost offer including free access to training site Fiverr. 
Share this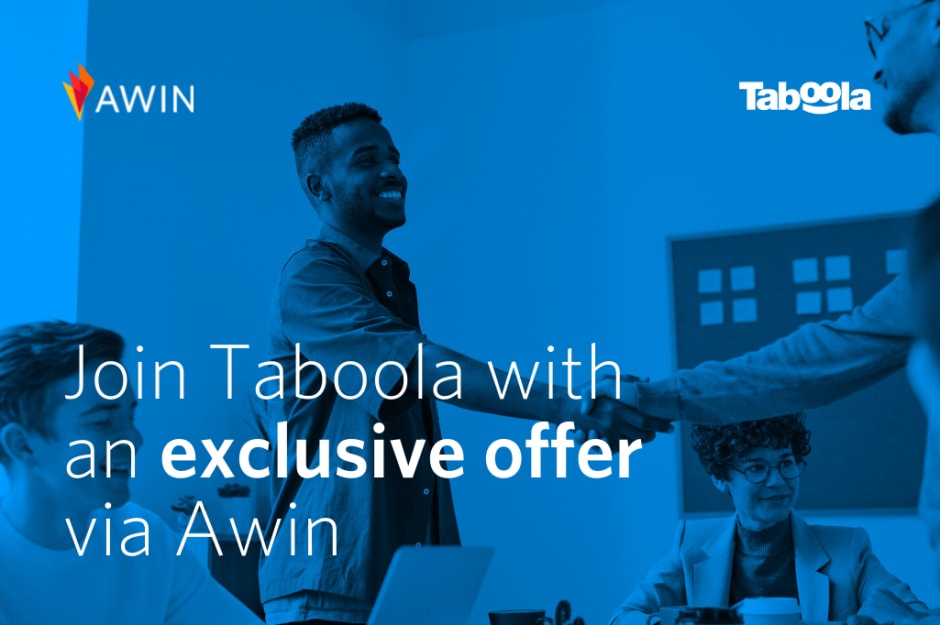 With over 9,000 publishers and more than 500m daily active users, Taboola is the world's largest content discovery and native advertising platform. Now, Awin publishers have the opportunity to diversify their traffic acquisition strategies by securing a no-obligation, simple and cost-effective way to explore acquiring traffic via Taboola*.
How do I take advantage of the offer?
To redeem this exclusive offer, which runs globally and on an on-going basis for all Awin publishers, publishers must sign-up as a new customer to Taboola and deposit £150/€150/$150. They will receive an additional one-time credit of £150/€150/$150 at no extra cost – both the deposit and one-time credit can be used for purchasing inventory on the Taboola Network, helping drive targeted traffic to help grow a site's revenue.
In addition to the above, Taboola will also give Awin publishers access to an insightful course on Fiverr, teaching publishers how to use the platform, free of charge (usually listed at $32).
To take advantage of this offer, Awin publishers must sign up via this link and be a new Taboola customer. Unfortunately, this offer is not open to existing Taboola customers.
Awin has also put together advice on how to automate the reporting of affiliate revenue into the Taboola platform to help optimize campaign effectiveness.
How to get the most from the offer
The easiest way to get up and running will be to create a Taboola campaign and use either the campaign parameter or the publisher click references to dynamically add a value to outbound links or banners that allow differentiation of the referring traffic sources. To work out the return on investment for each campaign, the revenue can be manually or automatically taken from the Awin platform via transaction/click ref reporting in the UI or programmatically via the publisher API and cross-referenced with the Taboola platform's costs to work out ROI.
For those publishers looking to run multiple campaigns simultaneously, please see the advanced setup outlined at the end of the Taboola publisher success page. Please note that to use this setup publishers will need basic development knowledge to dynamically add values to outbound links – unfortunately this is not something Awin is able to assist with.
Creating value for our clients
Commenting on the Awin-Taboola partnership, Paul Stewart, Head of Global Strategic Partnerships & Innovation, Awin says: "By bringing together the world's largest global affiliate network with the world's largest content discovery and native advertising platform, Awin is hugely excited about the value this strategic partnership can create for our mutual clients. For Awin publishers looking to explore new traffic acquisition strategies, we think this is a great way to get started – this in turn also benefits Awin's retailers who will see even greater volumes of interested consumers funnelled to them via Taboola's market leading native advertising platform."
*Should an Awin publisher choose to take up the offer, Awin may receive a referral fee from Taboola. Awin will also receive feedback on the aggregate number of publishers that take up the offer.
If you're interested in leveraging Awin's strategic partners to optimize your affiliate activity, please get in touch with the team.
Share this