Venture Vision: eCommerce AI and the future of retail
Written by

Erica Grabijas on

.
An Awin Interview with Increasingly CEO and Co-Founder Sri Sharma.
Share this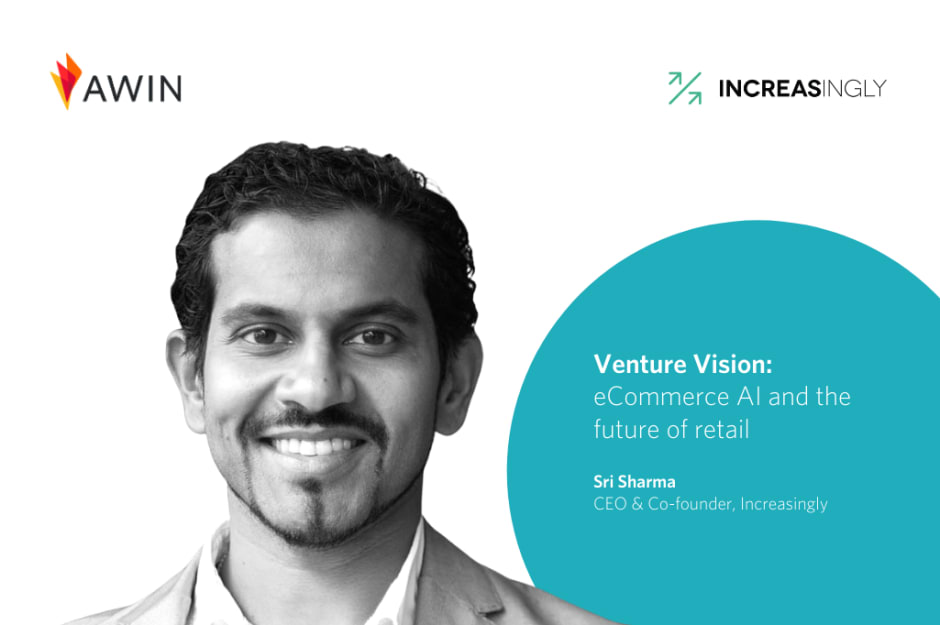 Growth and efficiency are more vital than ever in today's highly competitive retail market. As customer expectations continue to rise, companies, big or small, must deliver personalized shopping experiences at scale.
Increasingly, a London, Portugal, Japan and Bangalore based scale-up, is on a mission to revolutionize ecommerce. Powering AI optimization for Awin clients such as Samsung and Craghoppers, their solution suite has now expanded to Facebook, in-store, and Google Shopping.
In a recent conversation with James Bentley, Awin UK Strategy Director, Increasingly CEO and Co-Founder Sri Sharma shared his reflections on the retail disruption of 2020, and the transformational impact of AI for vertical leaders.
How was 2020 been for you and the Increasingly team?
2020 and getting into 2021 has certainly been challenging for people and businesses. At Increasingly and from a business perspective, it was a real shock when customers' websites went offline at the beginning of COVID-19 alongside nervousness as we all had to adapt to new ways of working remotely.
Personally, I experienced a huge sense of pride when our customers went back online, and wanted to re-implement Increasingly immediately. It really demonstrated to me that our AI technology is a 'must-have' not a 'nice-to-have' and as a founder that gives me such a sense of confidence and gratitude that we are moving in the right direction and adding value to our customers.
We've all been lucky in our industry. The transition from physical to ecommerce in 2020 has led to more new customers using the Increasingly platform including Boots Walgreen, Pets at Home, Feel Unique and Craghoppers to name a few.
The pandemic also provided R&D opportunities for our product teams. We've spent time investing in our AI capabilities and developing new products. In 2020, we wanted to influence customer acquisition and ROAS outside of retailer ecommerce sites, that's why we developed AI Collections for Google Shopping. We are now changing customer behavior and growing revenue for retailers on-site and in marketing channels!
What do you think the key learnings of 2020 are for business leaders?

As for many it's been an up and down year and I have been reflecting on this question of leadership and learning a lot. Firstly, 2020 has reminded me that in my business and in life, not everything is in my control. With that I've had to get more comfortable with uncertainty.
Secondly, with things looking unclear at the first lockdown, going back to business fundamentals was crucial. This is something we did really well. We planned carefully on profitability and financial stability to manage risk, and we also pushed forward on new products to create innovation for the future.
Thirdly, 2020 has been a big lesson for me in the importance of empathy. People act based on how they feel and there have been a lot of feelings of fear and anxiety in the air. Trying to put myself in other peoples' shoes has taught me a lot.
What do you think are the key foundations of success in this age of accelerating disruption?
Technology's impact on society is growing faster than we realize. For example, it's hard to believe that Facebook is only 16 years old and Google is only 22 years old. Already, they are ubiquitous in their influence on our lives.
As a company it is crucial to have an innovation or inventiveness-orientated culture. One that seeks problems and uses future technologies to solve them better or faster than before. The risk of not doing this is being left behind as you can bet your competitors are.
What advice would you give to Awin clients that have not yet adopted ecommerce AI?
Just look at the grandfather or grandmother of the internet, Amazon have been doing this since the early 2000s. They invented so much of what retailers are doing today. Amazon was the inspiration behind Increasingly and we're not shy to admit that, they realized much earlier than the rest of us that removing customer friction is a crucial key to success.
If you think about four key pillars of ecommerce, Product, Experience, Frictionlessness and Price, can AI help in any of these core areas? (the answer is YES). According to Jupiter Research, global retailer spending on AI will reach $7.3 billion per annum by 2022, that's up from an estimated $2 billion in 2018.
AI should absolutely be in your strategy for 2021, otherwise you will fall behind. Look internally or externally which can often help you move faster. Start with meaningful problems, such as reducing returns, improving ROAS from adspend or improving AOV. How can AI and technology help you solve unsolved problems?
Notable examples of Awin clients that have experienced significant uplift since employing Increasingly's AI technology are Samsung US and Craghoppers UK.
+20% incremental shopping cart revenue
+28% number of items per order
+44% accessory sales
Delivered £200,000 incremental revenue in the first month
Increased AOV +15.5%
Increased bundle revenue +31.3%
How do you see omnichannel (in-store) advancing in 2021, and specifically the role of ecommerce AI within that?
Given we're in lockdown again in 2021, progress in-store will be limited. That said, we may see more US style curb-style pickup in out-of-town shopping centers in addition to grocery click and collect. Also, we may see more stores within stores to give chains physical presence.
From a post COVID-19 standpoint, we'll see a huge positive surge as people get excited about going back into stores. At that time, Increasingly AI will be able to support retailers sell the entire project to customers recognizing their online shopping journeys. This is our AI for in-store technology for store reps.
Where were you when you first formed the idea of founding Increasingly, what specifically inspired you?
In 2015, I sold my previous business, NMPi. I was then exploring new business ideas and looking for problems that needed to be solved.
My blueprint for a successful business idea is to find a large problem that could be solved with a futuristic technology. I spoke to lots of people in ecommerce and marketing, and recognized that people are always buying for a project, not just for a single item. Plus, low average order values is a huge sticking point for lots of retailers. Upselling is a huge missed opportunity and Forrester research suggests that 10% of revenue is left on the table because retailers don't effectively upsell additional products outside of their core offering.
Working with my Co-founder Satish Jayakumar and early members of the team we went to work developing our first prototype of the product. Inspired by Amazon's famous 'frequently bought together' feature, we bring Amazon-like precision to the rest of ecommerce. The platform bundles together highly relevant products across the customer journey, all powered by AI.
What has been your proudest moment since founding Increasingly?
My proudest moment was winning Best use of AI with Samsung in the Performance Marketing Awards in 2019, we were up against some long standing industry players and winning this award really proved the value of our technology! It also felt pretty cool to be winning awards at the Performance Marketing Awards for two different companies I had founded.

My other proudest moment was when we won Party City in the US, a costume store with over $300M in annual revenue. We won an incrementality test against other major vendors. We achieved +6% more sales than the other providers and these are big Nasdaq listed companies. When you're talking about a $300M dollar business that's a lot of extra revenue!
What are you looking forward to personally and professionally in 2021?
Professionally, I am looking forward to ramping up adoption of our new products for Google Shopping and Facebook, AI Collections. It has been two years in the making and I am so excited to unveil them to the world!
We will continue developing the AI capabilities within our platform so it has richer features, including bigger and better reporting and new, slicker dashboards for our customers, so they can see the results we're driving along with richer insights.
I am really looking forward to working with different teams across the company. Now that we have a fully-fledged marketing and sales team in place, I can spend more of my time working across business units, with customers and potential customers. It gives me a real sense of enjoyment, satisfaction and pride when I see the teams working collaboratively and being successful together!
Finally, I hope for simple things personally as do most others like real meetups and holidays with family, friends and colleagues around the world. Can't wait to go surfing in Portugal with the Increasingly team.
...fingers crossed for a fantastic and healthy 2021 for everyone!
To learn more about Increasingly and how AI can optimize your ecommerce activity please reach out to James Bentley.
Share this