Publisher spotlight: NMPi
Written by

Samantha Sherer on

.
NMPi offers advanced technology that provides both paid search and display advertising solutions. They have a strong global reach and currently run campaigns in 100 counties and 55 different languages. NMPi further distinguishes itself by working on a cost per acquisition model. On Awin they have performed particularly well with advertisers like HP, Loot Crate, Trendy Butler, and Super Cheap Signs.
Share this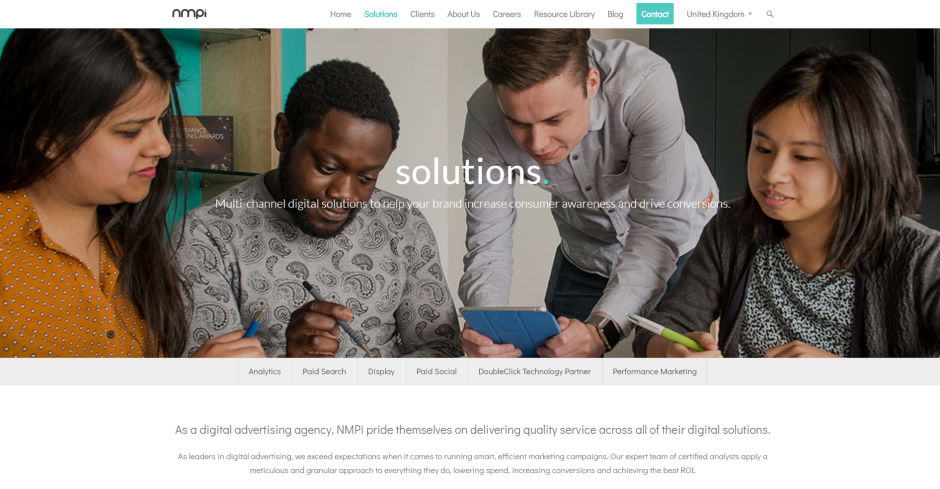 Both NMPi's paid search and display solutions are driven by industry-leading technology. How are these solutions different than your competitors' offerings?
NMPi's solutions are supported by two platforms working in combination with one another – DoubleClick's technology stack, and our own in-house platform called NMPinsight. Having access to both gives us an industry-leading advertising platform in one, married with an optimization tool built on our 13 years of performance marketing experience, resulting is a truly unique approach to digital marketing.
At NMPi, we're able to remove the risk of online advertising by covering the costs of delivery ourselves. We're paid on results, and results alone, in the form of commission for the sales we drive on your behalf.
While businesses exist that offer a similar commercial model, we can confidently say there are none that compete in terms of the sophistication and scale of our solutions. So much so, that in every example to date, our approach has not only driven increased performance for brands, but at a more cost-effective CPA. We'd be happy to prove this for you with a free audit!
What steps does NMPi take to find, engage, convert, and re-engage customers?
NMPi's cross-channel capabilities and commitment to reinvesting commission ensures we're able to engage users at every stage of the purchasing funnel. What this means is that we take commission from high-performing areas of campaigns, and push it back in to fund upper-funnel activity and project builds, from display prospecting and Google Shopping campaigns, to search retargeting and our purpose-built dynamic display template.
By adopting a data-driven approach to online, while also layering an element of machine learning on top through our NMPinsight technology, our campaigns are quickly streamlined towards finding the strategies that deliver the best overall returns for our clients.
NMPi continues to be recognized for its paid search and displays offerings. To what do you attribute this success?
First of all, we're thrilled with the success our business has witnessed over the last couple of years, and a lot of this can be attributed to the hard work and out of the box thinking of our Performance Marketing team. Our proposition has come a long way in a short space of time, which reflects a key objective – to revolutionize the way paid search and display are viewed within the affiliate channel. Our performance-based Google Shopping solution and full-funnel display campaigns are unique services to the industry, and the battle for us isn't as much around convincing advertisers to work with us; it's explaining how it's possible.
What are benefits for advertisers working with NMPi?

Our range of services are designed for one thing – to drive performance for our partners. Whether that be in domestic or international markets, primary or secondary search engines, across a single channel or across multiple. We're flexible in the solutions we offer, and always ensure our remit both delivers value and contributes towards our clients' business goals.
The key benefit of our support comes in the fact that we are able to offer it on a completely risk-free model. Our 13 years of expertise, combined with the latest digital marketing technologies (technology that we can leverage for our clients at no extra cost), puts us in the unique position to work on this basis.
The final point is that, by operating as a publisher on your program, there are no fixed terms/contractual obligations to working with us, unlike your traditional paid search and display providers. Despite our agency-style offering, we act as a traditional affiliate, such is the confidence in our abilities to satisfy our clients.
Why did you join the Awin network and what features do you enjoy?
We've been working with Awin in the U.K. for a number of years now, and given the quality and nature of the advertisers on their network, we've seen great success over the period.
When Awin expanded their brand to the U.S., it made absolute sense for NMPi to follow. Since then the partnership has gone from strength to strength, and we're very excited about the businesses we work with, and those still to come.
From a feature perspective, the commission assist technology and Awin Mastertag solution really stand out. The former for further demonstrating the value publishers bring, the latter for simplifying the set-up process with our partners.
Interested in partnering with NMPi? Please contact Alex at NMPi or our publisher management team.