In early 2017 Australia broke the world record for the longest running period of sustained economic growth. In June it was announced the economy had grown continuously for 26 years, breaking the previous record held by the Netherlands. While that growth has slowed more recently, partly due to China's waning demand and the diminishing rate of mining and construction activity domestically, the nation's digital economy has gone from strength to strength with Australian consumers expected to spend over $25bn online in 2017 alone.
The story of Australia's ecommerce success though is one characterised by contradiction and driven more by the digital appetite of its citizens than necessarily by the inherent foundations of what we might recognise as an 'ecommerce-friendly' environment.
Australians spend on average almost seven hours a day online and Australia features among those nations with the highest proportional rates in the world for its percentage of population who are internet users (85%) and the number of adults with a smartphone (80%), yet its internet speeds have been lagging far behind global averages for some time. Akamai's State of the Internet Report recently ranked their average fixed broadband speed at 50th in the world, behind even Kenya, Moldova and Puerto Rico.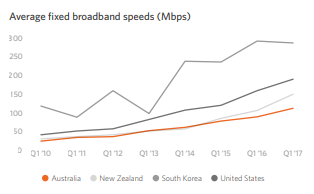 Partly this can be attributed to the practicalities of implementing country-wide improvements across a land mass as large and as sparsely populated as Australia's and partly because of the government's short election cycles of just three years which prevent the kind of long-term economic outlook or planning that such a vast infrastructure project as this necessarily requires. The changes of government in recent years have hampered concerted efforts to roll out the National Broadband Network, a government-owned, wholesale open access data network initiated to improve internet access nationally and which has subsequently lacked consistent political backing and funding.
While its fixed broadband speeds are languishing far from the top of the global tables, Australia's mobile internet speeds are much faster and compete well with other mobile-friendly nations such as the UK and the Nordic countries. One of the nation's major telecoms providers, Telstra, is even promising its customers a world-first trial access to 5G connectivity in time for the 2018 Gold Coast Commonwealth Games.
Australia's fast mobile broadband speeds have encouraged more and more people to simply do away with their fixed internet connections and adopt a mobile-first approach with over 20% of the wider population reported as mobile-only internet users now.
Beyond the improved mobile internet access there are a few reasons why smartphone adoption has taken off in such a dramatic way in Australia. The nation's large migrant population contributes to this to some degree. Over 28% of Australia's population is made up of migrant residents, and a desire to connect with families and friends back home is made significantly easier thanks to the online calling services offered by the likes of WhatsApp, Skype and Facebook Messenger.
There's also the role played by the Australian weather. The warmer climate, combined with a culture that is traditionally used to spending time outdoors, means a mobile device is often the most practical means of accessing the internet.
The weather and outdoor, sporty lifestyles are also one of the main factors driving the industry in wearable technology that appears to be gaining traction in the region in a manner not witnessed elsewhere so far. Almost half of the respondents surveyed in EY Sweeney's Digital Australia 2017 report claimed that they either used or were interested in using smartwatches or fitness trackers. This may in part be a halo effect derived from the prominent use of such technology by Australia's top sports teams who have been particularly early adopters of wearable tech, some of whom have been utilising the additional data insights to understand and improve their performance for much of the past decade.
The trickle-down effect of this professional sporting use has seen an increase in interest in such technology from the wider population of consumers to the point where online affiliate businesses such as the Sport Heroes Group are taking advantage of the trend to reward users with offers and discount codes for achieving fitness milestones through their tracking devices. Their Running Heroes and Cycling Heroes sites both aggregate and analyse the data generated by people's sporting activities to create reward platforms for athletes that further incentivise them to keep hitting their fitness targets.
Such sophisticated marketing models are a clear indicator of the level of maturity apparent in the Australian ecommerce environment, and it is therefore less surprising to note that Australian advertisers lead the world in their investment of digital ad spending per internet Such sophisticated marketing models are a clear indicator of the level of maturity apparent in the Australian ecommerce environment, and it is therefore less surprising to note that Australian advertisers lead the world in their investment of digital ad spending per internet user.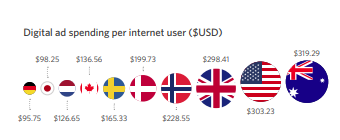 Digital advertising receives the biggest slice of Australian ad spending, around $4.5bn or almost 45% of wider media spend, which makes sense given the high levels of internet and mobile penetration within the population and their increasing propensity for engaging with various online platforms.
Yet while investment in the wider digital sector is high, the development of the affiliate industry in Australia is still at a relatively early stage, with few pure affiliate-focused networks and many prominent brands either not yet offering affiliate programs or preferring instead to manage theirs through digital agency partners, where the channel suffers to some extent from a lack of attention in comparison to the established marketing methods of PPC, search, SEO and display.
The popularity of programmatic display in particular, requiring little effort and providing a relatively quick return, has historically been perceived as a threat to affiliate budgets in Australia. Agencies have often been unable to dedicate the resource required for growing affiliate programmes organically and there is still a lack of experienced affiliate marketers in the region that can advocate effectively on behalf of the channel.
There are signs of change occurring though now. An increasing amount of workers in the digital industry are ex-pats with firsthand experience of affiliates and their ability to drive growth. As more brands come around to recognising this value, so too can the channel expect to grow in status. The Australian IAB's inaugural Affiliate Marketing Handbook, published in 2016 and designed to provide the wider industry with a definitive introduction to its workings and characteristics, is just one aspect of a nascent interest in the channel.
Another is the swelling competition between the growing number of coupon and discount affiliate sites that Australia's savvy shoppers are increasingly turning to in order to find the best deal for a product. Australian shoppers have for some time been noted as being particularly adept at using online sources to find a better deal. 'Showrooming,' for example, is a common phenomenon, where shoppers will use a mobile device to compare online prices while browsing in the physical store itself.
Competition between the rising number of discount code affiliate sites is also rife and symptomatic of the extent to which this type of marketing is taking off. Home-grown discount sites such as TopBargains, Finder and OzBargain are vying with the likes of international names like Vouchercloud, RetailMeNot and CupoNation, all of whom are eager to capture market share of a vibrant online shopping scene.
These same affiliate sites are, in turn, both benefitting from and contributing to the growing popularity of big online discounting events like Black Friday which are rapidly changing the Australian marketing calendar as consumer habits adapt to the large discounting opportunities now made available to them. While Black Friday does play a significant role in the online sales spike that Australia sees around November like many global markets, there is another event called Click Frenzy, exclusive to Australia, which has established itself as the country's biggest online sales extravaganza.
Click Frenzy falls prior to Black Friday in November, and since its debut in 2012 has captured the public's attention with heavily discounted products available for purchase online for a 24-hour only period.
In reality, much of November in Australia has become an extended sales period prior to the Christmas run-in, as Black Friday, Cyber Monday, Click Frenzy, and not forgetting China's own Singles Day, combine to offer a sustained phase of huge retailer discounts and promotional activity for online shoppers. Awin's Australian network partner, Commission Factory (the biggest dedicated affiliate network in the country), see a huge share of their annual traffic driven during November, demonstrating the extent to which the month itself has become a literal 'click frenzy.'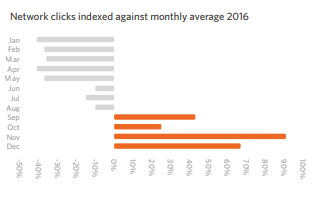 This extended period offers international brands a key opportunity to break into the Australian market. Despite their investment in digital ad spend, Australian retailers have been, for the most part, relatively slow to make the most of the population's affinity with online shopping and some international brands have exploited this to establish a sizable presence out there. According to IMRG's Australian Cross Border Trading Report, around 40% of Australian shoppers have bought an item from abroad online, and brands such as ASOS in the UK have duly built up a loyal base of consumers out there.7 As early as 2013 they were reputed to be flying four jetloads of clothing and fashion goods out to Australia every week.
The popularity of cross-border shopping like this has no doubt been enhanced by other factors such as the large migrant population mentioned earlier, eager to order products not available in Australia, as well as the fact that a regulatory loophole exempts foreign websites from charging a 10% general sales tax on purchases under AU$1,000, making foreign brands even more competitive.
This tax exemption has been something that domestic retailers have lobbied their government about, claiming it makes for an unfair advantage to foreign companies despite the fact that many consumers claim the tax makes no difference to their purchasing choices, which are instead primarily driven by convenience, access to global brands and alternative choices.
Whatever the truth of the matter, it is another example of consumers pushing the boundaries of online consumption in Australia and their demands defining the evolution of the industry. With affiliate marketing businesses already exhibiting a nimble ability to adapt to such changes quickly, the channel looks set to establish itself as an invaluable marketing tactic Down Under over the coming years.