The shadow of Brexit hangs inevitably over any discussion of the UK's current market state. Former Prime Minister David Cameron's decision to offer the British public a referendum on whether or not to stay as part of the European Union proved far more divisive than could have been anticipated. On Friday, June 24, 2016, the results were in. 51.9% percent voted in favour of leaving the EU, a small but significant majority.
The immediate effect was for the financial markets to react in typically hyperbolic fashion and the Pound plunged to a 31- year low in value against the dollar, the likes of which had not been seen since 1985. Over time that value recovered slightly but, at the time of writing, it is still nowhere close to pre-vote levels.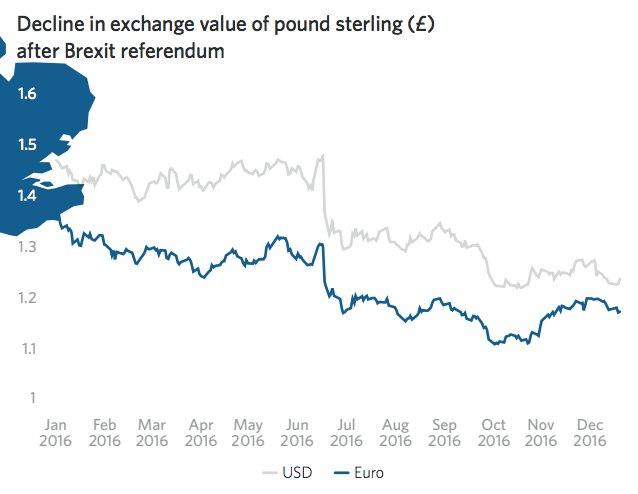 The uncertainty and confusion that has surrounded the speculative position of the UK during the Brexit negotiations, have undermined the confidence of many UK-based businesses, and placed collective doubt about investment into the wider economy. British workers' wages have generally stagnated since the referendum and that has put a squeeze on consumer confidence and spending power.
The downturn in sterling's value did have some unforeseen positive outcomes – inbound tourism searches from abroad suddenly spiked as foreign tourists sought to save money on trips to the UK, while overseas custom for UK brands also saw an increase, again thanks to international shoppers' savvy instinct for a bargain.
The UK's digital market has mirrored this same resilient outlook with growth apparent across its variety of channels. Total UK digital ad spend amounted to over £10bn in 2016, according to the IAB's latest report, up 17% on the previous year, solidifying its position as the primary means of advertising in the UK above more traditional formats such as TV and print media.
UK consumers have been early adopters of ecommerce, leading the world in many respects, and their eagerness to venture into this sphere has driven brands to invest in digital advertising. We Are Social's annual review of the global state of the digital economy highlighted the UK as having the highest percentage of its population who had bought something online.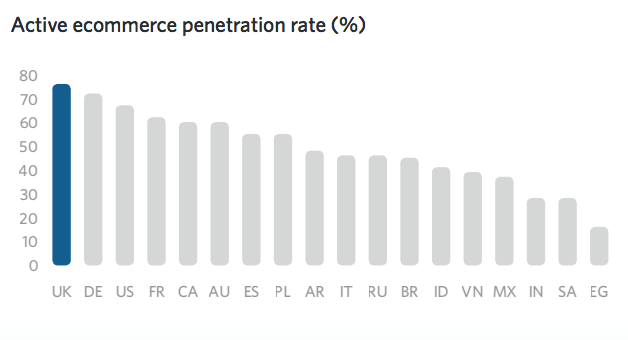 With such high online shopping levels, it is then perhaps inevitable that the UK leads the way among its European counterparts for digital ad spend. Research from IAB Europe found that the amount spent by UK advertisers matched that of the next three biggest countries combined (Germany, France and Russia).
Performance marketing has similarly benefitted from advertisers' faith in the wider digital industry to provide a substantial return on investment. Almost 5,000 advertisers spent over £1.5bn on either affiliate or lead generation activity in the UK in 2016, generating over £19bn in revenue and an ROI of £12.30 for every £1 that was spent with affiliate partners.
Awin's 19,000 active affiliates have contributed significantly to that sizable figure, and it's interesting to see how the network's UK data reflects wider macro trends that are characteristic of the UK market as a whole.
When we consider for instance the impact of Brexit and how this played out across the affiliate activity the network tracked, it's notable for example that sales from China increased by more than 140% on the day of the referendum compared to the previous Friday. Advertisers that traditionally receive a large number of sales from China benefitted significantly, and while the volumes from China subsequently settled, they were still almost 80% higher than pre-Brexit levels network-wide.
One of the biggest falls for the Pound has been against the Japanese Yen, and so it was no surprise to see sales from Japan performing 60% higher since the vote, with industries like the bicycle sector seeing a noticeable uplift. The boost in sales from Chinese consumers was also felt across some of the network's key publishers. Looking at the traffic and sales driven by one shopping directory affiliate site aimed at Chinese consumers, illustrates just how much this one event impacted some affiliates and advertisers primed for international sales.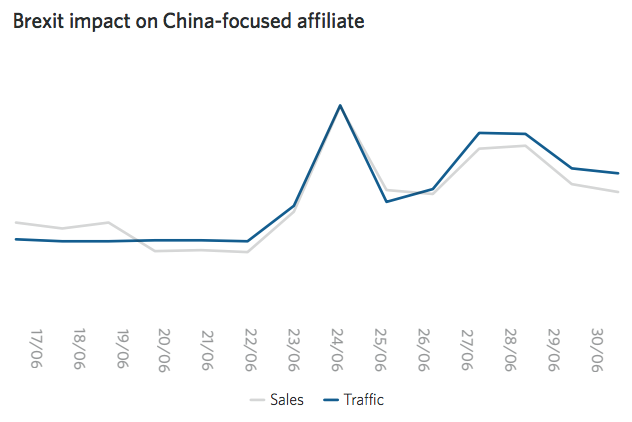 This type of activity is also something that characterises one of the growing trends of the UK affiliate market and which the Brexit result helped to shed further light on; rising cross-border sales. There is an increasingly global appetite for British brands and, with the internet being profoundly borderless and many UK brands well setup for delivering internationally, Awin UK has seen a rise in the number of affiliates from other countries seeking to promote these same brands. In 2016, affiliates on our UK network applied from more than 160 countries in order to promote British brands running affiliate programmes, a truly global reach.
Another trending theme has been the extent to which mobile activity has grown. This is very much a global phenomenon, as our chapter 'Affiliate marketing in the smartphone era' will later elaborate, but the UK stands out as a particularly advanced territory in this regard. Its combination of a mature ecommerce market and a high smartphone penetration rate in the population (around 81%) has created the perfect storm for mobile-focused activity. Mobile connection speeds in the UK far exceed other nations and this has enabled its users to consume mobile content at a faster rate.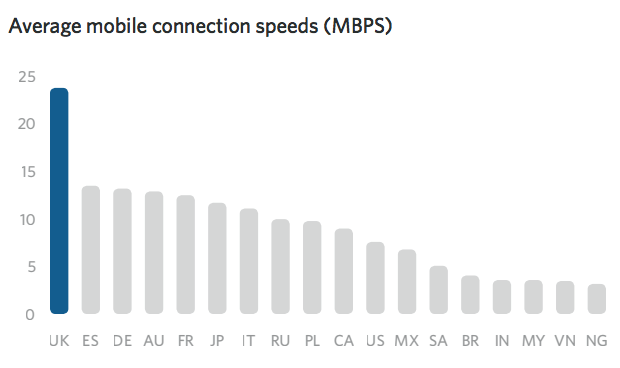 Mobile advertising has been the biggest driver of the digital advertising sector's growth in the UK, recently making up 38% of total digital spend in 2016, almost £4bn. And the UK affiliate industry has seen similarly positive growth from mobile devices too, with a 23% annual increase in advertiser spend on mobile activity through affiliates.
Awin UK has seen both mobile clicks and sales increase radically over the last few years, and the insights gleaned from this additional activity have been invaluable in understanding the specific role that mobile devices play in affiliate activity, distinctly different to that of more conventional desktop activity. In fact, the insights derived from this activity are compelling UK advertisers and networks to completely rethink their pre-established notions of how people shop online and how to reward those affiliates who over-index for mobile traffic.
One aspect of this is the increasing device agnosticism that UK shoppers demonstrate when browsing and shopping online. These users are oblivious to what device they are using when engaging with brands and affiliates and their online journeys move from one device to another seamlessly. Traditional cookie-based tracking is obsolete here as it lacks the facility to track that movement of the same user across different devices. But cross-device tracking technology, such as that used by Awin, enables a more comprehensive view on these complex journeys, stitching together anonymised device data with users in order to better track their movement online.
What's become clear from this cross-device activity is how much of an influential and initiating role smartphones play as opposed to simply acting as alternative conversion platforms. Although mobile conversion levels have risen significantly, with close to 30% of sales now occurring on smartphones, there is still a distinct difference between smartphones and desktops where customers are clearly in research and browse mode and when they are actively seeking to buy products.
Combine this fact with the growing popularity of influencer affiliates whose traffic is primarily focused at the top of the sales funnel, inciting interest and inspiration and who definitively over-index for smartphone traffic, and you can see why the whole notion of a last-click attribution model is under increased scrutiny in the UK. More affiliate programmes are experimenting with alternative payment models, paying a bonus to those affiliates driving measurable influence to their sites, and rewarding them for work that had previously gone unnoticed for so long.
In last year's Online Performance Marketing study, the IAB found that over the course of 2016 affiliates drove around 15m clicks every day. Slowly, brands in the UK are coming around to the idea that this influence cannot be generated for free and that a last-click CPA incentive is not enough for these affiliates to sustainably create the valuable content they produce.
However, as UK influencers have increasingly recognised the channel as one they can utilise to help monetise their content and posts, so too have domestic regulators quickly responded to ensure that their audiences are made aware of these commercial relationships. The UK's Advertising Standards Authority (ASA) published guidelines last year intended to compel all affiliate sites to do so, but with specific reference to the burgeoning group using social media platforms, to ensure they are disclosing the nature of their relationship with a brand whose products they endorse or promote.
The ASA was not the only industry body to investigate the commercial dynamics of such websites in the UK. The government's Competition and Markets Authority (CMA) has also published its market study on digital comparison tools and how they present their content to consumers. While it found that over 90% of those people surveyed were satisfied with the sites they used, the CMA has still sought to set out ground rules which protect users. At the heart of these are their CARE guidelines, designed to ensure people are treated fairly by such tools being Clear, Accurate, Responsible and Easy to use.
Although some affiliate businesses potentially affected by these regulatory investigations and issuances may fear a clampdown on their entrepreneurial freedom, the fact is that this type of interest from such bodies symbolises the growing status of the performance marketing industry. The substantial size and growth of the channel in the UK recently is such that its contribution is increasingly being recognised by the wider economy and therefore such scrutiny is in many ways a testament to its position as an established facet of the digital marketing mix in the UK.
If you'd like to read more about the affiliate industry and its wider impact on ecommerce across the globe, please click here to download The Awin Report 2017/2018.