Four tips to quickly and easily get your affiliate programme off the ground
Written by

Edward Chaput de Saintonge on

.
Technical shortcuts and a bit of pre-planning will have your performance marketing activity up and running in no time.
Share this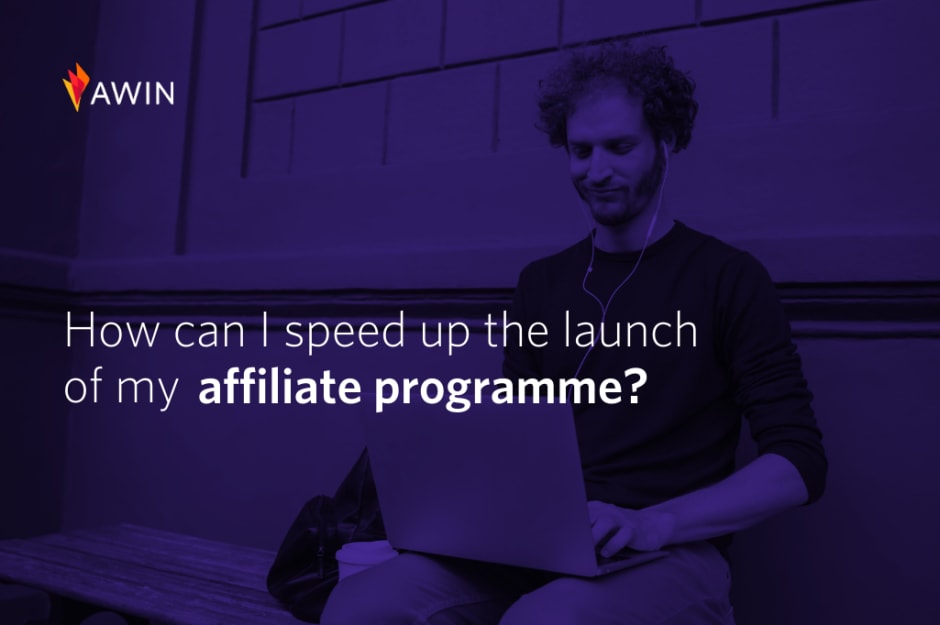 When you sign up to an affiliate network, you want to be up and running as quickly as possible to start growing your network of partners and increase sales volume. The time to turn a programme live can vary greatly and, while Awin can take care of certain elements, the advertiser's input is needed to implement the tracking technology and define how they want to work with different partners.
With a little preparation you can start generating sales and grow brand awareness via your affiliate programme in no time. Here, we share our top tips for getting your affiliate programme off the ground.
Utilise tracking plugins
The most time-consuming part of getting an advertiser's affiliate programme live is the tracking integration. This is also the most important part of the process as the tracking is what keeps a record of all the activity on your programme, allowing you to incentivise partners to be rewarded for the sales they help generate and keep encouraging them to want to do so.
At Awin, we know correctly installing the tracking code doesn't need to be complex or require outside help. We've integrated with a number of the largest ecommerce platforms so within a few clicks you can have our tracking code up and running, including Shopify, Magento and WordPress / WooCommerce.
If you are using WordPress, make sure to download the advertiser plugin as there is also a publisher tracking plugin available. Alternatively, if you are a Google Tag Manager user, we have an in-depth guide that walks you through how to correctly set up advertiser tracking.
Besides saving time, money and reducing chance of human error, the plugins also keep you up to date. When Awin's tracking is improved, updates are automatically implemented in each plugin so you'll simply need to complete it on your end whenever prompted, but will not be required to download any new software or code.
Tracking plugins also speed up any technical tests from Awin's side that ensure your affiliate programme is ready to start generating sales. This is important as we can only launch an affiliate programme with 100% certainty the tracking is working correctly. The plugins guarantee this.
Implement product feeds
Another challenging, but important, part of launching an affiliate programme is the addition of a product feed. Product feeds lets partners find and promote your brand's products and services.
While we recommend you provide publishers with a product feed it is not a requirement for launch and can be added after your affiliate programme is up and running.
To create a product feed from scratch you need to compile a list of all products sold on site with specific information like price, product number, product image and so on. For more details on how to create a product feed, and if you'll need additional technical support, check out our product feed guide here.
Thankfully, Awin will accept and convert Google Shopping feeds into product feeds. So if you are already supplying a feed to Google Shopping simply send that to Awin to get your product feed up and running.
Create graphics and banners
Outside of technical work, its essential to add banners and logos (referred to as creative) to your affiliate programme so publishers can easily promote your brand. The Awin wiki has further details on the types of banners we support and our recommended sizes.
You can add both generic and promotional creative for seasonal or special events. Awin requires you to upload standard creative for programme launch, but we recommend adding images for upcoming events too. Not only does this help partners better promote your affiliate programme, but it ensures the message aligns with your brand.
Decide how you want to run your programme
The last main obstacle to navigate is how you want to run your affiliate programme, especially in regards to how to commission or reward partners and for overall programme management.
From a commissioning perspective, it is important to understand your margins so you can determine a fair reward for publishers driving sales and traffic to your website. Awin's Commission Manager tool gives you control over exactly how every publisher is rewarded; for example, you may wish to offer a higher commission for new customers or certain products and a different rate for certain publisher types or if a voucher code is used.
In terms of management, you need to consider the types of partners you want to work with and how. Thankfully, this is all made easy within your Awin advertiser profile where you can quickly set account terms and conditions by answering the questions in the Terms tab when setting up your profile. Your responses are visible to prospective publishers and can be changed at any time, although Awin recommends giving at least seven-day notice to partners before changing your programme terms and conditions.
If you are having difficulty understanding any of the terms or the impact they may have on your programme, please reach out to your account contact. Alternatively, you can find information on navigating the advertiser profile here.
Taking care of these four things from the start, alongside timely responses to any questions or requests from Awin, will help get your affiliate programme up and running as quickly as possible.
If you do not operate an affiliate programme on Awin and would like to, get in touch with us here.
Share this