Look at almost any table ranking nations on a wide variety of social benchmarks and more often than not you're going to find a Nordic country on top of that pile, closely followed by its neighbours. Finland consistently ranks as having the best national education system in the world.1 Up until being displaced by New Zealand in 2016, Norway had reigned for six consecutive years at the top of the Legatum Prosperity Index, which measures the wealth, economic growth, education, health, personal well-being, and quality of life in nations across the globe. Norway has also topped the charts of the UN's World Happiness Report, with Denmark, Iceland, Finland and Sweden not far behind and all making the top ten.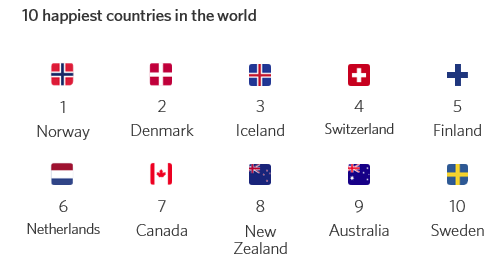 Can near universal internet access and a thriving ecommerce scene play a contributory role to such a happy state of affairs? That might be debatable but what isn't up for argument is that the extent of Nordic citizens' happiness, fulfilment and welfare is closely matched by their zeal for online shopping. As a result, the state of ecommerce and affiliate marketing in the region is similarly advanced with consumers, brands and publishers all helping to cultivate its continual development. According to the regional postal service PostNord, which publishes an annual report on the state of ecommerce in the area, almost €22bn was spent online by Nordic consumers in 2016. Although the UK is a clear outlier in Europe and the world for the amount of GDP generated from ecommerce, it is primarily the Nordic nations that are leading the chasing pack.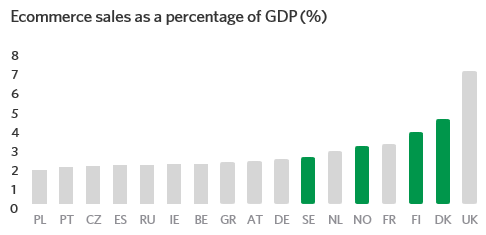 With an average internet penetration rate across all the Nordic nations of close to 100% and almost every internet user (regardless of age or gender) also a digital buyer, there is an abundance of opportunity for online retailers here.
Online consumption is something that has very much been normalised by persistent use over the last decade in the Nordic countries. The combination of sparse populations scattered across relatively large land masses has meant that ecommerce has allowed consumers access to goods that they might otherwise struggle to find in local shops and stores. In fact, the larger range, variety, convenience and lower prices, have all been cited as primary reasons for the popularity of online shopping by Nordic consumers.
Fashion, perhaps unsurprisingly given the stylish reputation of its inhabitants, is the most popular product to be bought online. But there is virtually no limit to the sectors and niches that are available to buy via websites in the Nordics. It has become so popular in Denmark that even high-ticket items traditionally sold only in-person such as cars can be bought online. Volkswagen, for instance, decided to make their up! car line available to purchase on their website for the very first time earlier last year.
Nordic brands have been quick to recognise the popularity of ecommerce and, as can be seen in the below chart, all Nordic nations have over-indexed for their investment in digital advertising compared to other countries.

With so much digital investment from Nordic retailers there is increasingly a need to see a measurable return on it. Affiliate marketing offers these brands a degree of transparency that they have otherwise struggled to gain visibility on and its growth in the region is testament to this very strength.
Affiliate marketing in the Nordics has been characterised by successes with content and influencer publishers. The combined commissions earned by these affiliate types amount to almost a third of the total money paid out to affiliates on our network in the region, way above what is traditionally seen elsewhere in the world. This healthy incentive for content- based publishers has fed a virtuous circle, drawing more and bigger content partners to consider affiliate marketing as a viable means of generating income. Huge established media houses such as Norwegian-based Schussed or Denmark's Aller Media, attracted by the ability to monetise content across their portfolios of content-rich websites, have bought into the model and are now even utilising white label solutions on site, in addition to more conventional in-text linking.
Influencer marketing has taken off in a big way in the Nordics region thanks to the popularity of social media platforms there. Influencer platform Tailify is just one of several local enterprises offering brands a way to connect with relevant social influencers in a targeted, transparent fashion. As in many other global markets where influencer marketing has garnered interest from retailers, the Nordics has witnessed a spike in advertising investment in the sector but quantifying that investment's return has been a difficult task. Tailify's ability to monitor and measure the success of individual campaigns has seen them partner with a variety of prominent
brands such as L'Oréal, Coca-Cola and Disney, eager to understand the benefits of these partnerships. And Awin's own investment in and partnership with Tailify is an indicator of influencer marketing's further move towards the more robust performance-based model that affiliates have been measured against for years. It also offers a tantalising glimpse of how affiliate marketing could tap into the previously unexplored FMCG sector.
Part of the reason for influencer marketing's rapid ascent in the Nordics can be attributed to the high penetration rate of smartphones in the region. With most social platforms now primarily operating as mobile-first propositions, it has been a natural step for users there to engage with the likes of Instagram, Snapchat and Facebook via their mobile devices. The ease with which Nordic citizens have taken to using their mobile devices to access the internet has also led to a similar comfort with transacting on them. Across the entire region, respondents to AudienceProject's survey regarding device usage for digital purchases demonstrated a notable comfort with the notion of buying goods via their phones with on average, around a quarter of them doing so.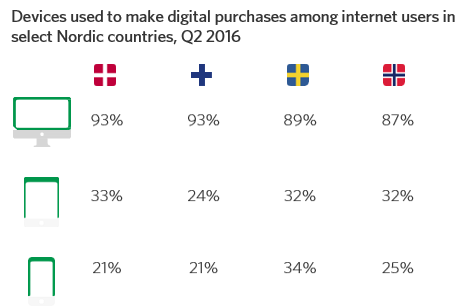 Awin data from its Nordic network shows a similar trend with over a third of sales occurring via smartphones or tablets through its affiliate partners, one of the highest rates that the network has seen across its wider global group.
Given the advanced state of online consumer behaviour here then, with a high degree of mobile internet usage and mcommerce, it makes it ever more important for an affiliate network to be able to accurately track shoppers through the different stages of their research phase as they shift from device to device. Cross-device tracking technology, like that supported by Awin, shores up some of the potential gaps here and provides visibility on affiliate sales which would have previously been misunderstood.
However, the dilemma is bigger than just devices. With omnichannel trade in the Nordics fast becoming a hot topic of conversation for retailers, joined-up approaches between the online and offline worlds are growing in importance too. Showrooming (visiting a physical store and then buying later online) and webrooming (researching online before purchasing in store) are both widely recognised phenomena throughout the Nordics now. Successfully understanding how a customer is moving from one world to another and how they are guided to an eventual sale via different partners along the way, brings invaluable insight to a brand and their promotional partners.
Over half of Nordic retail brands already claim to have one integrated team for online, in-store and mobile. The success that affiliates have already demonstrated to Nordic retailers can only continue to grow if their contributions are properly recognised within such omnichannel strategies and it is perhaps within this context that the next innovations are likely to emerge.
Perhaps part of the reason for affiliate marketing's success in the Nordics so far has been because of its close alignment with the region's own highly innovative and entrepreneurial culture. The territory has a reputation for tech-savviness which has been fostered by initiatives like Sweden's 'PC reform' of the 1990s when the government subsidised citizens in buying their own computers, encouraging early adoption of the hardware among its population. Annual events such as Finland's 'Day for Failure,' which celebrates it as a necessary route to success, implicitly promote a healthy entrepreneurial spirit.11 The offshoot of this culture has seen numerous commercial success stories emanate from the region's tech industry. Nokia, Spotify, Skype and the gaming companies
behind the likes of Minecraft and Candy Crush are just some of the start-ups to have originated there and achieved huge global success.
With its low barriers to entry and openness to a wide variety of commercial models, the affiliate industry is the perfect platform for Nordic businesses seeking to disrupt the status quo. Having a ready-made testbed of consumers, familiar with ecommerce, makes this an even more appealing prospect. And while the wider digital industry may soon be reaching a saturation point there, the growth in popularity of affiliates suggests that this is not necessarily the case for the channel.