Black Friday: LIVE (2018)
Written by

Kevin Edwards on

.
Join Awin as we take you on a tour of Black Friday across the globe, bringing you insights from the affiliate industry. 
Share this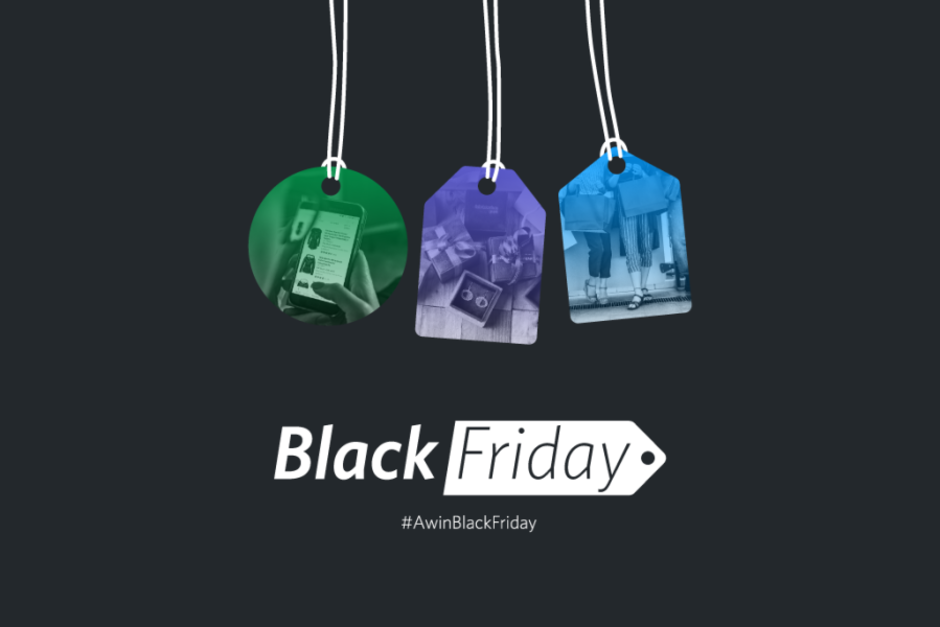 7:30pm EST
We hope you enjoyed following along this Black Friday and Cyber Monday. To close out the events of the weekend, here is our final tally of global stats for today as of 5pm EST:
58% increase in the number of sales from 2017
68% increase in publisher commissions from 2017
58% increase in revenue generated from 2017
Stay tuned for a full Black Friday and Cyber Monday recap, summarzing key highlights on both a US and global scale, later this week.
3:50pm EST
Our Cyber Monday afternoon recap is here! As of 2pm EST today, Awin Global data shows:
55% increase in the number of sales from 2017
65% increase in publisher commissions from 2017
53% increase in revenue generated from 2017
2pm EST
The morning results are in! Across Awin Global, Cyber Monday is off to a smashing start. As of 10am EST, we saw:
87% increase in the number of sales from 2017
103% increase in publisher commissions from 2017
83% increase in revenue generated from 2017
9:15am EST
Good morning and welcome back to our Black Friday & Cyber Monday live blog! Today, we're going to continue on from Friday and give you a flavor of what the affiliate channel does best - driving huge volumes of valuable customers for Awin's favorite brands around the world, on the biggest North American shopping day of the year, Cyber Monday. Please bookmark us as we'll be updating this site throughout the day.
To recap: In 2017, Cyber Monday revenue outperformed online Black Friday sales in the US and CA by a whopping 30%. Furthermore, there was considerable growth from Cyber Monday 2016, with an 83% YoY increase in the number of transactions tracked, a 61% YoY increase in advertiser revenue, a 70% YoY increase in publisher revenue, a $1 decrease in AOV, and a 72% YoY increase in clicks.
Can we expect the same record-breaking results today? Stay tuned!
4:49pm EST
With Black Friday winding down, what can we expect on Cyber Monday?
In 2017, Cyber Monday revenue outperformed online Black Friday sales in the US and CA by a whopping 30%. Furthermore, there was considerable growth from Cyber Monday 2016, with an 83% YoY increase in the number of transactions tracked, a 61% YoY increase in advertiser revenue, a 70% YoY increase in publisher revenue, a $1 decrease in AOV, and a 72% YoY increase in clicks.
Can we expect the same record-breaking results this year?
Follow along Monday for more updates on the day, read our final Black Friday network recap.
2:37pm EST

Outside of Black Friday, there's one more e-commerce day looming over Cyber Monday: Small Business Saturday

Small Business Saturday, a US shopping event founded by American Express that encourages consumers to shop locally, is no longer viewed as a novelty. Independent retailers depend on it. In fact, in 2017 nearly $13b was spent on Small Business Saturday, reports CNBC.
Small Business Saturday holds high importantace for select Awin advertisers that operate marketplace businesses.
As we share our recap for the greater Cyber Weekend in the coming days, it will be valubale to see if Small Business Saturday continues to spike in revenue generation in 2018.
1:33pm EST
Black Friday 2018 is America's biggest in years

Business Insider reports this year's Black Friday is the best the US has seen since 2011, with total spend for Black Friday weekend is estimated to hit $59.6 billion between online and in store.
"More people are shopping, shoppers are spending more, and online sales are way up ahead of and during this year's Black Friday."
6:15pm GMT | 1:15pm EST
Average Order Value showing positive trend

Despite Barclaycard reporting a downturn in average consumer spend, average baskets across the whole network appear to be showing a positive upward trend, with a bigger increase on 2017's numbers than the previous year's.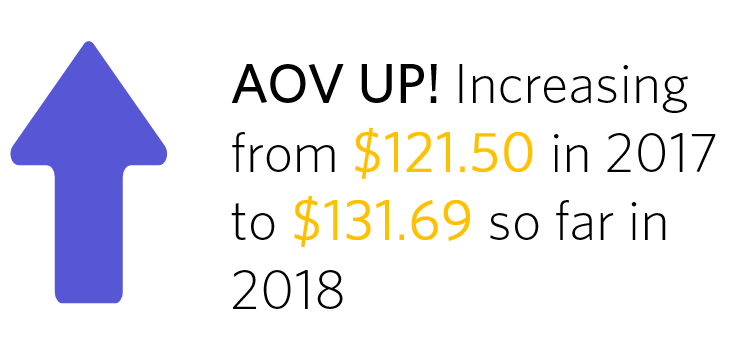 5:15pm GM | 12:15pm EST
Consumers spending less in the UK according to Barcalycard (via the BBC)
UK shoppers on Black Friday have been buying more items but spending less, credit card data suggests.
Barclaycard, which processes half of all UK card payments, said that by 15:00 GMT it had seen 10% more transactions from a year earlier.
However, the value of spending was down 12% on last year.
Separate data suggested a continuing trend for Black Friday bargain hunting to be done online rather than on the High Street.
5:03pm GMT | 12:03pm EST
Amazon takes a unique approach to combating in-store shopping

As a response to in-store shopping on Black Friday this year, Amazon is offering consumers $5 off select items simply for making a purchase on their app, per Business Insider. To locate the coupon, customers need to just use the camera search or AR View features.
To use camera search, one can either take a picture of an item itself or snap a photo of the barcode. Search results are available instantly, and if Amazon sells it, shoppers can choose to purchase right away.
"Amazon's $5 discount, plus a potentially cheaper Black Friday price than the one the store is offering, could be just enough to tip the decision to purchase into Amazon's favor. Especially when adding in the fact that Amazon has removed its free shipping minimum for all holiday purchases to the calculus."
4:52pm GMT | 11:52am EST
The importance of mobile optimization
When you drill down the detail from our network's data, there are certain narratives that emerge. Let's take fast fashion. It has a younger demographic focus, which means smartphones are probably going to feature more significantly. In addition, influencers are likely to be driving sales from social media, which again is amplified via mobile.
Therefore, when you amalgamate those variables - alongside Black Friday's slant towards smartphones - you end up with stats like:
Fast fashion retailer: 67% mobile
Social media affiliate, promoting the same fast fashion retailer: 88% mobile
Given the increased prevalence of shoppers switching between devices, a decent content site can also post around 20% of cross-device sales. All of this underlines both the importance of optimization for mobile and ensuring cross-device tracking is enabled.
4:24pm GMT | 11:24am EST
With retailers continuing to 'go early' this year, will Thanksgiving deals best Black Friday?
According to a CNBC report, consumers in the US had spent $1.75 billion online by 5pm EST Thursday, up more than 28% from 2017.
With Black Friday poised to surpass Cyber Monday in the US for the first time, will Thanksgiving Day knock the newly-crowned champion retail event off it's throne?
4:10pm GMT | 11:10am EST
World's largest marketplace for digital products discuss Q4 plans
Thais Rodrigues, head of business development at G2A, the largest marketplace for games and other digital products, spoke to Awin about how they're approaching Cyber Weekend and the wider peak period during Q4. Check out the video of our interview just below.


4pm GMT | 11am EST
Could today be the first day that Black Friday overtakes Cyber Monday in the US as the most important trading day online?
As you can see from last year's numbers, the US remains an outlier in the group: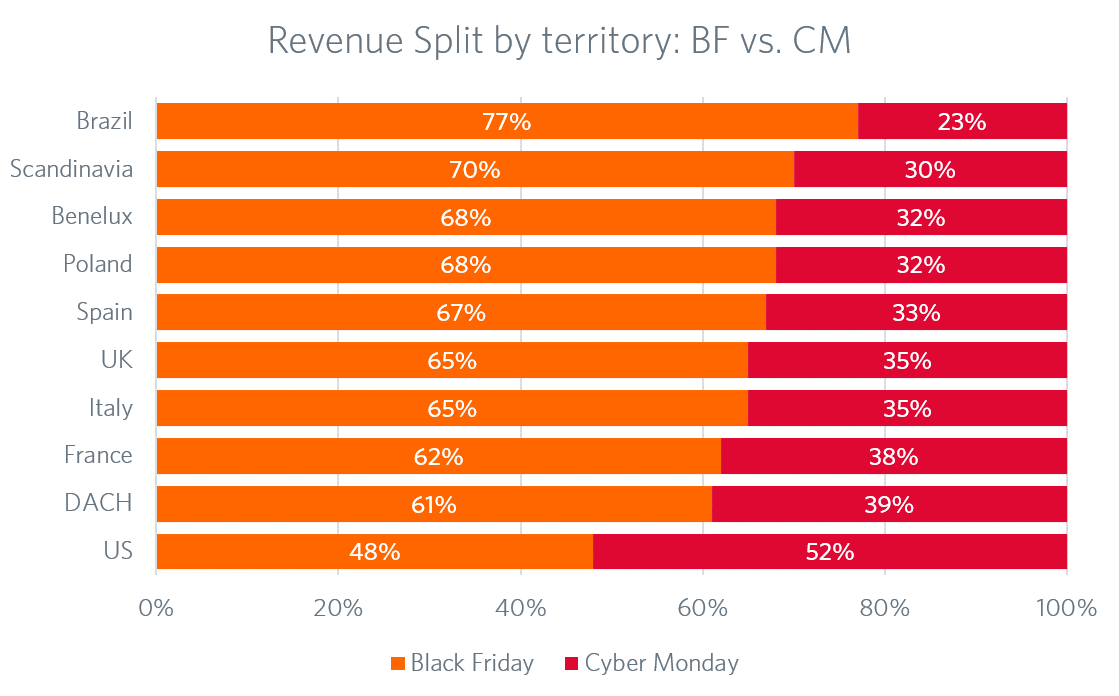 3:49pm GMT | 10:49 am EST
Recapping network activity so far...
As we stand, our data is playing catch-up so we can't give a definitive understanding of YoY uplifts but it's looking like certain markets are having a particularly good Black Friday.
While still morning, the US is experiencing strong, double-digit gains. Simiarly, Germany looks like it's also improved by more than 10% YoY. The UK is looking a little more subdued but this is from a more mature position and where the 'go-early' strategy of many retailers on the network maybe diluting the impact of Black Friday. We won't fully know until tomorrow, when the numbers will have been re-run to scoop up every last bit of commission and revenue.
Mobile has hit more more than 40% across the network, with the UK hitting 55% of all transactions this morning, when handset sales peak.
Black Friday is again demonstrating that it can pull in valued new customers and isn't just about sales volumes. While they may be spending slightly less, a number of brands who track new customers are seeing on average a 20% hike in those shoppers.
3:34pm GMT | 10:34am EST
Guerilla marketing on Black Friday Number 5: Burger King's Whopper Shopper deal
A new initiative this year from Burger King has seen them adopt an affiliate marketing strategy whereby shoppers who register and click through from their Whopper Shopper page can earn a free burger when they shop with selected brands.
An unusual tactic that emulates the cashback model, swapping out a cash rebate for a food-based one instead…


3:30pm GMT | 10:30am EST
Cashback sites are proving particularly adept at driving new customers
One retailer on the network has seen their new customer numbers today shoot up from one in five to one in three.
This is a more pronounced hike than coupon sites, although the general trend across the board has been that obvious affiliate triggers like new customer offers and large discounts are driving up baskets as well as attracting new to brand shoppers.
3:27pm GMT | 10:27am EST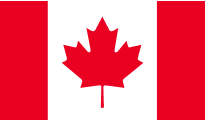 How The Canada Post being on strike impacts Black Friday 2018
With The Canada Post currently on strike, consumer concerns run rampant about receiving their holiday purchases in time. In response to this, our advertiser partners are working with CA publishers to promote the alternative shipping methods available (example: Free shipping via FedEx where delivery is possible) to help ease these fears. Furthermore, some publishers have reported seeing a softer-than-expected Black Friday and have added shipping tips to their website to help consumers navigate the strike.
3pm GMT | 10am EST
Bumper year for Sky
"It goes without saying that Black Friday is the key trading period of the year, and performance in 2018 is extremely positive. We've generated YoY growth whilst recording efficiencies in CPA in the first week of our Black Friday Sale. A big thanks to Awin and all of our affiliates for their hard work in making this campaign a great success." Alex Domzalski, Affiliate Manager, NOW TV
2:58pm GMT | 9:58am EST
TI Media discuss their plans for Black Friday 2018
Awin has seen huge success this year from working closer with some of the traditional media house publishers, and TI Media are one of the best examples of this.
Emily Ferguson, Head of Fashion Affiliate at TI Media's popular publication Marie Claire, reveals more about how they've been preparing for the event and how the affiliate model has become an increasingly important marketing channel for them.



2:38pm GMT | 9:38am EST
The numbers are in, as Black Friday ends in Australia.
For Commission Factory it's been a storming day across their network with:
Transactions up 83%
AOV at $135.52
Sales value up 118%
Commissions up 92%
Commission Factory CEO Zane McIntrye said, "Black Friday is now over here in Australia and what a cracking sales event it has been. This year we reached record new single day numbers showing more than 100% growth in sales revenue for our advertisers. We're excited to see what Cyber Monday will bring."
2:33pm GMT | 9:33am EST
Weighing up the pros and cons of global retail events
As the popularity of global retail events like Black Friday and Singles' Day grows, so does the pressure on retailers to participate in them and offer huge discounts. That's great news for consumers, but as Craig Geeson, affiliate marketing manager for Zalando Lounge in Germany states in our interview with him, it can also have negative consequences for advertisers.
2:22pm GMT | 9:22am EST
Black Friday driving new customers
The big day is often seen as a pretty blunt instrument; discount and promotionally focused. However, the data is often more nuanced than that when measuring additional metrics beyond the sheer volume of sales.
One key focus that is becoming increasingly important is new customer acquisition. For brands tracking this data, Black Friday is often particularly good at taking advantage of the huge, general increase in traffic and casual browsing, looking to hook consumers who may not have visited their site before.
We have looked at today's Black Friday stats for two brands, and both show around a 20% hike in new customers compared to the rest of November, proving that for brands who embrace the event there is an opportunity to both capture and retain a whole new customer base: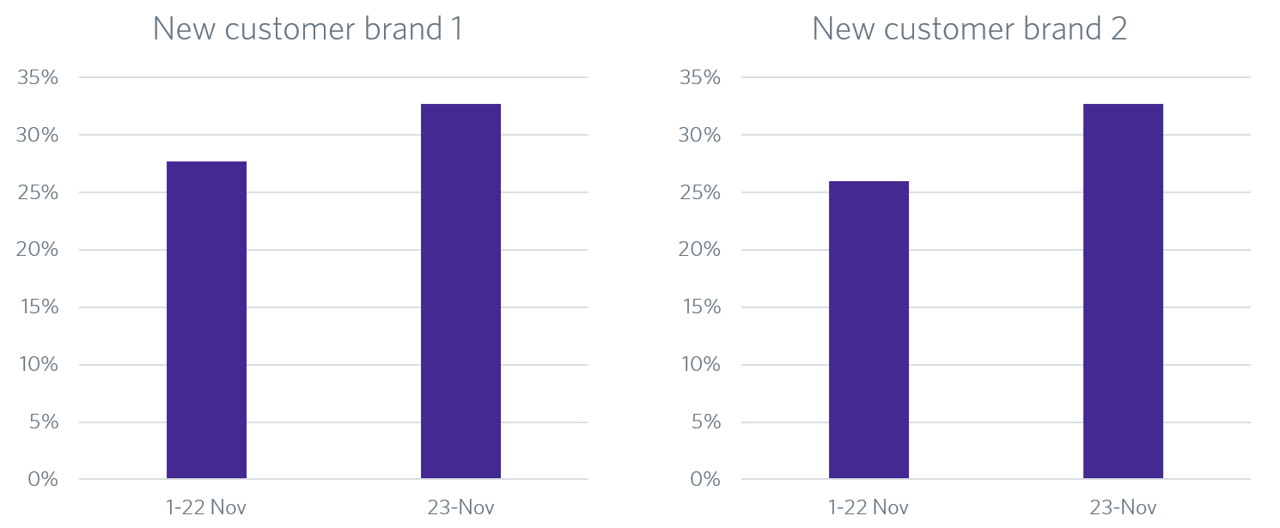 2:11pm GMT | 9:11am EST
Amazon overcoming a difficult Black Friday start with UK sales up
The tech behemoth that has played such a pivotal role in exporting Black Friday from the US to other markets abroad, had been suffering a difficult time of it in the run-up to this year's edition.
First of all, there were numerous threats of strike action across many markets, and warehouse workers in both Germany and Spain have walked out in protest at working conditions
Then, on Wednesday, Amazon confirmed that it had suffered a major data breach of customers' names and email addresses and was in the process of contacting those who had been affected.
However, despite those setbacks, the e-commerce giant is reporting record levels of shopping in one of its main international markets, the UK, with 100,000 toys and 60,000 beauty items already bought via the marketplace by mid-morning.
1:48pm GMT | 8:48 am EST
Guerilla marketing on Black Friday Number 4: Asda's Black Friday mannequin challenge
Anyone remember the mannequin challenge? The internet phenomenon that involved creating elaborate tableaus of people in various bizarre scenarios?
Well, UK supermarket Asda certainly did when they created this video that satirized the in-store mania they experienced during Black Friday in 2013 and 2014.
Asda was one of the key early adopters of Black Friday in the UK and, because of a series of negative incidents at their shops around the country, decided to subsequently not take part in the event and focus instead on everyday low prices for their customers.


1:40pm GMT | 8:40am EST
If you were in any doubt about the importance of Black Friday to online retails, take a look at this graph for some major brands at the network.

Taken as a snapshot at lunchtime, you can see the trading performance across the whole of November. The Monday spike, which is becoming a common trait of pre-Black Friday trading, sees an uptick on Thursday (with many retailers launching offers on Thursday afternoon) and then is fully realize on Friday.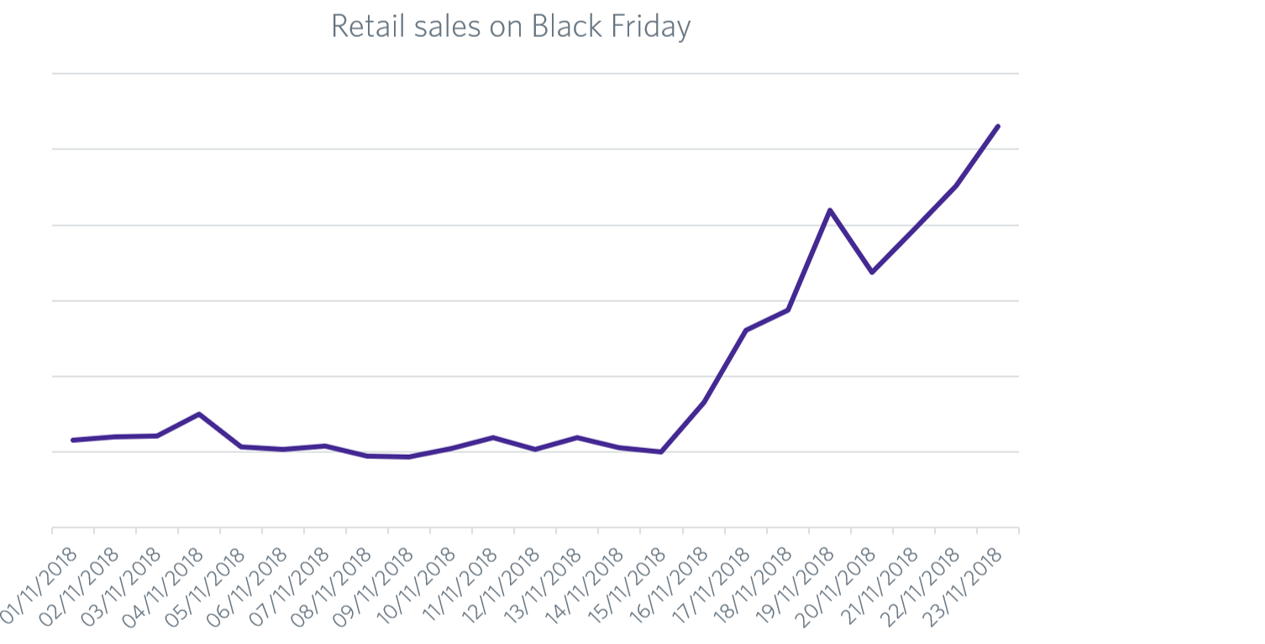 1:36pm GMT | 8:36am EST
November as a month-long splurge
While Singles' Day has yet to take root in the West in a big way, there's no doubt having this event in the first half of the month reinforces the perception that November is the key trading month of the year now.
Earlier this month, we featured interviews that explored Singles' Day and the Australian event Click Frenzy. We also published our Black Friday predictions piece.
1:24pm GMT | 8:24am EST
Swedish retailers witness huge sales increases in 2018

Swedish retailers are breaking new records every hour this year (news site in Swedish, use translate options for local language).
Swedish online retailer NetOnNet announced that by 8am they had already sold more products than last Black Friday.
Another major retailer, Elgiganten, also set new records with over one million visitors last night.
Overall, Swedish e-commerce is seeing a 133% increase from last yea,r according to the payment company Dibs. It seems the tradition of staying up all night to get your hands on the best promotions is very much alive and well in Sweden.
12:48pm GMT | 7:48am EST
Guerilla marketing on Black Friday Number 3: Cards Against Humanity
The novelty card game maker has made a name for itself over the last few years for taking a characteristically satirical approach to Black Friday, and launching some bizarre promotions during the event.
It all started in 2013, when the company decided to hold an 'anti-sale' and raise the price of the game by $5. Despite which, they still saw a spike in sales.
They've since followed that up with a series of eccentric initiatives usually emphasising the general pointlessness of the event, including selling boxes of 'bullshit' (genuine sterilized bull faces as featured in the below video), asking for donations to dig a pointless hole in the ground that was subsequently refilled after the event, and last year launching their own potato snack called Prongles.
12:20pm GMT | 7:20am EST
Will ITP play a role in dampening Black Friday spirits?
The high profile move by Apple to effectively block third-party cookies in their latest version of Safari has been a major talking point in the affiliate industry. Awin published a whitepaper earlier this year that addressed the gradual erosion of legacy types of affiliate tracking.
So far, Awin's data has shown that while we're seeing a decrease in the impact, around 3-5% of sales across the network could be impacted. This varies, according to the Apple adoption in different markets, with Sweden at the highest rates and Brazil at the other end of the scale.
The issue is also complicated by a number of variances, edge cases and technical considerations which make diagnosing any perceived or actual problems tricky.
This is a work in progress for Awin and we're looking to update everyone in the near future.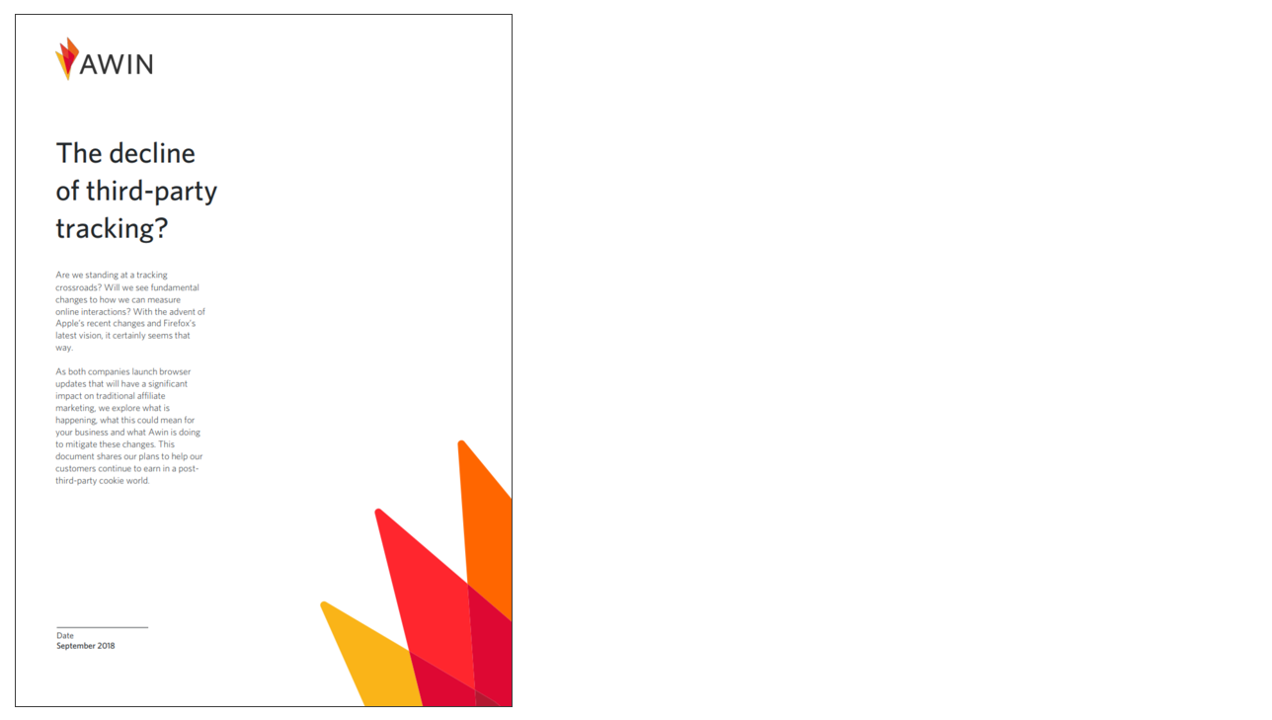 The decline of third-party tracking
12:07pm GMT | 7:07am EST
How have travel brands been preparing for Black Friday?
While the vast majority of sales during Black Friday are focused on fashion, retail and tech purchases, more and more advertisers from other sectors are finding effective ways of leveraging the period to drive their own sales.
The holiday comparison marketplace icelolly.com is one such brand operating in the travel sector, and their curated selection of discounted holiday deals has proven exceptionally popular with consumers previously as their CMO, Ross Matthews, told us in our recent interview.

12:02pm GMT | 7:02am EST


11:52am GMT | 6:52am EST
Guerilla marketing on Black Friday Number 2: Patagonia donates 100% of their profits
Not to be outdone by their fellow outdoor clothing competitor REI, US competitor Patagonia decided to donate 100% of their profits from Black Friday 2016 to environmental groups. In total, they ended up donating $10m to such charities after the initiative took off and they saw sales increase five-fold over the course of the day.
11:35am GMT | 6:35am EST
Always a useful source of insight, Google has published a piece outlining their advice for reaching the right audience during the Black Friday sales.
They've identified 'deal seekers' as the shoppers you can most engage with during the event and suggest that millennial dads make up a large proportion of this consumer tribe who like to consolidate their holiday shopping around the Cyber Weekend festivities, taking advantage of available discounts and, more often than not, purchasing items via mobile.
11:15am GMT | 6:15am EST

Looking at the UK's device split across this month to yesterday, smartphones have exceeded 50% of sales on eight days. Can they hit more than the 53% we tracked on the 17th?
Worth considering the sector split as well. Retail will invariably lead the way, especially in fashion and beauty.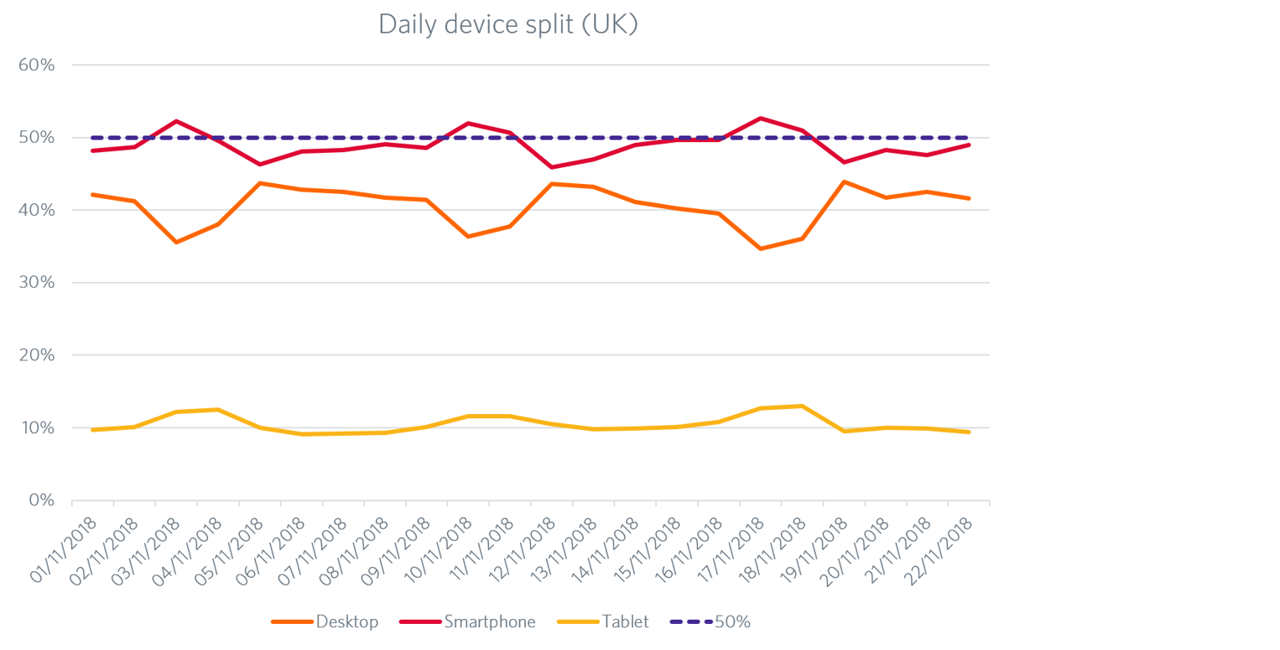 11:08am GMT | 6:08am EST
Guerilla marketing on Black Friday Number 1: REI #OptOutside again
Black Friday is frequently accused of being a one-dimensional sales tactic led primarily by discounts and a fairly prosaic and uniform marketing message. However, against that monotone backdrop, many businesses have successfully garnered attention by not participating in it in a conventional manner.
We'll be highlighting a few examples of those throughout the day to draw attention to some of the more interesting approaches to the event.
First up, US camping retailer REI is once again launching their #OptOutside campaign, which has involved them closing all of their stores on the day (and their website) and encouraging their shoppers to get outdoors and spend quality time with family and friends instead of in stores.
It's a smart initiative that helps build their brand, functions as great PR, and has been so successful in recent years that it's captured huge media attention and even inspired copycat tactics from other retailers across the US, as the below video demonstrates.


11am GMT | 6am EST
Back to mobile...
Sweden is our second biggest mobile market by transaction share. Their data shows smartphones making ground on desktop sales, but still a little way off.
Weekends are typically peak handset days, but with many consumers on the move today and eager to access the biggest and best deals, this could tip sales in mobile's favor.

10:54am GMT | 5:54am EST

French retailers respond to encroachment of Black Friday with launch of French Days
Black Friday has grown in popularity in France like many other European countries.
However, some French retailers have responded to the adoption of the American event by organizing their own domestic alternative. 'French Days' was launched for the very first time earlier this year at the end of April, and offered shoppers in France the opportunity to take advantage of great deals online.
The event was organized by six leading e-commerce retailers and was a huge success. Awin saw an increase in retail sales of over 80% during the event.
10:38am GMT | 5:38am EST

The UK leads the way for mobiles sales. This month, they had nudged ahead of desktop and that figure will likely spike today:

10:25am GMT | 5:25am EST
One of our predictions for this year's Black Friday was that we may see some territories exceed 50% of sales through smartphones.
Overall, the Global network is some way off that figure:

The 2018 numbers here are for November (month to date), we'll post some regional numbers shortly...
10:19am GMT | 5:19am EST


Seemingly expecting a busy Black Friday, Sweden's local postal service Postnord has hired an additional 3,000 temporary staff to cover deliveries over Black Friday, according to Awin Nordics Managing Director Tim Lomborg (sporting a fetching Movember mustache) in his interview for our Instagram Stories series, which you can watch here: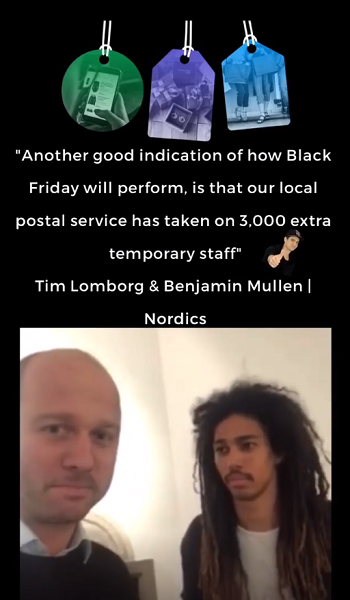 9:50am GMT | 4:50am EST


The Italian team is getting into the Black Friday spirit...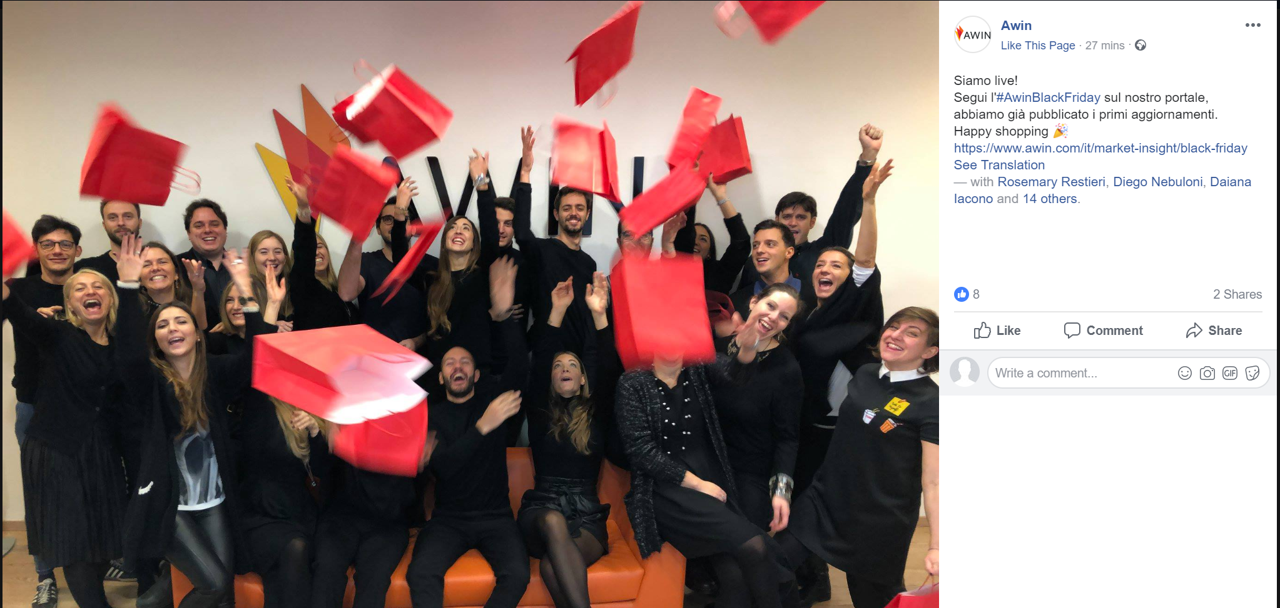 9:40am GMT | 4:40am EST

An update from the team in Australia. While we may be anticipating general growth rates at a lower level than previous years, the Commission Factory office is posting huge YoY numbers:

Transactions: 27.4%
AOV: $136.93
Sales Value: 39.6%
Commission: 32%

9:31am GMT | 4:31am EST


Black Friday demand surges in the Netherlands

As with many global markets, Black Friday has been eagerly adopted by consumers in the Netherlands. Vince Franke, managing director at local Dutch discount code platform Acties.nl discusses the growth they've witnessed there in recent years to the point where they even booked in their first Black Friday deal with an advertiser partner back in July!
9:10am GMT | 4:10am EST
We'll be posting our first numbers shortly. Bear in mind that these figures will likely be revised up later on in the day as we pull in additional sales.
What would we expect to see? Well, midnight usually sees a flurry of early, eager shoppers. Although last year, the YoY growth was muted (probably because of Black Friday offers being pushed earlier and earlier), it still remains the biggest hour until around 7am.
Critical around this time will be the volume of smartphone sales. While we may not tip over into the 50% mark today overall, it's likely that midnight and the early hours will see mobile peak.

9:05am GMT | 4:05am EST


Helping to give us a local view of how Black Friday has evolved in Italy, Bravo Saving Network's Head of International Sales Elodie Bas reveals how the event has gained huge popularity there in recent years.

As she states in our recent interview with her, "Searches for the event on Google have doubled over the last two years, with 40% of Italians making purchases on Black Friday (or 'Venerdì Nero') in 2017. We're looking at 51% in 2018 and are also expecting more online purchases with a switch in trends: Italians were more inclined to go directly to the store back in 2016 and 2017, whilst 55% of them now think about purchasing online as well as in store, and 30% online only!"

8:20am GMT | 3:20am EST
Keep an eye out for the charts on the left-hand side as we update them across the course of today. We should be posting the first set of data within the next 30 mins or so.
So, will Black Friday continue to grow? Last year, our highest YoY growth happened in the week leading up to the big day.
When we check Awin's stats for this week, we can see an average of 12% commission growth across the group for Monday, November 19, to Thursday, November 22. With the highest increases coming on Tuesday (15%), it could be we see single-digit or no growth today. That said (and assuming no nightmare outtages!), it should still be a very significant day in the retail calendar.
8:05am GMT | 3:05am EST
One of the biggest indigenous affiliates in Australia is Cashrewards. Their CEO and founder, Andrew Clarke, posted that sales 'were through the roof' by late morning.
Sophie Metcalfe, Awin's business development director in Australia commented that there definitely had been a 'bigger buzz' than previous years. Zane McIntyre, Commission Factory CEO, said:
"Black Friday this year has seen more participation and excitement from advertisers and publishers than any year before it. We almost couldn't believe our eyes when the team arrived on Friday morning to see shoppers had gone into a frenzy overnight and the network had already exceeded one-third of the total sales volume of Black Friday 2017."
7:55am GMT | 2:55am EST

Awin's a global network, and while the day is revving up in Europe and has barely begun in the US, it's drawing to a close in Australia.
While the country may have a relatively small population, Australia punches above its digital weight and boasts the highest per capita online spend in the world.
While Black Friday may be a relatively new phenomenon, competing against the traditional might of Click Frenzy, it is rapidly establishing itself. So what has the performance down under been like so far today?
Despite the early hours of the morning being some of the quietest, by 10am Commission Factory, our sister network in Australia, had already exceeded one-third of the total sales tracked on BF in 2017
By 4pm, the CF team had logged as many sales as they had across the entire Black Friday in 2017
A couple of hours ago the YoY uplifts looked like this:
Transactions 1%
AOV 18%
Sales Value 18%
Commission 8%
7:50am GMT | 2:50am EST
Good morning and welcome to our Black Friday live blog! Today, we're going to try and give you a flavor of what the affiliate channel does best - driving huge volumes of valuable customers for Awin's favorite brands around the world, on the biggest Global shopping day of the year. Please bookmark us as we'll be updating this site throughout the day.
Join us on Black Friday as we provide rolling coverage from Awin.
Drawing on data insight from 13,000 advertiser affiliate campaigns, the Strategy and Marketing teams will be posting highlights from across our global network.
Black Friday remains the largest online sales day across Europe and is nipping at the heels of Cyber Monday in the US.
In 2017 the wider Cyber Weekend, incorporating the four day stretch from Black Friday, saw affiliates drive more than $450m in revenue for the network's advertisers. With Black Friday posting 27% year-on-year growth and a 17% increase on Cyber Monday, it proved to be far and away the biggest trading period in Awin's history.
Will 2018 trump that?
The start of Black Friday week has already seen commissions increase by around 10% on last year's numbers but will the momentum continue for the next few days?
Keep checking back with us across the course of the day for local and global insights from across the business. We'll share interesting articles, sector highlights and delve into the numbers for additional commentary.
To kick things off we'll focus on Australia. For some Aussie predictions, watch this clip from our colleagues in Sydney.
Share this