Tip of the month: Promote affiliate links on social media channels
Written by

Samantha Sherer on

.
Many publishers struggle with finding new ways to strategically place affiliate links on their site.
Share this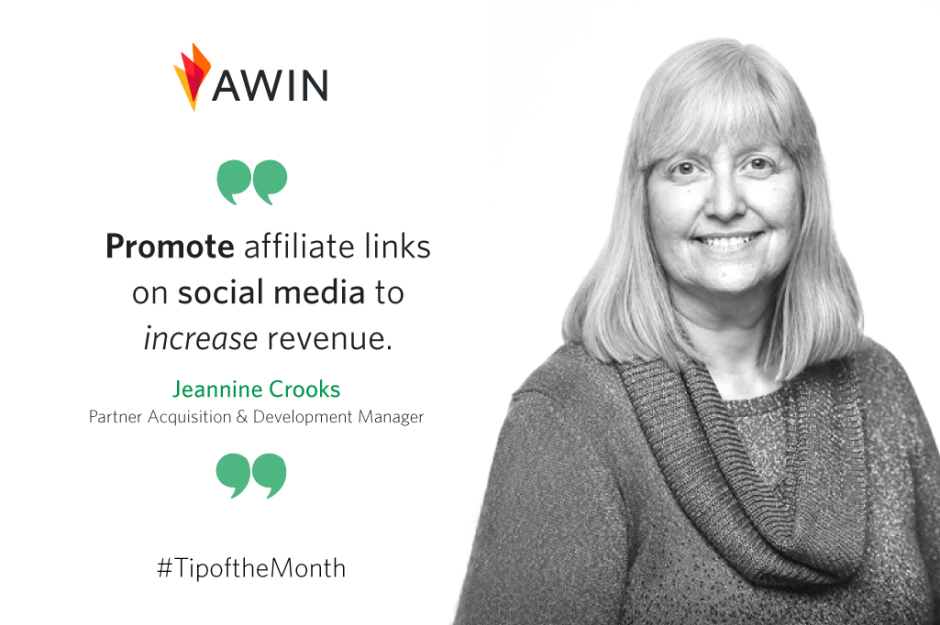 One strategy sometimes overlooked is leveraging social media to increase affiliate revenue. Promoting affiliate links on social media channels can increase conversions and positively affect your bottom line.
To maximize potential profit, there are two main rules to follow when promoting affiliate links on social media:
Be authentic – not promotional
The goal is to provide valuable information that will inspire readers to make a purchasing decision from your authentic recommendation. Affiliate links should be strategically placed into the content and naturally fit within the flow of the piece. Your affiliate marketing efforts will be the most successful when there's trust you, the publisher, and your audience. Unauthentic and salesy content will turn off the reader and lose you that trust.
Always disclose
The FTC requires affiliate marketers disclose their financial relationship to the mentioned brands or products throughout their promotional efforts. The disclosure should be clear and easily identifiable. One example of this is writing "#AD" or "Affiliate Link" in the primary caption. The FTC is only going to be stricter about affiliates being compliant with disclosure rules and regulations, s, so it's important to be transparent with your audience and avoid legal punishment. For more recommendations on how best to follow FTC disclosure requirements, please click here.
For an easy way to generate affiliate links on the fly, download our MyAwin tool from the Google Chrome Store. This Chrome extension allows publishers to turn any website link into an affiliate deep link without having to log in to the interface, and lets you easily share these links directly on your social media channels.
Now, that we have shared the two main principles regarding using affiliate links on social media, let's explore best practices for each channel:
Facebook
According to Pew research, Facebook users access the platform more often than any other social network. Recently, Facebook revealed their new algorithm prioritizes active interactions like commenting and sharing over likes and click-throughs, potentially impacting how affiliate links will appear to a publisher's audience within their Facebook homepage. To stay ahead of the curve, affiliates should focus on creating engagement and conversation. Use affiliate links when speaking about a product, and engage with readers by asking a question or for feedback. This will boost engagement and get more eyes on your post.
Instagram
Instagram is one of the most-popular platforms among bloggers. With its visual aesthetics and searchable hashtags, it is easy to market products and join conversations. At least 30% of Instagram users have purchased a product they discovered on Instagram. There are three main options to consider when using affiliate links on your Instagram profile. If a publisher has more than 10K followers or a verified account, they can post a story and place an affiliate link in the 'swipe up' feature. Another option is to share product demos, reviews, unboxings or a behind-the-scenes picture, and place an affiliate link in the picture description. Thirdly, publishers can input an affiliate link directly in their Instagram bio.
Pinterest
Pinterest is the destination for new ideas, DIY projects, cooking recipes and other inspiration. With a stronger spam detection system, it is only recently that Pinterest has begun to allow affiliate links. This platform is a great way to showcase favorite outfits, products, blog posts and more. A user can place the affiliate link in the website section of the image description, or create a few boards based around product categories, gift guides, or favorite products. Check out our blog for more tips on how to use affiliate links on Pinterest.
Snapchat
Around 70% of Snapchat's users are under 34 years old. Hashtags and reposts are not allowed on this channel, which limit creativity. Before starting to promote affiliate links, the first step is to build a following. Promote your Snapchat profile across your other social media accounts and on your blog. On Snapchat, one can place a referral link on any snap. It works similar to Instagram stories; however, you do not need 10K followers or a verified account. Snapchat is great for offering a behind-the-scenes look, product teasers, and sales promotions. Snapchat is more personal than other social networks, so make sure to always speak to your reader directly and show your face, "humanizing" your brand, rather than only showing images.
Twitter
Supporting more than 40 languages, 79% of Twitter users are located outside of the United States. With a stronger international reach, Twitter is the perfect platform to join global conversations and connect with consumers on a global scale.
Because Twitter is based around conversations, it is critical to share things you're passionate about and build relationships based on your follower's interests. Remember, it is important not to sell but give genuine recommendations and be conversational.
Social media is a great way to promote blog posts, share interests, and make connections. Strategically use affiliate links to boost your affiliate income and better earn from your promotional efforts. For more recommendations on how best to use affiliate links on social media, please contact our publisher management team.
Share this