ThinkTank 2019 recap
Written by

Samantha Sherer on

.
Our second-annual ThinkTank was a success, filled with packed meeting schedules, exceptional insights and ample networking. View our highlights below.  
Share this
Welcome Happy Hour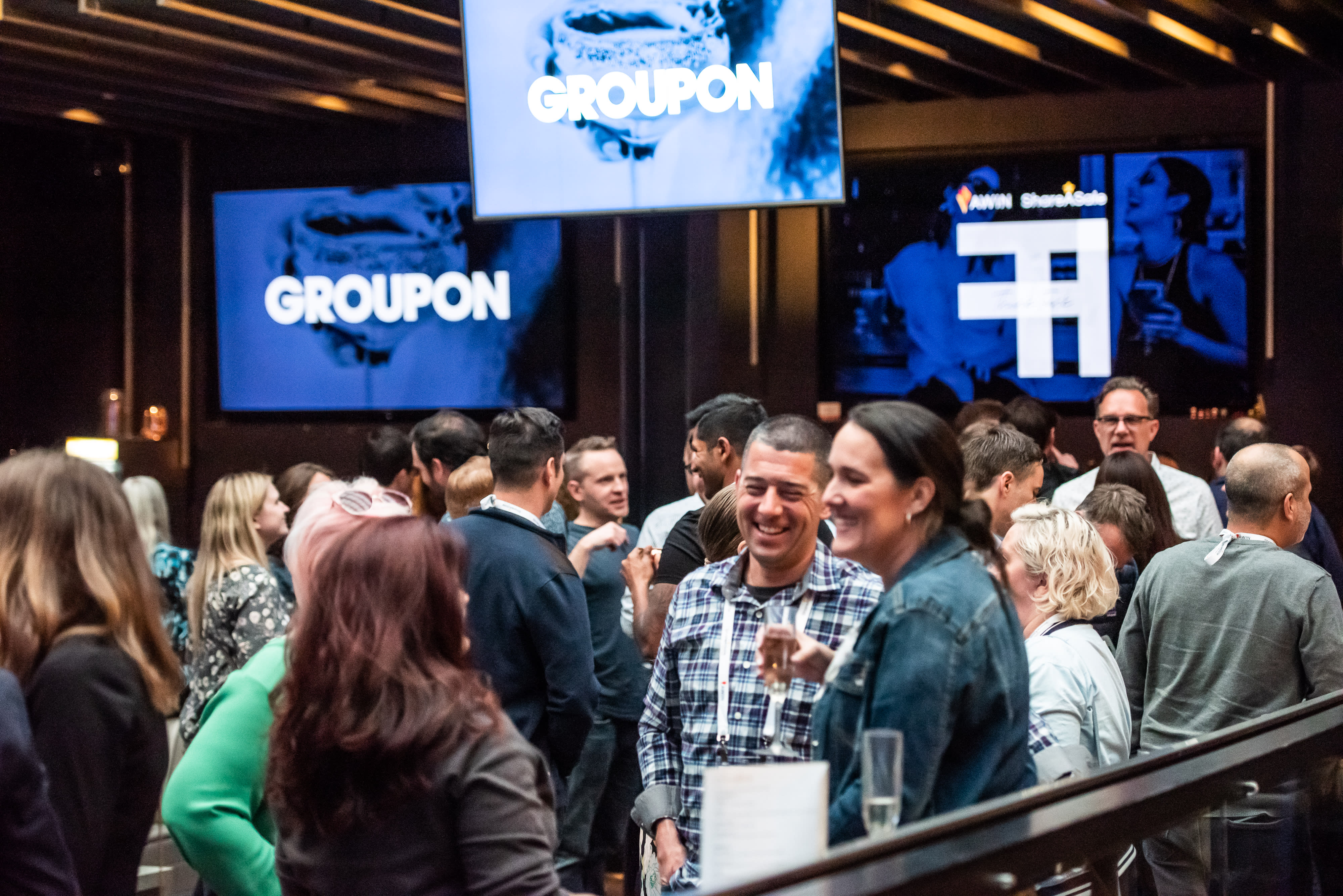 ThinkTank kicked off with a bang, as guests enjoyed craft cocktails, a DJ and bites at our Welcome Happy Hour, courtesy of Groupon. Under the Chicago night sky at the Fremont, attendees relished the networking opportunities in a more relaxed atmosphere, anticipation and excitement palpable for the days ahead.
Sessions
Welcome Remarks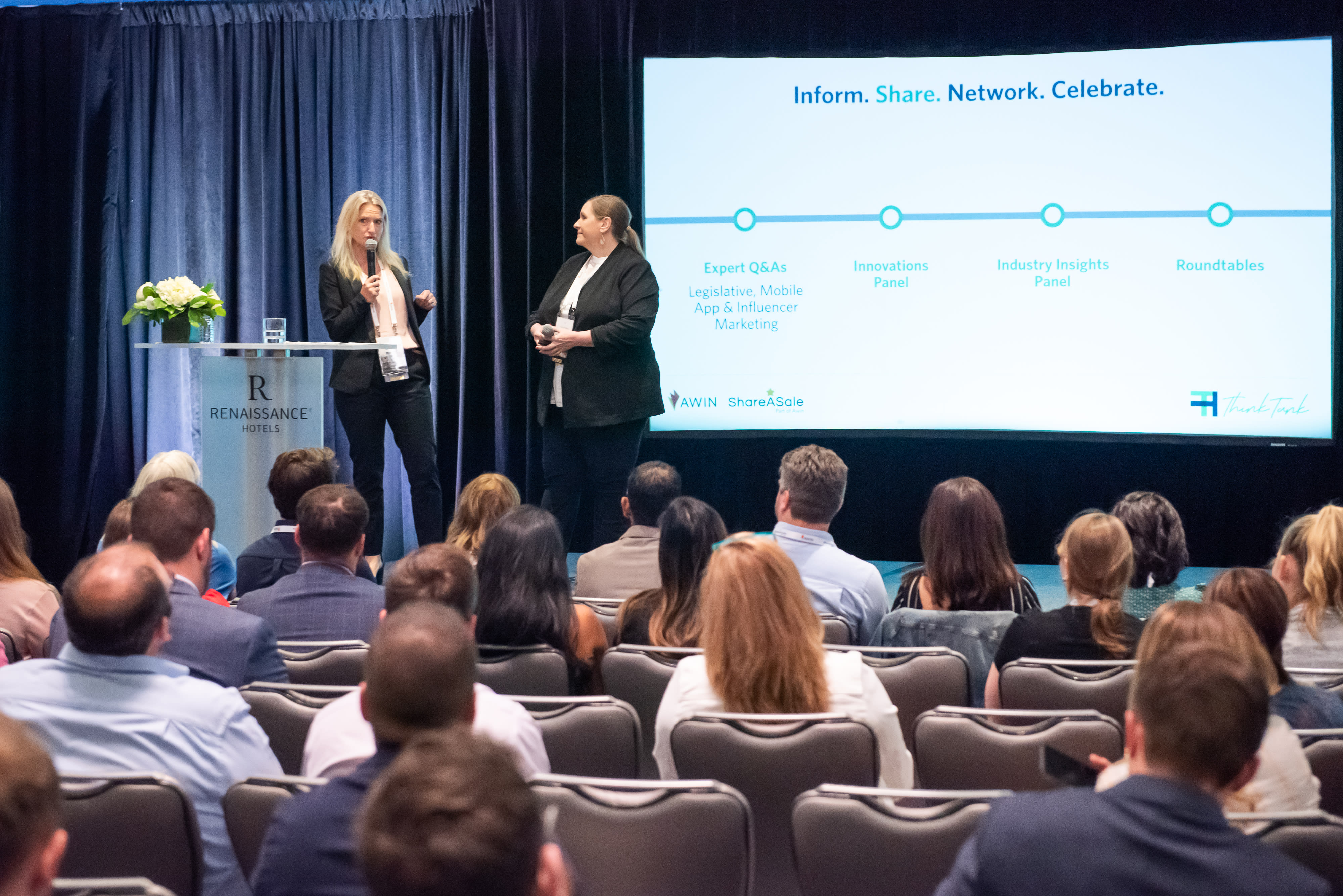 Our hosts and North American leaders, Alexandra Forsch (President, Awin US) and Sarah Beeskow Blay (Vice President, ShareASale) introduced our ThinkTank sessions on a high note, expressing excitement towards the event as a marker of the benefits that come from our networks' continued alignment.
In these Welcome Remarks, Alex called for larger collaboration among all industry partners to attract the desired channel investments at a time when digital media has been challenged by widespread ad fraud, new data regulations and ad blocking. She reminded us that this changing landscape now affords a significant opportunity to collectively provide the justification and evidence needed for greater investment in affiliate marketing. Our channel has proven its ability to innovate and to provide solutions that consumers want and consent to, which is critical from a data collection perspective. Equally relevant, when comparing affiliate marketing to other forms of digital media it delivers transparent, ROI-measurable and data-compliant results and, therefore, it offers a safe investment alternative.
Alex further shared that as a network we need to respond to changing demands, which is why Awin has transitioned from network to platform – now offering an ecosystem of trusted technology partnerships that can be easily integrated and adopted by publishers and advertisers via our Awin Mastertag to boost performance. Examples of these service partners include attribution and reporting aggregation solutions, visualization, and white-label comparison, as well as AI and deep learning-based dynamic search and product recommendation services. Many of these services partners, including SingleView by R.O.EYE and Monotote, successfully engaged with both publishers and advertisers at ThinkTank to explore innovative solutions that optimize consumer conversions.
Keynote: The Future of Retail
In our keynote session, CEO and Founder of Increasingly Sri Sharma took attendees on a TED Talk-esque journey of how consumers will shop in the future, where AI, Voice, and AR and Robotics will play a huge role.
"By 2020, 30% of browsing will be done by voice, without a screen." Sri Sharma, Increasingly
Sri helped participants uncover the hidden gems of opportunity in the affiliate channel, showcasing a variety of advertising campaigns particularly effective at leveraging these concepts for maximum ROI. Examples included fast-fashion retailer Zara's augmented reality app, online grocery store Ocado's robotic, grid-system warehouse and more.
Session 1 & 2: Awin Report 2019 - Celebrating Digital Diversity // Awin Talks - Live
Showcasing the 2019 edition of The Awin Report - our annual, definitive global guide to affiliate marketing - Awin's Content Analyst Rob Davinson discussed the topic of 'digital diversity' that sits as a cornerstone theme for both the Awin Report and the wider digital marketing channel.
"It's frequently said the affiliate channel is a microcosm of the digital ad industry and therefore, to get a more rounded, realistic and comprehensive view of the affiliate industry we decided to use this year's Awin Report as a platform for others to share their views on it." Rob Davinson, Awin
Delving deeper, Rob examined how the channel's low barrier to entry and constant innovation used to connect with consumers across the online space offers a powerful way of diversifying ad spend. With a huge array of potential partners and total flexibility on how programs can be setup, brands control who they work with and how they incentivize the right behavior from partners - all in a transparent and measurable fashion that derives positive, tangible effects.
Following the Awin Report session, Rob invited three of the Report's contributors to the stage to get their thoughts on the affiliate industry and the theme of digital diversity. Sitting down with each individually:
Tijs van Santen, chief revenue office of Button, discussed the state of mobile marketing within the affiliate industry and how changing user behavior is bringing mobile to the very forefront of digital commerce.
Kim Westwood, founder and managing director of Shopping Links, examined the growth and increasing professionalization of influencer marketing and how it is likely to evolve in the future.
Gary Kibel, attorney and partner of Davis and Gilbert LLP, offered an informative overview on the pending California Consumer Privacy Act and its potential impact upon the digital ad industry, as well as thoughts around the state of digital legislation.
"Mobile is a key entry point as it's a device you'll always have with you." Tijs van Santen, Button
Session 3: Innovations Panel
In the first of two panels, Awin COO Adam Ross hosted five individuals who are disrupting the industry with an out-of-the-box approach to growing their affiliate programs using non-traditional technologies and tools to achieve a goal, whether that be an increased revenue, optimized partnerships, or stronger ROI.
Conversation flowed through various topics including pivotal shifts in affiliate activity over the past 12 months, challenges encountered and overcome via innovative practices, the importance of personalization in a performance marketing strategy, potential opportunities from in-app tracking, how to compete with Amazon, and more.
"I was asked, 'How do you compete with Amazon?' and my answer is always the same: take care of your customer. It's not about competing but finding your customer and taking care of them and providing the best experience." Maryellen Garasky, Jane
Session 4: Industry Insights Panel
Our final panel of ThinkTank, led by Awin's Group Strategy Director Kevin Edwards, shed a spotlight on the current state of performance marketing and exclusively revealed key insights from the Performance Marketing Association's inaugural US Industry Survey, including the size of the US affiliate marketing industry, with a goal to offer the financial argument to attract more channel investment.
Additional discussion points included building a case for payments beyond last-click CPAs, ensuring relevancy around brand messaging so that it is delivered to the right audience at the right time, and addressing industry challenges that didn't exist a few years ago, among other topics.
Roundtables
Breaking up the uniformity of our main sessions and panels, guests were invited to participate in 23 roundtable discussions of their choosing. These small focus groups provided the perfect chance for intimate conversations with other attendees and industry experts, enabling participants to contribute on shared concerns or questions and to generate actionable takeaways.
Click here to see all 23 of the roundtable topics offered at ThinkTank.
1:1 partner meetings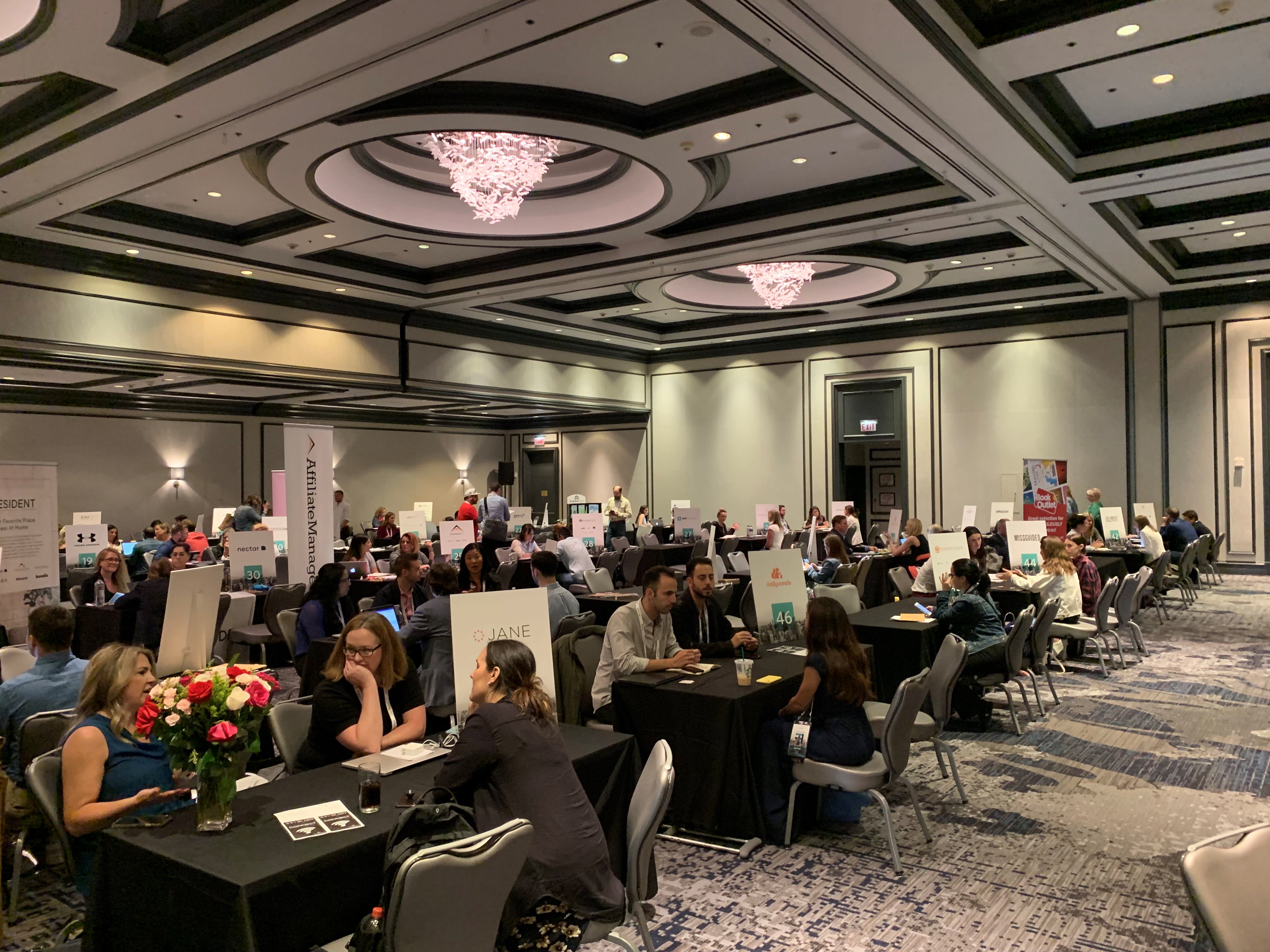 Always a favorite of ThinkTank, attendees relished in the opportunity for ample 1:1 Partner Meetings across both days of the conference. These scheduled meetings allow partners to network, plan strategy and trouble shoot in an intimate setting, putting email addresses and names to faces to develop deeper business relationships. We're proud to say that over 800 meetings occurred in total at this year's ThinkTank between our advertisers, agencies, publishers and bloggers.
"The 1:1 Partner Meetings were one of the highlights of the entire conference for Apogee. The quality of affiliates, ranging from tech solutions to content bloggers to larger media sites, was of the highest caliber we've seen in our near-decade of attending ThinkTank. Affiliate marketing is a relationship-based industry, so the opportunity to get facetime with our current and prospective affiliates is invaluable. Apogee walked away from ThinkTank feeling encouraged and successful based on the high-level quality of the 1:1 Partner Meetings." Christen Evans, Apogee
Network Awards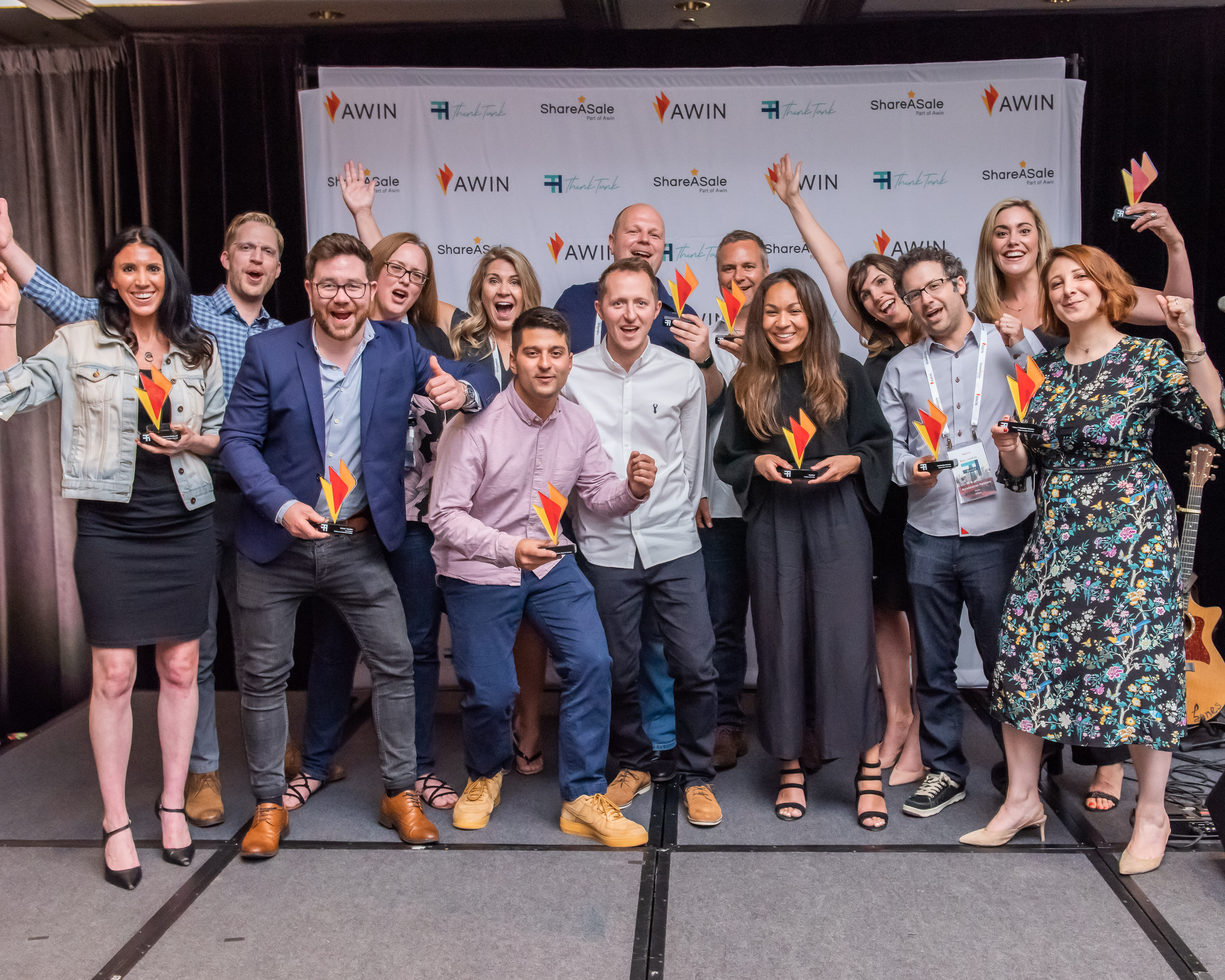 The ThinkTank Network Awards returned for the second year running, offering an evening of live music, drinks and dinner, compelling conversation, and most importantly, celebrations by all. This year's Network Awards ceremony recognized 12 partners across 10 categories, and introduced two new awards voted on live by attendees throughout the event - Advertiser Choice of Publisher and Publisher Choice of advertiser.
To see the complete list of winners and nominees, click here.
Thank you to our clients, partners and friends who attended ThinkTank 2019. This wouldn't have been a success without you. We look forward to seeing everyone at upcoming conferences and events throughout the remainder of 2019, and of course, next year at ThinkTank 2020.
To see all photos from ThinkTank 2019, click here.
Share this