Getting started on Awin: Additional promotional tools
Written by

Samantha Sherer on

.
The Awin interface provides additional tools for publishers to assist with successful promotions. 
Share this
These will help you access an advertiser's offers, create product feeds, and connect with brands for specific opportunities.
My Offers
As an Awin publisher, advertisers will provide offers, promotions, and coupons to use while promoting. These are a great way to further entice your audience to make a purchase from your recommendations. You can find all of these on the My Offers page.
To access My Offers, hover over the Toolbox tab. Under Promotional, click My Offers. You will see several filters at the top of the page. Adjust these accordingly per your needs and click Filter. Once you have located the offer you would like to promote, click the icon in the Deeplink column to copy the tracking link.
Create-a-Feed
To access Create-a-Feed, hover over the Toolbox tab and under Links & Tools, click Create-a-Feed.
Create-a-Feed is a tool that allows publishers to download advertiser data feeds. A data feed lists all products an advertiser offers, and includes the name, description, price, and a deeplink to that product page on the advertiser's website. Datafeeds can be very helpful for any publisher looking to link to numerous, different products without having to generate a deeplink for each.
To download a feed:
Select a language. Only feeds and products in this language will appear
In the Advertisers box, click Select Advertisers. Search for the advertiser you are looking for and select the feeds you wish to download
Click Save, and then click Next
On the column selection page, you can choose individual columns or choose Select All
Select your compression method and data feed properties
Copy the generated URL and download the file
You can also download a list of all available data feeds, including the last update time, feed language, program region, and an example download URL. You can access this in the Create-a-Feed page at the top by copying the URL in the Feed List Download box.
Opportunity Marketplace
Opportunity Marketplace is a tool that lets publishers list, manage and promote all of the advertising options available on their website. They are then viewed and considered by the advertisers of Awin in an easy-to-use directory. This is what Opportunity Marketplace looks like to an advertiser: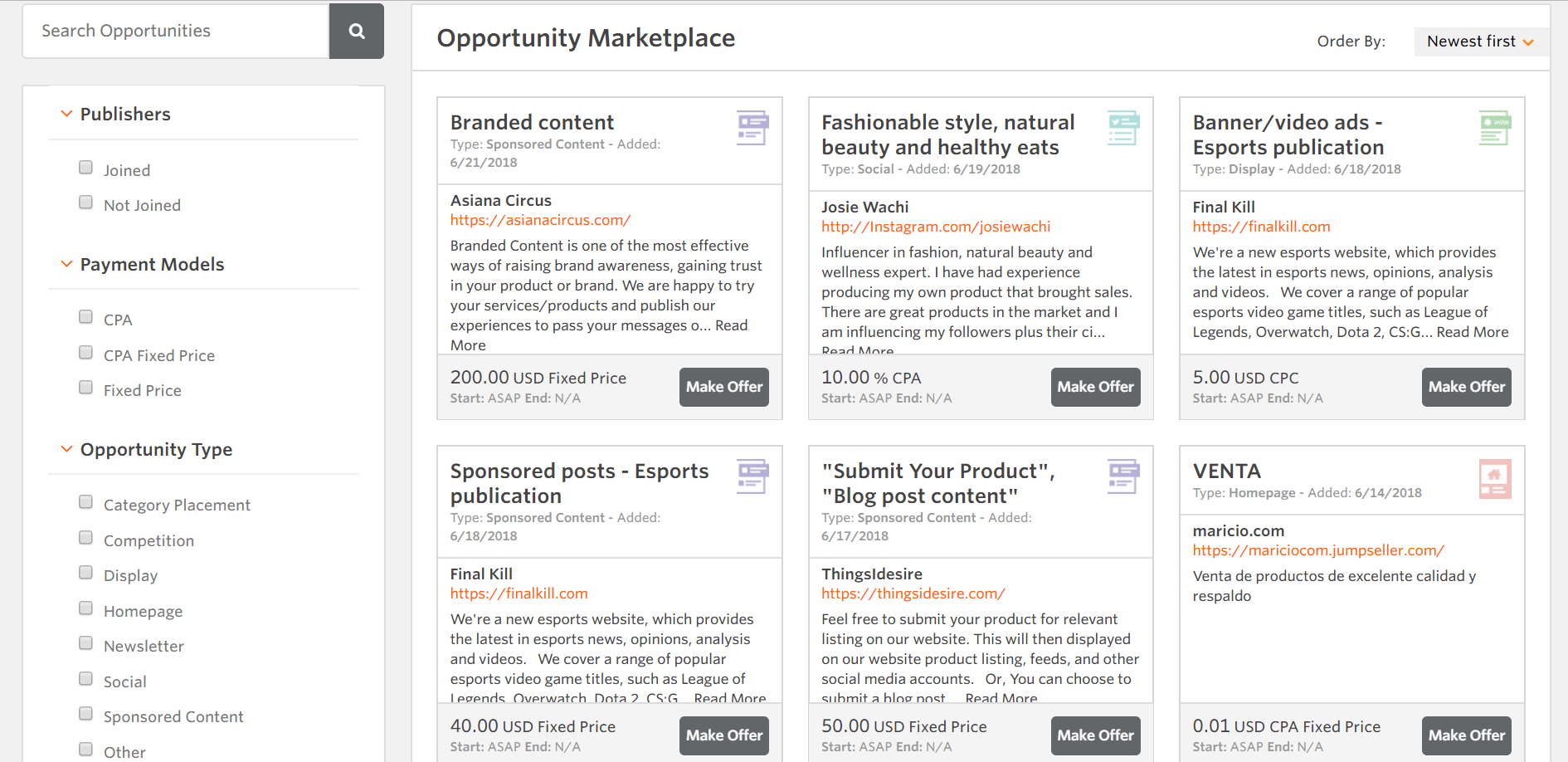 Creating opportunities
To post an opportunity to Opportunity Marketplace, hover over the Toolbox tab. Under Promotional, click Opportunity Marketplace. Click the Add New Opportunity button, fill out all the details of the opportunity, and click Publish.
FAQs
"How will advertisers see my opportunities?"
Advertisers will have access to a directory of all publisher opportunities. To make your listing stand out, to try to keep it concise and include as many key facts as possible.
"How will advertisers reply to my opportunities?"
Advertisers can directly respond to each one of your opportunities. Responses will be sent to the primary email listed in your account, or you can choose a different email address to be reached at when you create your opportunity.
"What should I include in my opportunity?"
You should make the opportunity as informative as possible, and include the key benefits of the opportunity, including details of the placement and audience reach (where applicable.)
"How should I value my opportunity?"
This is entirely up to you. The value of your opportunity should reflect it's worth in terms of what it can deliver for the advertiser. Remember the opportunity may be competing with others of a similar type for an advertiser's attention, so competitive pricing can be important. A variety of pricing options are available, which can be selected when you enter your opportunity, including fixed cost, fixed CPA, and percentage CPA.
Remember, a percentage CPA will vary in monetary value depending on the average order values of the advertiser that makes you an offer.
To review how to complete your publisher profile, please click here. To review updating your payment details and joining advertiser programs, please click here. To review building links and finding creative, please click here. Concluding part one of our new joiner interface training series, we're discussing Awin's payment process.
Share this