Let's connect at PI LIVE 2019
Written by

Maura Reidy on

.
As the most significant event in the performance marketing calendar approaches, we share how you can best connect with Awin at PI LIVE 2019.
Share this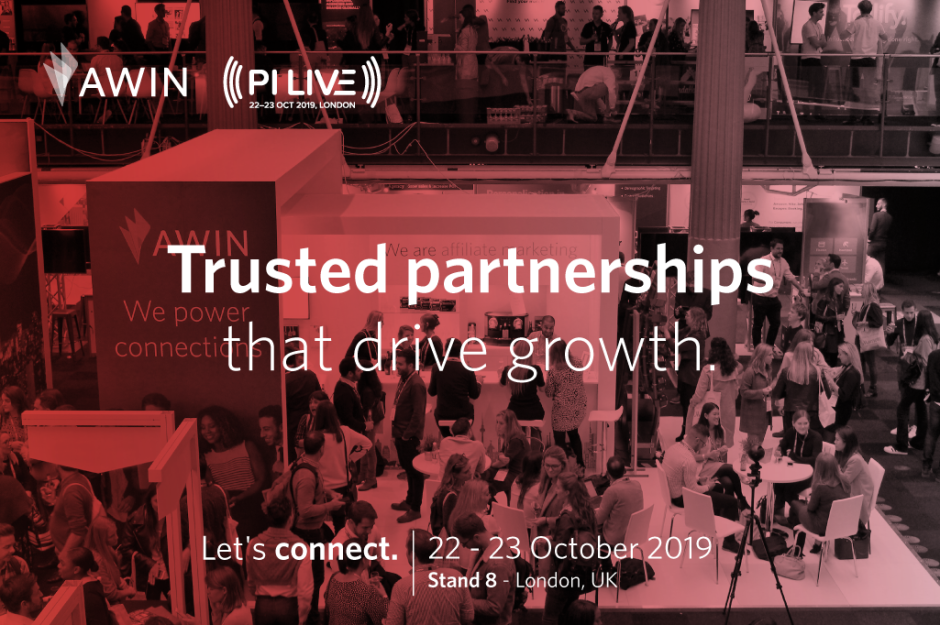 This year's conference will welcome 3,000 delegates, host almost 2,000 meetings and be joined by over 65 exhibitors at Old Billingsgate, London on 22nd and 23rd of October. With an agenda that covers a diverse range of topics and nearly 27 hours of sessions, debates and discussions, PI LIVE 2019 is set to be the biggest and most insightful show yet.
Awin is proud to be returning as headline sponsor for the 13th consecutive year and we're excited to share with you our plans for the two-day conference.
Firstly, our fingers are crossed for the International Performance Marketing Awards where Awin, together with our clients, is shortlisted 17 times. The IPMA 2019 ceremony will take place on 21st October, the night before PI LIVE kicks-off and we're hoping that a sense of celebration will be felt in two days following the winners' reveal.
We have taken inspiration from our DMEXCO stand this year and have based our stand design on transparency, highlighting how it underpins everything we offer as a network from our partner selection process through to our reporting, to facilitate trusted partnerships that drive growth. Awin invites you to join us for a coffee at the stand to chat to our teams and find out how our leading technology, business intelligence insights and privacy-centric approach can drive growth for your business. If interested in speaking to a member of our team, request a meeting here.
As part of our commitment to empowering our partners through our technology, Awin will host live demos at our stand during the show. Attendees will have the chance to experience and understand our unparalleled reporting suite as presented by our Product team at 10:30, 14:00 or 16:00 on 22nd October and again at 11:30 and 14:00 on 23rd October.
The Awin team will also be taking to the stage throughout the conference. Content Analyst Rob Davinson will open the show by presenting his 2020 Vision: An Affiliate Marketing Manifesto. Make sure to catch Rob's session at 09:30 on Tuesday, 22nd October in the Main Stage.
Delegates will have the chance to reflect upon their influencer marketing strategy at 11:10 in the Kindred Theatre on Tuesday, 22nd October at the Drawing Boundaries around Data Privacy in the Age of Influencer Marketing panel. Hosted by Dave Dickman, CEO of Tagger, Awin's Influencer Partnerships Manager Carina Toledo will join the discussion.
At 10:20 on Wednesday, 23rd October on the Main Stage, you won't want to miss Insider Insights: Time to Rethink your Strategy? Compered by Kevin Edwards, Global Strategy Director at Awin, and Sean Mahon, Affiliate Team Leader at Equator, this rapid-fire case study focussed session will tackle the most common challenges facing affiliate marketers, offering guidance on how best to overcome them. This session which also feature a host of first-time industry speakers and we encourage you to attend to get to know some of the new faces in the industry.
Although PI LIVE is just under two weeks away, it's already time to start thinking about Black Friday and Cyber Monday. Awin can help shape your strategy for the peak trading period with SingleView Affiliate. Understand the interactions of your traffic and the true value of your affiliate partners by reading our Tyres On The Drive case-study and signing up to SingleView today.
You can keep up-to-date on all of Awin's activity across the two days by following us on Twitter, Facebook and LinkedIn and by following #PILIVE19.
We look forward to seeing you on 22nd October.
Share this