mThink Blue Book Best CPS Network nominations now open
Written by

Samantha Sherer on

.
Vote Awin and ShareASale as 'Best CPS Network.' 
Share this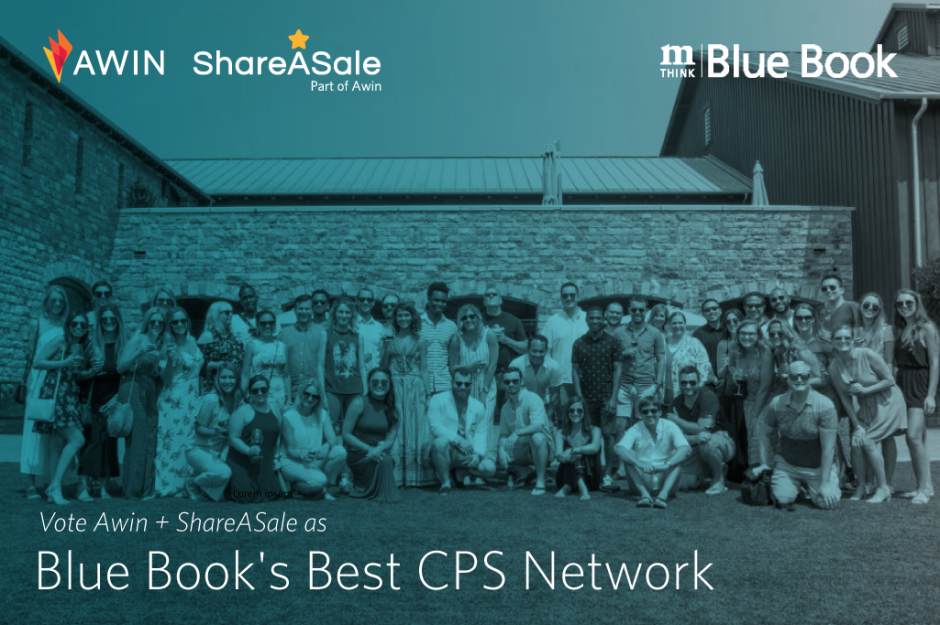 A great accomplishment for any performance marketing network is securing a position on Blue Book's Top CPS Networks list. This ranking is chosen by advertisers, agencies and publishers of the affiliate community and is an in-depth evaluation of each provider, taking into consideration reputation, influence, technology, clientele, and scale. Networks securing a place on the list are viewed as industry leaders that provide best-in-class levels of service, professionalism and consistent ROI.
Consisting of the trusted Awin and ShareASale platforms, the Awin Group has achieved a combined top #2 ranking over the past three years. With your support, we would love to secure the #1 spot in 2020 for our combined networks and ask that you please vote for Awin and ShareASale as 'Best CPS Network.'
Here's six reasons why you should vote for us:
1. We are committed to creating the most-diverse, connected and effective affiliate network in the world
In 2018, we partnered with over 15,500 advertisers across Awin and ShareASale to generate over 139 million sales and $15 billion in revenue, in turn rewarding $714 million in commissions to our 200,000+ active publishers last year alone.
2. We're an outspoken industry champion, educator and advocate
We offer ongoing guidance to our partners on emerging developments in digital media like the changing compliance and data regulations globally and in the US, including in California, Nevada and New York, as well as across platforms like Facebook and Safari.
3. We know collaboration among all industry partners is key to attract the desired channel investments
This is particularly important at a time when digital media has been challenged by widespread ad fraud, new data regulations and ad blocking. As such, we are thrilled to see the first culmination of this collaboration come to light following the Performance Marketing Association's inaugural US industry survey, an endeavor we are immensely proud to serve as a sponsor and contributor.
4. We're taking proactive steps to futureproof affiliate marketing to respond to shifting consumer attitudes and behaviors
We recognize that failure to take privacy concerns seriously puts confidence in affiliate marketing at risk, which is why we are putting consumer privacy and data protection first in all we do.
5. We lead the way in tracking innovation to protect your affiliate revenue
As the first network to offer cross-device tracking, we have tracked an additional 4.8 million sales, generating $454 million in revenue and $18.7 million in commission that otherwise would have been misattributed to other channels and not paid to publishers. Additionally, our hybrid tracking model - which couples an in-browser tracking code with a Server-to-Server (S2S) tracking element - ensures the highest level of tracking accuracy that cannot be compromised by adblocking or other tracking suppression technologies and settings. Furthermore, in addition to our cross-device tracking and hybrid tracking models, our new tracking innovation Bounceless Tracking will better protect us from future browser tracking prevention and adblocking to guarantee greater transparency is offered for all channel activities and investments.
6. We're constantly evolving to offer you more
The future is bright. We're evolving as a network to an ecosystem to further futureproof our business and offer partners easy access to trusted, innovative third-party technology technologies including SingleView – a dynamic attribution solution exclusively available through Awin's MasterTag – Monotote, and more.
Our clients and partners inspire us every day to continue evolving this amazing industry we are all so passionate about. We would be honored to receive your continued support by nominating and voting for us as 'Best CPS Network.' As you get three network selections with your vote, we would be extremely grateful to receive two of those – one for Awin, one for ShareASale.  
Please vote
here
. 
Share this