5 ways Awin partner with agencies to drive the affiliate model forward
Written by

Jessica Brown on

.
At Awin our agency proposition is centered around building valuable partnerships, ensuring agencies are at the forefront of Awin's products and services.
Share this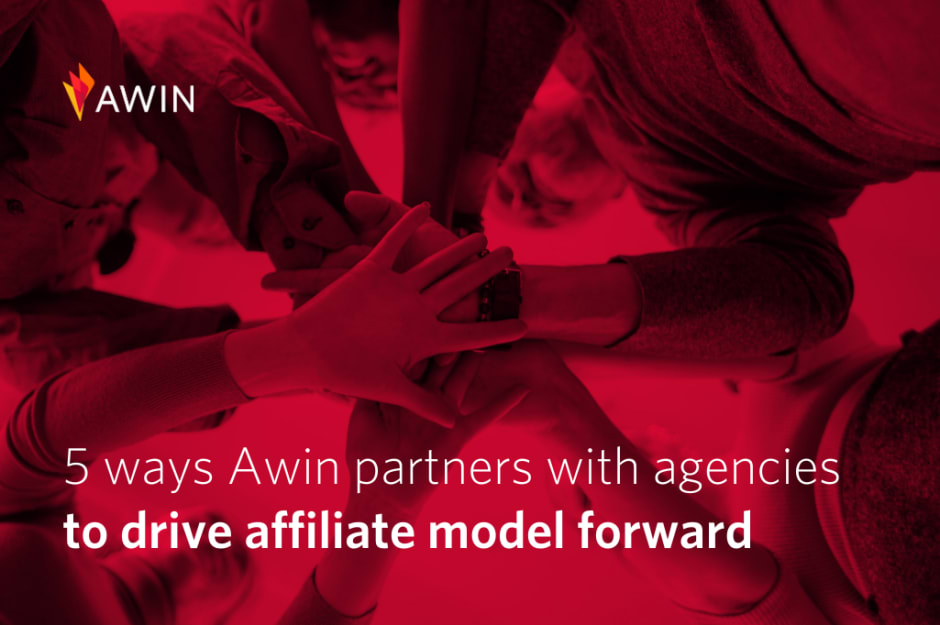 The focus over the past 12 months has shifted to ensure agencies are at the forefront of Awin's products and services and that our partnerships have a dedicated team to help drive forward new opportunities.
We've done this by paving the way with a number of key initiatives including Awin's agency accreditation, beta testing and tailored commercial agreements. The aim is to work closely with our partners to find common themes and goals which develop the processes and tools, to better align with the needs of our digital agency teams. What follows is just 5 of the ways Awin partner with agencies to drive the affiliate model forward.
1. We have a dedicated agency team
At Awin we have a community of agency experts around the globe. In the UK the main responsibilities of the Agency Partner role is to drive agency new business, support with commercial contracts and grow existing agency partnerships that takes into account the full book of agency business, versus an advertiser-by-advertiser approach. Since working more closely with our agency partners to support with everything from proposals to presenting at conferences and events, 24% of Awin's total performance is agency-managed in the UK. With the upcoming launch of some of our new agency initiatives and referral scheme we expect this to grow further to align with our agency levels in the DACH region (33%) and support the growth of agency business in the US (21%). By creating a global alignment, the agencies that we work closely with have been able to benefit from learnings across the different markets to create a world class relationship.
2. Awin support and enable opportunities for agencies to outsource innovation
The more we work with agencies the more we challenge the norms of the affiliate model and begin to set in place what advertisers need in order to be able to work on a performance basis. The introduction of affinity partnerships or brand-to-brand as it is also known has meant that even the likes of FMCG, offline and non-transactional opportunities can utilise agency connections with Awin to discover innovative and unusual routes to cross-sell and increase sales.
Since Awin started to trial wider agency tech-led partnerships it has been fantastic to see a high level of innovation. The performance model teamed with Awin's MasterTag technology allows clients to work with the latest technology releases, enhancing affiliate programmes with little to no development work required. It's testament to how many clients our agencies have brought to the business over the years that they can launch in a day or so from signing up and are well versed in Awin integration.
3. In-house sector, app and influencer specialists are on hand to assist our agency partners
We like to think of the term affiliate as a model as opposed to being a siloed channel, as this promotes the idea of bringing on new revenue streams, and tracking influencer, lead gen and app in one place as well as affiliate – helping advertisers to realise the cost-saving and low-risk nature of working on a performance basis. Our app and influencer specialist teams assist agencies that are looking to take on client strategies that include those areas. We breakdown how to get started with an initial call and step-by-step support to success.
Awin's in-house Retail, Travel, Telco and Finance experts mean that there is a wealth of expertise in the team and the agency have the weight of Awin's specialist sector learnings to lean on. Almost every agency enquiry that comes through is unique. This is something Awin is incredibly thankful for as it allows us to grow as a network. We have a strong understanding of the sectors that are a good fit for the CPA model, and welcome the challenges that agencies bring to the platform around new ways of working and the non-traditional affiliate advertiser mix. We're often asked to give a summary of the qualities a retailer would need to have to be an ideal affiliate for agencies to target. This can be within their larger book of business or even to go after outside of the current roster.
4. Awin is a platform for agency teams and clients of all sizes
Awin Access allows even the newest of start-ups and their representing agent or consultant to enter the channel. It's highlighted time and again that the goal is to make affiliates work for everyone and in some ways it is the responsibility of the networks like Awin to make that a reality. Often, platforms are increasingly catered to agency teams who have the scale and resource to dedicate to using the pivot tables labeled in the reporting. Whereas at Awin, our platform serves agency teams who are more familiar with complex and bespoke reporting metrics, and crucially those who want to easily see performance-over-time in a mere two clicks from the advertiser dashboard. For agencies entering the channel and looking to skill up it is a necessity, and for agencies well versed in affiliates it is a huge benefit to their team efficiency levels. We want to build a tool that can be adapted for every size of agency and their advertiser set, and our product team are a huge advocate of the vision.
5. Agencies can upskill across a range of training, monthly insights and workshop materials
Since introducing the dedicated Agency Partner focus in 2020, we identified that around a third of all agency new business was not only new to the Awin network, but entirely new to the affiliate model and the value add it has to offer. Given this metric we have developed a series of workshops and training tools that enable partners at their wider non digital teams to become champions of performance marketing. Our UK Client Partnerships newsletter The Pulse has seen strong engagement from agencies, and partners regularly help to shape the content to prove the most valuable based on agency FAQs coming through to the Awin network.
We work collaboratively with over 140 agencies to offer a wealth of market insights. The benefit of being 61% market share leaders in the UK means that we can equip our agencies with the specific reporting and trend data for their micro-sector specialisms. This in turn allows successful campaigns to be shared and adapted to drive forward advertiser agendas and in most cases accelerate the achievement of common goals. As the saying goes 'a problem shared is a problem halved' and by having a high performing agency and an award winning network working as an extension of your brand you are on a fast-track to success.
Get in touch with our Client Partnerships Team for more info on our agency strategy and how to partner with Awin. You can also sign-up to the Client Partnerships newsletter The Pulse for regular insights.
Share this