Awin's daily updates
Written by

Kevin Edwards on

.
Awin brings you daily updates on the coronavirus and how it is impacting the affiliate industry. 
Share this
5 June
For our latest sector-focused webinar, Awin's Joelle Hillman considers some of the changes we've been tracking across our networks recently and then asks a mix of Awin and ShareASale partners to offer their opinions, insights and forecasts for the future of retail.
1 June
The performance tracker has been updated with last week's numbers. While travel has yet to hit the pre-lockdown heights, there are some noticeable green shoots. In fact travel represented the biggest percentage bounceback of any category last week. Here's a snapshot from the report that shows the percentage increase in week on week sales to 31st May: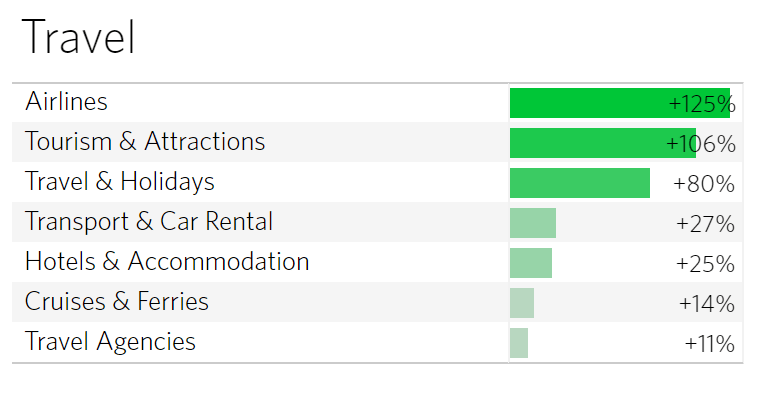 19 May
How has the telco sector performed over the last few months? What are the latest trends to look out for? We're hosting the first of our sector specific webinars on Thursday 21st featuring ex-BT performance head Caroline Mulvihill as well as represents from Vodafone and leading telco publisher Decision Tech.
18 May
Awin has launched the next version of our performance tracker. Now featuring sector and territorial sales, revenue and device split, the additional data supports the sub-sector weekly reports. You can see the latest update here.
8 May
Another working week in lockdown comes to a close. If you fancy catching up on wider news stories from across the digital world, why not read our picks of the week, including a staggering expose of programmatic that shows how this is an industry in need of a shake up.
Also this week we considered how the fallout from the Amazon commission cuts is being felt by the affiliate industry and why this marks a watershed moment. You can also read how Awin is helping affiliates to transition their links to the network's advertisers.
4 May
We'll be collating interesting insights and articles from across the web and posting weekly. Read our first round up including why Coca Cola is pausing its global advertising spend, an Acceleration Partners interview with BrandCycle and Shopify latest plans for connecting smaller businesses with new customers.
1 May
We've made it through another week of lockdown. More fresh content published this week includes a piece by Roz Berrisford, Awin UK's Client Partnerships Director, for advertisers on how to run an affiliate programme during these disrupted times .
While the search and display industries in the UK are expected to see a drop of around 12% in spend this year according to the latest Advertising Association/Warc expenditure report, affiliate applications to Awin and ShareASale are booming. Read our latest findings here.
Finally, we've an upcoming webinar to pencil into your diary. Our UK Client Partnerships are running a follow-up session to April's initial take on sector performance. Read more here.
28 April
A few new updates this week. Alex Parmar-Yee explores whether the data demands of a locked down lifestyle are providing a boost for 5G.
Many publishers are trying to get a handle on the fallout from a series of move Amazon has made to its Associates Programme. Given Amazon has a product inventory running into the millions, quickly finding links for those products is important functionality. Therefore we've built a Product Finder tool designed to do just that. Read more here.
Don't forget our Performance Tracker showing the fortunes of all sectors and markets during this period of uncertainty, is updated weekly on a Monday. There are two reports: a heatmap as the default layout and a Sub-sectors list of the flutuating fortunes of verticals across the whole network. You can see the latest data here.
Market Insights is our monthly round-up of all things Awin. Offering a snapshot of insight, analysis and opinion, you can join 5,000 other subscribers here.
21 April
We've updated the list of programmes impacted by COVID-19. You can access the latest details by logging into the user interface.
20 April
With billions of people at home, ecommerce has taken on a new significance in consumers' lives. But online shopping is not without its own physical footprint. Read our thoughts on the logistics defining ecommerce during the pandemic.
16 April
Chloe Hall is an affiliate marketer on a mission. As part of Furloughed Foodies, she's leading a drive to provide wholesome and healthy meals for frontline NHS staff in the UK. We caught up with her earlier this week to ask her more about the project, the challenges along the way and future amibitions for the campaign. You can read more here.
Also, from today, if you're in the UK you will be able to see all the changes that have been made to programmes because of the current situation. Login to the UI and you'll be greeted with a blue ribbon at the top of the page with a link to the spreadsheet. This is a working document, so we'll be looking to update as and when changes occur. You can also submit your own programme changes if you're not listed.
While this information is limited to programmes in the UK at present, we are exploring rolling this out to other territories, and will keep you posted.
15 April
Know of an affiliate, publisher or partner who is going above and beyond to offer brands a helping hand during this tricky trading period? Why not submit details here so we can share with our brands? At this time the importance of maintaining relationships in every walk of life is so important and we want to help deepen the partnerships that make underpin affiliate marketing.
14 April
Our performance tracker is now update with last week's numbers, so you can see the emerging pattern as we enter another week of global lockdown. With governments encouraging people to continue shopping online, Awin's numbers are showing an increasing number of consumers turning to commerce.
Last week the network posted the three biggest sales day of the year so far with clicks also hitting a two-month high. With consumers purchasing more lower ticket items, this has had an inevitable hit on the average basket size, but that didn't stop the Thursday before Easter (9 April) registering the second highest revenue day across the network.
For sector specific insights, drilled down to a market level, check out our dynamic Performance Tracker.
The US team has published their corona business hub, featuring a list of resouces. This complements the UK page we created last week.
7 April
Did you see our two part article looking at the impact the current coronavirus is having on our network? If you'd prefer to listen to the team present the findings - a good way to spend 30 mins of your day - then watch out for our webinar that we'll be posting on site this week.
The latest Awin Thoughts piece considers what the coronavirus means for retailers in the long term and how consumer purchasing patterns could change forever.
You may have seen Apple announced more changes to how they track cookies in Safari. It's now imperative if you work with Awin and you're not on our latest tracking version, that you upgrade. If you don't you'll be missing out on a swathe of affiliate sales, and we may look to top up publisher payments for lost commissions. You can read more here.
We've also published the first set of guidance for businesses you want to find out more about goverment help that is available to help companies during this crisis. We're also looking to localise this information.
1 April
Today we've launched a couple of new pieces of content. Our performance tracker report looks at each of the markets Awin operates in and allows you to filter by sales, commissions and revenues to trace week on week performance as well as monthly and yearly comparisons. We've broken the data down by top level sectors and then more granular verticals.
We're also reaching out to the publisher community to assess the impact the virus is having on their businesses. Led by our Global Publisher Team, we'd love to get your feedback here.
Finally we're running a webinar tomorrow afternoon on some initial trends we saw across the network. Please join by following this link.
30 March
What's been happening on the network? Our UK teams have been crunching the numbers to see how consumers have changed their online purchasing habits in light of the ongoing lockdown.
We've split the insights into two pieces. Part One is here, Part Two here.
Look out for additional content this week as we publish a weekly sales' tracker that identifies how sectors are performing in different markets.
We've also updated our brand champions with some additional companies who are going above and beyond. Read how Virgin Media, TopVoucherCodes, iD Mobile and Dunelm have been making changes to both give back to their customers and support their employees.
26 March
Today we launch out celebration of Awin's Coronavirus champions. Featuring a selection of advertisers and publishers who are going above and beyond, we want to shine a light on those businesses who are doing their bit in the current crisis.
Read about our first Champions here, and follow the page as we add more companies over the coming weeks.
25 March
Welcome to our first in a series of weekly posts that will offer information on how Awin is responding to the corona virus and supporting our partners.
These are really tricky times for thousands of businesses operating in the affiliate space and ensuring information is as forthcoming as it can be in a rapidly changing environment is vital.
Don't forget to bookmark this page to see all the latest news.
New statement from the Board
We'll be posting regularly with updates from the Board, insights from the network's data as well as offering businesses looking to partner with each other the chance to showcase themselves to the wider community.
Today Awin's Board has issued a statement on the current situation and how we're committed to supporting the wider affiliate community.
In case you've missed other content we've published recently, you can see our initial network statement here.
Trends and insights
In these exceptional times we're also seeing rapidly changing trends in ecommerce. As well as featuring insights from a variety of external sources, we'll be publishing a weekly tracker showing which verticals are performing well. We'll expand on some of these data points in wider thought pieces, the first of which we published last week about the supermarket sector.
Regular content
Keep an eye on our regular content as well, some of which will invariably include updates on the coronavirus. If you're at a loose end, you can listen to this month's Awin Talks podcast featuring Miya Knights from Eagle Eye Solutions as well as Chris Johnson on his new role at Smarter Click. The podcast will fit perfectly within your lunch hour.
Also Rob has written an Awin Thoughts piece this month that explains why he thinks affiliates and publishers are at the forefront of instilling trust in consumers against a barrage of fake news.
Finally, how about taking some time out of your day to read the Awin Report? The 2020 edition is a celebration of the past 20 years of affiliate marketing with a retrospective considering where we've come from, as well as a view on where we're heading. It's the ideal dip in and dip out read over the coming weeks.
Keep in touch
With people self-isolating it's easy to feel disconnected from the outside world. Therefore we want to hear from you about how you're tackling the boredom as well as tips for the wider affiliate community and examples of how you're supporting either brands or publishers with their affiliate efforts. Drop me an email if there's anything you'd like to tell the wider affiliate world.
Share this