Supporting our partners in 2020 – Four reasons why we'd love your votes
Written by

Robert Davinson on

.
Voting has opened for Best Affiliate Network and Best Team in Performance Marketing at the International Performance Marketing Awards.
Share this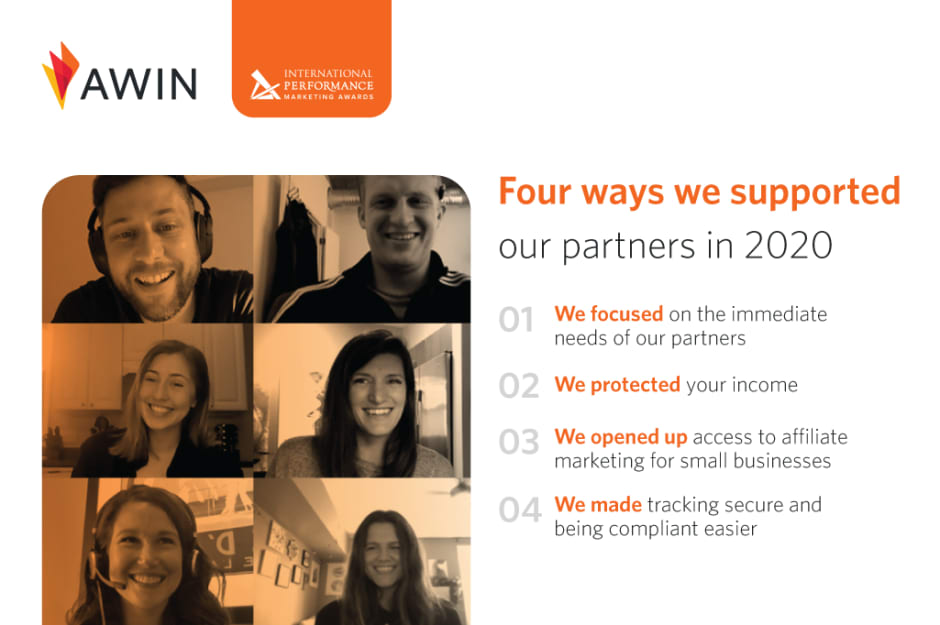 The International Performance Marketing Awards celebrate the industry's most exceptional performance and affiliate marketing work. This year has been tough, so we're thrilled to share in the success of our clients who have been shortlisted in 2020.
We're also delighted to be shortlisted for Best Affiliate Network and Best Team in Performance Marketing, both of which are weighted 40% by industry votes.
Winning either one of these awards would be a huge honour for all of us at Awin, and while the competition is fierce, we'd like to show you the support we've offered to our partners during a tumultuous year:
1. We focused on the immediate needs of our partners when COVID-19 hit
While our industry has navigated its way through a number of challenges in recent years, these all paled in comparison to the pandemic. When it hit, the impact was swift and severe with many companies seeing their fortunes turned upside down overnight.
At Awin, our role as an industry intermediary was more vital than ever. We sought to bring clarity, transparency and context to our partners to empower them during a time of chaos. With dramatic overnight changes to ad spend and the status of live programmes, we developed a variety of resources on the latest updates and changes to support our clients through the constantly evolving situation.
As well as our account management teams providing one-to-one support for our partners through the pandemic, we created a publicly-available Coronavirus hub hosting valuable insights and updates related to the impact of COVID-19. This included everything from our weekly sales tracker (detailing the ongoing performance of Awin brands by market and sector), to regular sector-focused webinars featuring guests from across the industry discussing their experiences through the crisis, and a variety of interviews and articles covering the latest news and opinion.
2. We protected your income
Financial loss for our partners was something we wanted to avoid at all costs during the pandemic.
Awin's proactive support for handling programme closure requests enabled us to offer advertisers flexible payment solutions that prevented nearly 70% of all potential closures and avoided much larger disruption to publisher earnings.
Additionally, we used our insurance protection and provided advance payment where we could. Our unique traffic light payment system also continued to give full transparency to our publishers about our advertiser's' payment statuses.
As if publishers weren't already facing enough huge challenges in 2020, Amazon's decision to slash commissions for thousands of partners on its Associates programme by up to 50% in April further came as a real blow.
As a response, Awin fast-tracked affiliate applications for the rush of new publishers looking for alternatives, prioritised onboarding support, and made our getting started guides easily accessible for all these new joiners.
With Amazon affiliates desperately looking for alternative brands to promote offering the same products, we also quickly developed a dynamic Product Availability Report that enabled these partners to find relevant substitute brands on Awin's network.
In addition, we also promoted those advertisers who offered continued channel investment and strong performance amidst the crisis, ensuring that publishers were aware of those brands they could shift their attentions to.
All of this support did not go unrecognised. As one publisher was quick to note on TrustPilot after these concerted efforts, "[Awin] offer a great alternative to Amazon, and most of their advertisers pay much better rates than Amazon too."
3. We opened up access to affiliate marketing to small businesses
Small businesses are the backbone of the economy, yet are often deemed too minor to warrant interest by our channel. That's why in January this year we launched Awin Access, a new, self-managed entry-level affiliate marketing solution for micro-SMEs, start-ups and accelerators. A two-year pilot taught us any solution for these smaller businesses had to be swift, simple and affordable. Awin Access' streamlined sign-up process, online guides and videos, numerous ecommerce plugins for seamless integration, live chat service and de-jargonised webinars provided all that and more.
Combined with a risk-free pricing model and relaxed contract terms, entrepreneurs, start-ups and independent retailers are able to dip their toes into the channel without commitment.
With many small businesses switching to online for the first time during the pandemic, Awin temporarily scrapped its monthly fees for three months, removing yet another barrier to entry.
And following the success of the UK pilot, Awin Access has since launched into eight global markets, tracking more than €14m revenue at an ROI of €1:€15.
With more than 500 micro-SME brands already launching Awin Access programmes across Europe and another 1,000 due over the next 12 months, this new solution is opening up growth opportunities for small businesses at a time when they've never been needed more.
4. We made tracking secure and being compliant easier
Amidst all the havoc caused by the global pandemic, one topic that hasn't changed is the looming demise of cookie-based tracking.
Awin ensured it was ahead of the curve on this with the launch of its industry leading Bounceless Tracking solution at the end of 2019. Removing the need for any network redirects, it connects publisher and advertiser sites directly together to ensure tracking is unaffected by browser updates and the highest privacy standards are upheld. Not to mention providing improvements to page load times and subsequent conversions too.
Featuring within Awin's MasterTags, Bounceless is just one of many technical advances made available by Awin in the last 12 months to make affiliate marketing easier and more effective for our partners.
Other solutions such as Trackonomics (which identifies broken publisher links) and SingleView (which provides our advertisers with a non-biased, multi-touch attribution model) are all part and parcel of this continuing evolution.
The increased regulatory scrutiny that publishers have faced around advertising disclosure led us to also develop a unique disclosure tool too.
adMission automates the process of flagging commercial links to consumers, can be configured by the affiliate as they please and will work on any link they choose to disclose, regardless of whether it runs through Awin or not.
In creating this tool, Awin is ensuring that partnerships between brands and affiliates are aligned with local regulation and consumers are well positioned to understand the nature of their collaborations.
This year has been a hugely disruptive one, with businesses facing seismic challenges and major upheaval. But we hope that the actions and initiatives outlined above demonstrate how Awin has responded rapidly and transparently with the needs of our partners and clients always at the forefront of our mind.
We'd be honoured to have your vote for Best Affiliate Network and Best Team in Performance Marketing.
You can find the full shortlist here, of which we're delighted to be shortlisted with our clients for the following awards:
Best Content Marketing Campaign: Awin for Nike: Sneakerheads and Stories
Best Incentive Partner Campaign or Strategy: Awin and Button for Samsung Pay: The "Evolution" of incentive partnerships
Best Influencer Marketing Campaign: Awin for Etsy
Best Managed Affiliate Programme – USA: Awin for HP: Reinventing HP's Affiliate Program with Strategic Partnerships
Best Managed Affiliate Programme – Western Europe: Awin for Currys PC World: Broadening Horizons
Best Partnership: Awin for tastecard: In-In is the New Out-Out
Best Performance Marketing Campaign – LATAM: Awin for Banco Inter
Best Performance Marketing Campaign – Western Europe: Awin for Conforama
Best Programme Launch or Relaunch: Awin for tastecard: In-In is the New Out-Out
Best Retail and E-Commerce Campaign: Awin and Groupon for Dorothy Perkins: Dorothy Perk...ing Up Your Winter Wardrobe
Best Technology & Telecoms Campaign: Awin for BT Group: Commanding Price Comparison
Best Performance Marketing Campaign – Western Europe RevLifter and Awin and Mobiles.co.uk: A Sustainable Cyber Week
Best Performance Marketing Campaign – Groupon and Awin for Dorothy Perkins: Dorothy Perk…ing Up Your Winter Wardrobe
Best Partnership - DMi Partners for LA Apparel (ShareASale partner)
Congratulations to Commission Factory for also being shortlisted for:
Best Performance Marketing Campaign – APAC Commission Factory for Langtons
Best Incentive Partner Campaign or Strategy - Commission Factory and ShopBack for Catch
Best of luck to everyone on the shortlist – we look forward to the virtual event on Tuesday 24th November.
Share this