Home to some of the biggest names in the tech industry, including Google, Facebook, Apple, Microsoft, IBM and countless others, the US tech culture has dominated and influenced consumers and their shopping habits across the globe. Many of the modern phenomena we associate with the cutting edge digital landscape originate in the US and the country's status as the preeminent hub for innovative business success is highlighted by the fact eight of the world's 10 biggest tech companies originate from the United States.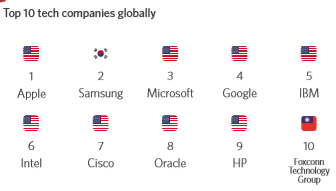 With such an innovative and tech-driven business culture, it's no surprise the digital advertising industry continues to be seen as pioneering, with an expected $83bn spent by US firms in 2017, more than any other nation globally. Although, other nations like Australia and the UK do fare better in terms of spend per capita.
Internet accessibility is high among the wider population, with only 10% not online and the majority of its citizens enjoying internet access through their smartphones, meaning there is an enormous audience to be found there.
However, as much as this is a huge market, it's also one that is increasingly dominated by just two main players: Google and Facebook. The duopoly's combined reach saw them draw in almost two thirds of the US' digital ad spend in 2017, a figure that had again increased on the previous year's investment.
On the face of it that is an indication of the industry's burgeoning status. Yet on closer inspection, virtually all of that same growth was derived from these two tech giants and their own monumental success over the last 12 months. This is a trend that has been replicated in other markets with corresponding question marks about where innovation and reach will come from outside of these platforms.
With Google and Facebook dominating so much of advertisers' spend for targeting US customers, it's easy to see why the competition is fierce from other channels over that remaining ad budget. Performance marketing has had to work hard to earn its proverbial crust in the US but its robust, performance-led model and healthy return on spend has more than justified the faith that participating brands have invested in it.
As the founding father of the industry, it is to be expected the US affiliate market would be particularly well developed. There is still some debate as to who can claim ultimate responsibility for initiating the principles of performance marketing for the first time, with William J. Tobin's PC Flowers & Gifts.com vying with the likes of CDNOW and AutoWeb.com for that individual honor in 1994. What's certain is this fledgling marketing process, paying a commission to a partner for inciting a customer action online, was popularized by Amazon in 1996, and quickly scaled into the multi-billion dollar global industry that it now resembles... not to mention helping to facilitate Amazon's own growth into the world's largest e-commerce giant.
Market research firm Forrester assessed the current state of the affiliate industry in the US last year, and found that advertisers were spending around $5bn on performance marketing partnerships. That investment is forecasted to rise over the next few years by around 10% year-on-year, reaching almost $7bn by 2020.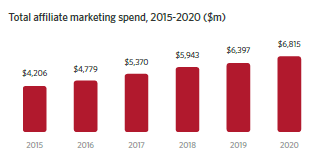 According to BI Intelligence, 15% of digital media revenue in the US comes from affiliate marketing, making it one of the four largest sources of e-commerce orders, outperforming social commerce and display advertising. With one-in-seven dollars having been impacted by affiliates, the influence and reach, not to mention base from which the industry continues to grow, is obvious.
This growing advertiser spend represents a corresponding increase in interest from both US e-commerce brands and publishers who perceive the channel as one that is now a viable, valuable and transparent means of both marketing and monetizing their traffic.
The industry has worked hard to get to this point. In the early days when there was little accountability and transparency, it's fair to say the reputation of the channel suffered with several high-profile cases of affiliates who were guilty of 'black hat,' underhand tactics designed to drive sales volume at the expense of value.
One of the strengths of the affiliate channel is its ability to reinvent itself and after a period of introspection, major players have combined to remove bad practice under the auspices of the trade body that represents the performance industry in the US, namely the Performance Marketing Association (PMA.)
The PMA was formed in 2008, and since then has worked to champion and protect the industry, modeling standards of best practices, as well as advocating on behalf of those businesses that comprise the performance marketing industry in the US.
One of the major issues the PMA has been tackling more recently has been the so-called 'Nexus' or 'Affiliate' tax, which works on the basis that affiliates are accountable for a tax on the merchant sales they influence. The effect of this tax has been such that it has led to the termination of some merchant programs in the states that enforce it, and has ultimately risked advertisers shifting budget elsewhere.
Similarly, the PMA has been vocal on the issue of affiliate disclosure in an age of social media advocacy and influencer marketing (see the 'Brand safety and self-regulation' chapter in The Awin Report for more detail.)
By working collaboratively to produce a robust framework of self-regulation and best practices guidance, the affiliate channel has shown itself to be forward thinking in the current climate of increasing client-side demands for transparency and clearer measurement, which should hold it in good standing and aid continued growth.
As in other territories, there is no doubt the channel's reputation in the US has improved to the point where an increasing number of publishers and advertisers are embracing the channel as one to utilize on a more permanent basis. Of those surveyed by Forrester in their research, more than 80% of advertisers and 84% of publishers revealed they either run an affiliate program or use it regularly to monetize their content.
Affiliate networks in the US have historically shared account management responsibilities with a layer of dedicated specialist affiliate agencies who have tended to shoulder more of the guidance of their programs. However, a concerted effort by some networks like Awin to provide a range of additional services - including ongoing strategic account management - has seen them experience rapid growth, as well as challenge the existing status quo.
As with many of Awin's global territories, there are commonalities in the trends the US market has seen recently that reflect wider patterns in user behavior and e-commerce habits.
Ad blocking has been on the rise for some time, and eMarketer's insights reveal around one quarter of US internet users are employing these as of the close of 2016. Recognizing a need to bypass more 'traditional' online advertising tactics that can be affected by such ad blocking tools means that, as elsewhere, there has been an influx of interest in influencer marketing in the US. Of course, the US is the home to some of the original and biggest social media platforms in the world including Instagram, Facebook, Twitter and Snapchat. US brands have been quick to see their value as a means of promotion, and affiliate sign-ups via these social platforms have reflected this same appetite. The challenge for affiliate marketers globally is to take the influencer marketing template and adapt it to our channel. With an increasing focus on the return on investment from influencers, the affiliate industry is expertly placed to capitalize on it.
It will be critical to ensure affiliate disclosure accompanies that shift. Maintaining an authoritative and trusted voice is always a fine line to walk when content is monetized and must be an important consideration. In early 2017, the Federal Trade Commission (FTC) issued more than 90 letters reminding influencers and marketers they should clearly and visibly disclose relationships with brands when promoting or endorsing their products through social media platforms.
Despite the growth of this significant and important area of digital marketing, incentive publishers drive the biggest proportion of sales as a publisher type on the US network, with over half of the sales tracked and almost 60% of advertiser revenue being derived from coupon code or cashback affiliates. These same affiliates have begun to establish themselves as major publisher brands in their own right, advertising their sites with large billboard ads in major malls and via other traditional media platforms like TV and radio as a means of increasing their audience reach.
The American public are an increasingly deal-savvy audience and the popularity of such sites is revealed in a recent study that found 60% of US internet users had redeemed a digital coupon or code when looking to shop either online or offline.
The original global discounting event Black Friday was of course initiated in the US and its origins as an offline event, primarily focused on in-store purchases as part of the Thanksgiving holiday weekend, had meant that up until recently it lagged behind other territories' online performance. However, 2016 marked a continued shift towards shunning stores for e-commerce sites. Interestingly, countries like Brazil and the UK - where the event has been imported over the past few years - have experienced the event through an online filter and a proportionally larger percentage of sales track online.
While 2016 saw online Black Friday sales overtake offline ones definitively for the first time around the globe, that trend was confirmed in 2017 with the Wall Street Journal claiming in-store visits dropped by around 4%. Meanwhile, online continued to thrive and internet sales rose by almost 17%, according to Adobe.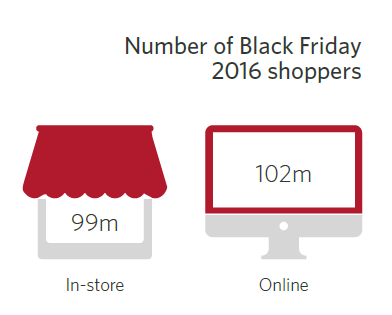 Over $7bn was raked in online over Black Friday and Thanksgiving. Much of this growth was driven by many of the US' biggest shopping retailers, such as Walmart and Target, responding to Amazon's domination of the event online and who sought to improve their own e-commerce offerings in an attempt to compete in the space at this lucrative time of year.
The increasingly large Chinese-American population has led to China's Singles' Day also making waves in the US, competing with Black Friday as one of the year's biggest calendar events for online sales. Chinese-American affiliate sites like SMZDM, DealAm, 55Haitao and Dealmoon have all profited from US brands beginning to create seasonal promotions or sales events around this day as a means of tapping into this burgeoning audience, as well as from the fact that the US is second only to China in the world as a destination for online cross-border shopping.
With a host of internationally-recognized brands who are generally well set up for cross-border e-commerce, the US is a natural destination for such global shopping interest. Affiliate websites have helped to accommodate and encourage this appetite. Their platforms provide a virtual shop window for brands to showcase their products to entirely new customers across the globe, and in doing so they play a vital role in sustaining the US' status as an online shopping superpower.