Advertiser spotlight: HP
Written by

Erica Grabijas on

.
Learn how the HP and Awin team plan to leverage Awin tools to reinvent, revamp and reinvigorate its 2020 affiliate marketing activity.
Share this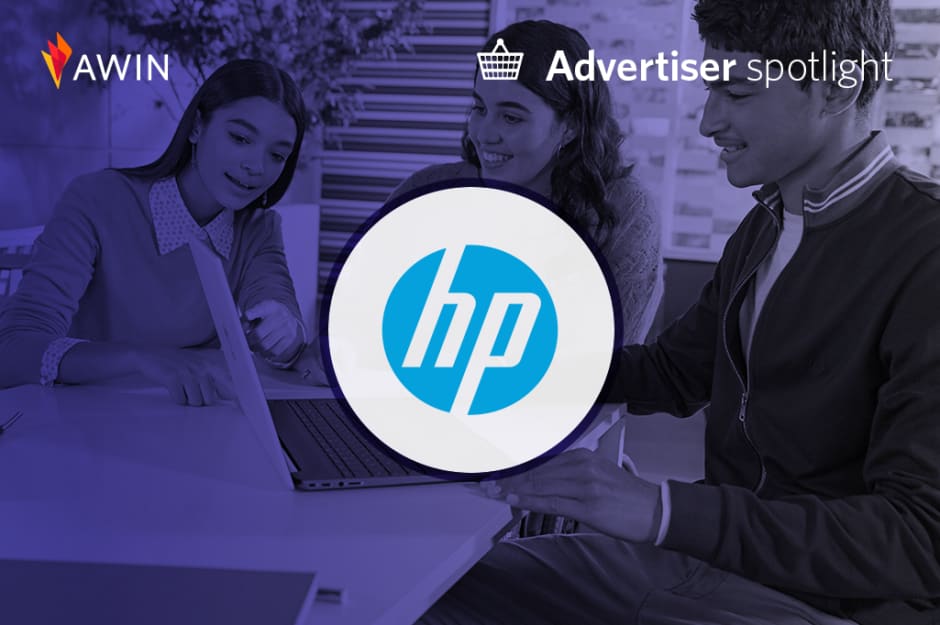 HP launched its affiliate program exclusively with Awin in 2016, with the main overarching goals to expand digital reach and develop functional partners via the performance channel. With each passing year, the affiliate program has surpassed the goals and targets set, thereby pushing Awin and HP to adapt their performance marketing strategy to the ever-changing digital marketing landscape. With 2020 now firmly underway, HP and Awin are once again looking to elevate the affiliate experience for partners.
Following HP's success in 2019, how are you planning to keep the momentum going in the new year?
2019 was a banner year for HP. We set a goal to improve and develop our content and influencer partnerships over the course of the past 12 months. We won Best Content Marketing Campaign at the 2019 International Performance Marketing Awards -- which showcased these efforts and put the spotlight on unique partnerships we created with content partners like Digital Trends and AMDtech – validating our hard work to achieve this goal.
We know we can do more. To keep the momentum going, we want to make working with HP easier than ever in 2020. As such, starting February 10, 2020, we began rewarding our higher-funnel partners for influencing sales regardless of if they drove the last click within the consumer journey by leveraging Awin's payment on influence technology. This technology allows us to give up to $10 for each affiliate transaction influenced by a content, influencer and deal partner on HP's US affiliate program. On top of flexible payment structures and increased commission earned by these partners, we can now compensate publishers for their involvement in the consumer journey.
In support of our 2020 vision to create a more fluid compensation and partnership ecosystem, HP will continue to offer varying payment structures to best complement each partnership. We will also start to make product loans for review articles more accessible, provide welcome guides to new partners to help expedite activation and sales, and will start to offer more regular insights into HP product releases to inspire content creation.
Further supported by Awin tools like the Publisher Mastertag, which contains powerful technology like Awin's innovative best-in-class tracking solution Bounceless Tracking, we are confident our publisher partners will greatly benefit from our revamped approach to the channel partnerships in 2020.
What makes a great partner in HP's eyes, and what kind of partners are you looking to work with in 2020?
A good partner is one that is proactive, regularly reaching out to our team with new ideas and strategies for improving performance and better engaging with their audience. We are always looking for partners to maintain consistent communication with us and demonstrate an eagerness to work collaboratively to launch new and successful campaigns. From our side, we invest a lot of time and money into our content and influencer partners, so we are looking for, and are very appreciative, when this is reciprocated.
Over the next 12 months, we want to expand our partnerships with those who typically sit higher up in the purchasing funnel. These publishers offer us the opportunity to engage and capture consumers earlier in their purchase journey, and we want to be there at the forefront of customer discovery. If you are a content publisher, blogger, influencer, vlogger or think you can help HP reach desirable customer audiences earlier in their purchase journey, we would love to hear from you.
In addition to what HP considers a great partner, how do you measure success of said great partnership?
Each partnership and campaign may have their own objectives set, and we will share our expectations with each partner to ensure we are aligned from the beginning. As a baseline, success is measured by the overall execution of the campaign, quality of content produced, and the performance generated as a result. Whether it's a giveaway, live stream, review or product unboxing, the hard work our partners put into their promotions is evident in the results. Striking the right mix of deal and product-driven content is what HP feels to be the most effective for awareness and ultimately generates conversions and performance for partners higher-up in the funnel.
What are the benefits of working with HP?
The HP affiliate program offers numbers things to make any partnership with us easy, profitable and effective, including:
Dedicated HP affiliate program account management team
Latest tools and technology to optimize your promotional efforts
Flexible compensation options including the just-launched influence payments
Product loans and gifting
Quarterly-updated HP product launch Guide
New partner welcome guide
And much more!
HP products are sold at many retailers, why should a publisher consider linking to HP's direct store?
There are three key benefits to working with the HP store direct:
Flexibility – We offer flexible payment structures and the potential for higher rates for our partners than other retailers do, something that is key to providing publishers with the highest earning potential for HP products. The HP store also offers users configurable PC options, allowing them to build their computer within their price range and desired specifications.
Accessibility – HP product loans and gifting are oftentimes difficult to obtain for partners who are waiting for the unit cycles of a brand team. Unlike other retailers, our team's implementation of this option allows our key partners to easily access and get the right products in their hands for review
Communication – Transparent communication is crucial. Whether it's highlighting upcoming weekly promotions, sharing the latest product releases or simply asking us questions… open lines of communication to HP is something other retailers simply can't provide
For questions or guidance, please contact Eric Laughlin.
To apply to join HP's US affiliate program, please click here.
Share this